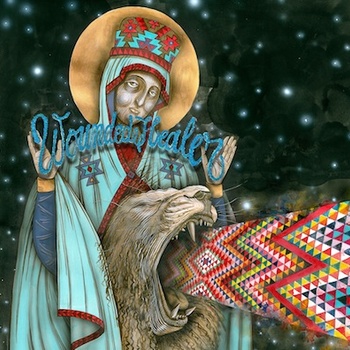 Band: The Followers
Title: Wounded Healer
Label: Deeper Well Records
Release Date: 4/24/12
Reviewer: Josh Hamm
Tracklisting:
Wounded Healer
Waiting to Find You
Overwhelmed
Enfold Me
Morning Star Rise
Sweet Submission
Just A Closer Walk
Take Me To Your Side
You Did Everything
God's Eternal Now
Josh White, lead singer of Telecast, took time off from music to plant and pastor a church, Door of Hope, in Portland, OR. He has since released a solo album, Achor, in 2010,  as well as teaming together with former members of Rock and Roll worship Circus, Ruth, Esterlyn, and Starfield to form The Followers, and release a self-titled album in 2009. Fast forward to 2012, and they've released a dark horse contender for album of the year with Wounded Healer.
Their first release, The Followers, had a mellow, atmospheric rock sound similar to early Future of Forestry. Wounded Healer is a medley of folk, country, 70's worship, and even some R&B, which they have dubbed "neo-gospel." Whatever it is, it works well.
It's refreshing instrumentally, featuring acoustic guitar, a lot of electric guitar, piano, drums, synthesizer, mandolin, and even an electric harmonica, all played in a way which gives it a fresh retro twist.You'll grasp the quality of the music in the first 30 seconds of the first song "Wounded Healer," which is one of the highlights of the album, and a terrific opener, as simple acoustic strumming and synthesizer are layered with a sharp electric guitar. The music throughout the album is infectiously upbeat, whether it be toe tapping tunes or soulful ballads, there's an element of joy present which is impossible to ignore.
Josh White provides excellent vocals, with a clear, soulful voice which beautifully encapsulates the worship atmosphere. There are also female vocals which range from backups, to harmonies, to even leading some songs, and they do a fine job as well. Lyrically, the album is straightforward worship, but while it may not be the apex of creativity, they do manage to sidestep most of the clichés and overused imagery, but sometimes they do fall victim to it. Either way, the integrity of the songwriting as a whole makes up it when the lyrics aren't innovative.
There are a lot of highlight songs on the album. In the middle, there's "Morning Star Rise," a catchy, old school groove filled song with the simple refrain, "O Morning star rise, your life in mine, O to rest my restless head, O rise up from the dead." Then there's "Sweet Submission," a worship ballad with the heartfelt lyrics "Jesus won't you please teach me to pray? Cause I just want to talk with you. Forgive me today cause I've spent so much time pretending to know you…it's in sweet submission that gives me the strength to be real, the Cross is my deepest conviction, only Your wounds can heal." White may not be overly poetic or witty in his lyrics, but he does draw a profound connection between us and our need and desire for our Creator. The worship and Psalm like lyrics continue in their cover of the hymn "Just A Closer Walk," where he sings out "through this world of toil and snares, If I falter, Lord, who cares? Who with me my burden shares? None but Thee, dear Lord, none but Thee".
All the songs are enjoyable, and there's not a skippable track throughout. But some songs fall a little flat, such as "Enfold Me," which is too repetitive and has vocals which while technically strong are wearisome for a whole song, and "God's Eternal Now,"  which does a good job rounding out the album but is too softspoken and lacks the infectious energy present in the other songs to be able to stand on its own.
Overall: The highest praise I can give this album is to compare it to Josh Garrel's Love, War, and the Sea In between. While Wounded Healer isn't as amazing, or very musically similar, they both have the same intangible, ethereal, sincere quality which immediately captivates your interest. It's fresh yet a throwback, original yet classic, and bound to be one of the best releases this year. This is your father's music. This is the music of a true artist. Not as clumsy or random as some folk albums are. This is elegant music from a more civilized age.
RIYL: Josh Garrels, Blitzen Trapper, The Parson Red Heads, Keith Green, Telecast
You can pick up the album for free on Noisetrade.