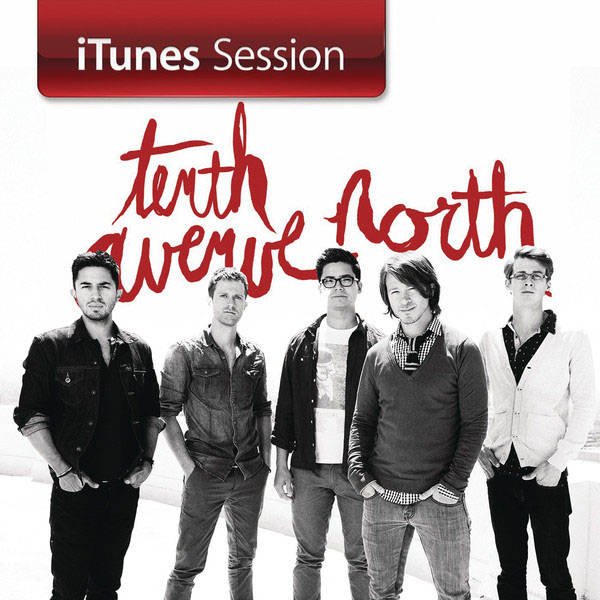 Artist: Tenth Avenue North
Title: iTunes Sessions
Label: Reunion Records
Release Date: 12/18/12
Reviewer: Jonathan Andre
Tracklisting:
You are More
Hold My Heart
Stand By Me
Worn
By Your Side
Times
Tenth Avenue North have been one of my favourite bands in the last few years, and their most recent studio album The Struggle has given many listeners (including myself) a renewed assurance that we, as believers in Christ, are free to struggle rather than struggling to be free. There is a big difference between the two- one is striving and the other is accepting the gift of grace and learning to wrestle with the big questions in light of God's unending faithfulness and unequivocal love. From songs like 'By Your Side', 'Healing Begins', 'You are More' and more recently their new hit single 'Losing' and their up-and-coming encouraging melody 'Worn'; lead singer Mike Donehey and the band have written words and lyrics that are able to travel deep within us as we understand God's love for His creation, learning in the process that in the midst of trials and calamity, we can rest assured that God will be '…by your side, wherever you fall, in the dead of night, whenever you call…My hands are holding you…' ('By Your Side'). Since winning New Artist of the Year at the 2009 Dove Awards, these 5 men from Florida have become one of the most lyrically relevant artists in Contemporary Christian Music right now (alongside other influential CCM artists like TobyMac, Matthew West, Francesca Battistelli and Newsboys). Releasing their new album titled iTunes Sessions (which includes a famous cover 'Stand By Me'), these newly recorded songs are able to be presented to listeners in an acoustic light, showing another stripped-down side to these beloved tracks. While many tracks such as 'Love is Here', 'Strong Enough to Save', even 'Losing' or 'Healing Begins' are not on this 6-song EP, this album doesn't fail to impress as I hear some lesser known songs (like their hit song 'Times' that received a lot of airplay but was never a radio single); all sung with the same vulnerability, heart, hope and encouragement as Mike reminds us all that there'd be '…so many questions without answers, Your promises remain…' ('Hold My Heart').
From doubt to fear, to weariness, encouragement, questioning, longing, even being vulnerable and asking the Lord for guidance and motivation are all themes for these 6 songs. Arguably the most famous song by Tenth Avenue North, 'By Your Side' is given an acoustic rendition as Mike firmly reminds us through the acoustic guitar and the light percussion that God will never leave us in the moments of our despair and hopelessness. Sung from God's point of view, Tenth Avenue North's most vulnerable song is sure to move even the most unmovable of listeners as we delve into the unconditional love that is given freely to us by our Creator, Friend, Healer and Saviour. The acoustic version continues to accentuate the lyrics and is just as enjoyable and comforting (if not more so) than the original (on Over and Underneath). Also from their debut album, both 'Hold My Heart' and 'Times' are given the 'only acoustic guitar' treatment, each showcasing Mike's vulnerable side as we hear his yearning and questioning in 'Hold My Heart' and a reassuring 'Times', with part of the song again sung from God's point of view as we are shown that '…My love is over. It's underneath. It's inside. It's in between. The times you doubt Me, when you can't feel. The times that you question, "Is this for real?" The times you're broken, the times that you mend. The times that you hate Me, and the times that you bend…' Reminding us that God will always be with us even when we may not feel His presence, this personal song is able to give us clarity and a peace of God's presence always with us. Also with 'Hold My Heart' we are met with a vulnerable Mike in his moments of doubt and asking questions in the lyrics '…could the maker of the stars come close and hold my heart…' Though it could also be just a cry for Christ to come heal his heart rather than one full of doubt, hurt and anguish, Mike strikes a chord with listeners as he gives us a situation of hoping and longing, wanting to know how long it takes for God to come through with things and in the same light trying to be at peace with God's timing and understanding that sometimes, all we can ask from God is not 'why' but ask Him to be alongside us during the troubles and times of hurt and pain. Sung from the heart to the point where there could be a personal experience attached to this song; the acoustic versions of both tracks are certain highlights of iTunes Sessions.
First hearing this song on a Disney cartoon many many years ago, 'Stand By Me' is perfectly sung by Mike and though it's not really a Christian song, it nevertheless fits the theme of friends and family sticking with us through difficult circumstances (some may also argue that 'By Your Side' is about family and friends instead of God in certain verses). Nevertheless, this song of encouragement also motivates us to call on God when we're in trouble (as well as those around us) through prayer and worship, as we continue to live our days and manoeuvre the trials and tribulations of life in general. With a bass-line crescendoing to a keyboard and guitar mid-way through the song, this mowtown-influenced song is one to groove to, but also to reflect upon as we contemplate who will stand with us when things go south for us (and as Christians, we are almost guaranteed that our lives won't be easy). God will always be with us, even if our friends may desert us in times of our need. Following 'Stand By Me' is my favourite song on the album, 'Worn'. With just a piano, Mike has a moment of truth-unveiling as he presents the worn parts of himself in this vulnerable song. Listening to the song makes me wonder how truthful I'll be to God if given an opportunity. Will I declare that '…I'm worn, my prayers are wearing thin, I'm worn, even before the day begins…'? Regardless of my answer or my hesitancy to open up to that extent, I am glad that Christ bore our sins and that redemption, restoration and rehabilitation always comes to fruition when Christ is at our centre. With just a keyboard present, 'Worn' is sure to give listeners chills and tears as we come to realisation of our own struggles, inadequacies and failures and knowing and believing that Christ has overcome even the most shameful of sins that we bear. Well done Tenth Avenue North for such motivating and heartfelt melodies.
Overall: One of the most popular Christian bands out in the music industry at the moment, Tenth Avenue North's continual rise to musical relevance as led to many listeners being positively impacted by their music. One of my own favourite bands in recent years, any fan of Tenth Avenue North will be nuts not to purchase these acoustic tracks. Even if you don't like contemporary Christian music, these songs will still minister to you nonetheless. With hopeful melodies and encouraging lyrics, Mike and the team have given us 6 songs to treasure and immerse ourselves in as we give thanks to God that encourages us to see ourselves as '…more than the choices that you make…you've been remade…' ('You are More'). With The Struggle being one of the standout CCM albums of the year, Tenth Avenue North and their continual impact on listeners around the world is sure to increase in the upcoming year of 2013. Well done guys for such a memorable record.
RIYL: Matthew West, Steven Curtis Chapman, Josh Wilson, Andrew Peterson
Buy the Album: iTunes