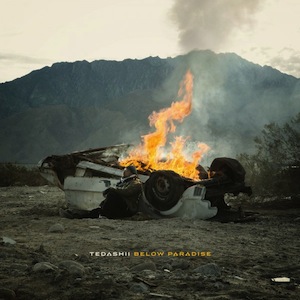 Artist: Tedashii
Title: Below Paradise
Label: Reach Records
Release Date: 05/26/2014
Reviewer: Anthony Peronto
Tracklisting:
Below Paradise

Perfect ft. Kam Parker
Dark Days, Darker Nights ft. Britt Nicole
Nothing I Can't Do ft. Trip Lee & Lecrae
Catch Me If You Can ft. Andy Mineo
Paradise ft. Tauren Wells of Royal Tailor
Fire Away ft. SPZRKT
Be With You ft. Lester "L2" Shaw
Back To You (Interlude)
Angels And Demons ft. Crowder
My God
Love Never Leaves ft. Natalie Lauren
Complicated ft. Christon Gray
Chase ft. Tim Halperin
Magic ft. Katt Rokell (Bonus Track)
Earthquake ft. KB (Bonus Track)
On Ten ft. Derek Minor & Transparent (Bonus Track)
Doubt, struggle, angst, longing; these are some of the many emotions faced by those experiencing loss or defeat. Sometimes, as Christians, we tend to think these emotions make our faith seem weak. But Tedashii, using Ecclesiastes as a reference, is here to remind us that bad things do happen sometimes, it is ok to acknowledge it, and it is only for a season. However T-Dot, a Reach Records veteran, didn't offhandedly decide to talk about perseverance and pain: He experienced it. His fourth album, Below Paradise, is an audio journal of what happened to the Texas-native over the last two years. From the death of his son, the toll it had on his marriage and faith, and the grace and peace he received from Christ, Tedashii is ready to both transparently talk about how he grew and acknowledge what happened in his life to the public.
When Blacklight debuted three years ago, it was a progressive show-stopping album that featured certified bangers ("Dum Dum"), risky material ("Can't Get With You"), and everything else in-between. Below Paradise, on the other hand, is not what most long-time fans will be expecting. Songs like "Dum Dum", "Make War", and "Go Hard" are nowhere to be found, as just about every song is melodic in some way or another. There are a few exceptions though, with "Nothing I Can't Do", "My God," and the bonus tracks "Earthquake" and "On Ten" serving as the hard-hitting tracks that'll be heard more in concerts and stereos. Rather than assembling a hodgepodge of styles into an album, each song's production fits the message and emotion that's being communicated. A few examples:
"Dark Days, Darker Nights," a song about angst and doubt, has a cluttered production that compliments the passionate hook by Britt Nicole and the rapid flow of Tedashii.

"Angels And Demons," a song about the pressures of spiritual battles and pain, has a haunting beat and violins along with Crowder's soaring plead of "Holy Spirit come!"

"Chase," a song that could've been a soaring conclusion to the album, is a simple ballad with Tedashii's hushed words to his son and Tim Halperin's exalting hook complementing an orchestra and a piano. Try not to get choked-up on this one.
As far as favorites off the album, being a married man, two of them have to be "Be With You" and "Love Never Leaves." The former is a feel-good track, a great respite from the sobering tone of the album, though it's upbeat production slightly interrupts the flow of the record. The latter is a relatable song about the hard times that sometimes come with marriage. Other highlights include the encouraging "Perfect" and "Nothing I Can't Do", the experimenting wordplay of "Catch Me If You Can", and the wild-card "Fire Away" which has a crazy production style of "EDM meets southern rap meets live band."
Overall: For casual listeners who want only trap beats and catchy hooks, Below Paradise is bound to disappoint with its serious nature and soul-bearing transparency. But for those who have/are experiencing heartbreak or loss (which is just about everyone) or just enjoy high-quality hip hop, there's a lot to be enjoyed on what is probably Tedashii's best album to date. Thematically similar to Stephen Curtis Chapman's Beauty Will Rise, Below Paradise is an encouraging album from beginning to end. It might not be what some fans wanted to hear, but it was what Tedashii needed to create.
RIYL: Thi'sl, Flame, Derek Minor, Json, R-Swift