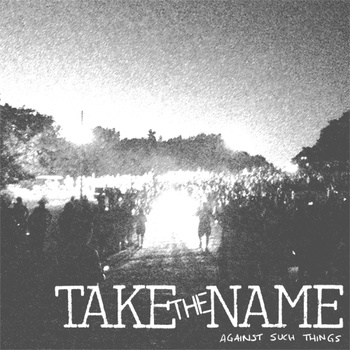 Band: Take the Name
Album: Against Such Things (Bandcamp)
Label: Unsigned
Release: 4.9.13
Reviewer: Brody
Tracklisting:
Be Free
Hold Fast
Restore
Fruit (Interlude)
Hands
Dive
Melodic hardcore has become the new metalcore. Bands pop up every day that just regurgitate the same ideas bands before them have used. This lack of real character or outstanding uniqueness has killed the heart and passion that the genre was once known for.
Ohio's very own, Take the Name are here to break that trend. From the first growl of the explosive opener, Be Free the sheer amount of passion exerted by Take the Name is apparent. The song in and of itself does not break any molds sound wise; everything you would come to expect from melodic hardcore is there. Chunky power chords provide a beefy backdrop to subtly beautiful leads and tight, thick drumming. The lyrics and aggressively delivered vocals from Josh Booth are really what steal the show in this opener as he roughly proclaims, "I surrender. I surrender all of me / Holy Spirit, Be My Guide / Where You are, there is freedom! ".
Hold Fast bristles with musical talent as arresting lead guitars steal the spotlight, forcing the listener to become absorbed in where the guitars will twist and turn their way to next. Gang shouted "Woahs" add perfectly to this upbeat jam, as Booth pours out his heart, shouting the empowering line, "Through thick and thin I hold true to my promise / I'll never quit. I'll never give up on this". One can just imagine saliva flying and veins bulging at the delivery of these words, which only intensify as the front man goes on to say, "They cannot persuade me to unbelief / Nothing can keep me from you. Nothing can pull me away".
Restore allows melody to take more precedence than previously used on the record in the form of cleanly sung choruses. Don't let this scare you off though! The cleans are expertly executed, without a hint of whine and carry the same passion that expounds from the screams. In fact, the singing makes the cries of, "I feel my life slipping down roads I've never been / Will you restore me? Will you restore me? " seem all the more moving. Booth compliments this nicely with my favorite lines on the album, "And no matter what I've gotten myself in; you never judge me, you always love me / And no matter how deep i dig this grave you are there to show me grace / Keep me in line. Keep me on track / When i can't walk to the mountaintop will you carry me? ".
In a similar vein to something like Ryland and Portlen off of Altars album, "Conclusions", Fruit is a track that slows down the pace with reverb drenched guitars solemnly creating a swirling backdrop to Reverend Joe Noonen speaking about the Fruits of the Spirit. Not only does his voice overtop of the music sound cool, but Reverend Noonen has some incredible points that bring goosebumps to my skin every time I ponder the words he speaks.
Hands brings the energy back up after the interlude, giving off the best of both the melodic and heavy worlds. This track makes me think of Saints Never Surrender in that the leads weave their way in and out of the whole track, but heaviness also abounds especially so towards the end of the song as Booth shouts, "You are beautiful / My hands are yours, guide my actions / You are so beautiful / I desire to follow you." .
Dives is the perfect song to end an album so incredible. While the music to this song is good and of itself the lyrics are truly moving and steal the show.
"He has everything he's ever wanted in this life.
I have nothing, a poor man begging.
His coat costs more than my life these days.
I sleep at his gate hoping for scraps to eat.
I'm getting weaker every day.
Your feasts are greater every day.
It seems I've taken my last breath tonight.
No more will I be begging. I'm feeling my soul take flight.
One on each arm, these angels carry me to Abraham's side.
Bury me in the ground, I've been given new life.
All Glory to God, I feel no pain!
My sores are gone. I thirst no more.
I will never have to beg again!
All Glory!
(Nick Detty)
I find this life has nothing to give me. I work to toil underneath the setting sun.
Holy Father, I live in anguish. These flames torment my very soul.
I can't hide my shame. I see now I never honored Your name.
Take these rags, these riches, this state of mind where I have nothing to claim.
Warn my brothers, to trust the King who gave the poor man a new song to sing.
That the chasm we face is far too wide, without the Light, an ocean could not cause this fire to subside."
Overall: Take the Name have created an absolute beast of an album and have given me hope for melodic hardcore for years to come. The only real negative I can see with "Against Such Things" is simply the fact that Take the Name do not have an entirely original sound. While they bring a passion that is matched by few other bands, they borrow a decent amount of their sound from other bands in the genre. This however, is not enough to take away much of my enjoyment of the album. If rating conventions allowed, I would give "Against Such Things" about a 4.5 rating.
RIYL: Life in Your Way | Altars | Saints Never Surrender