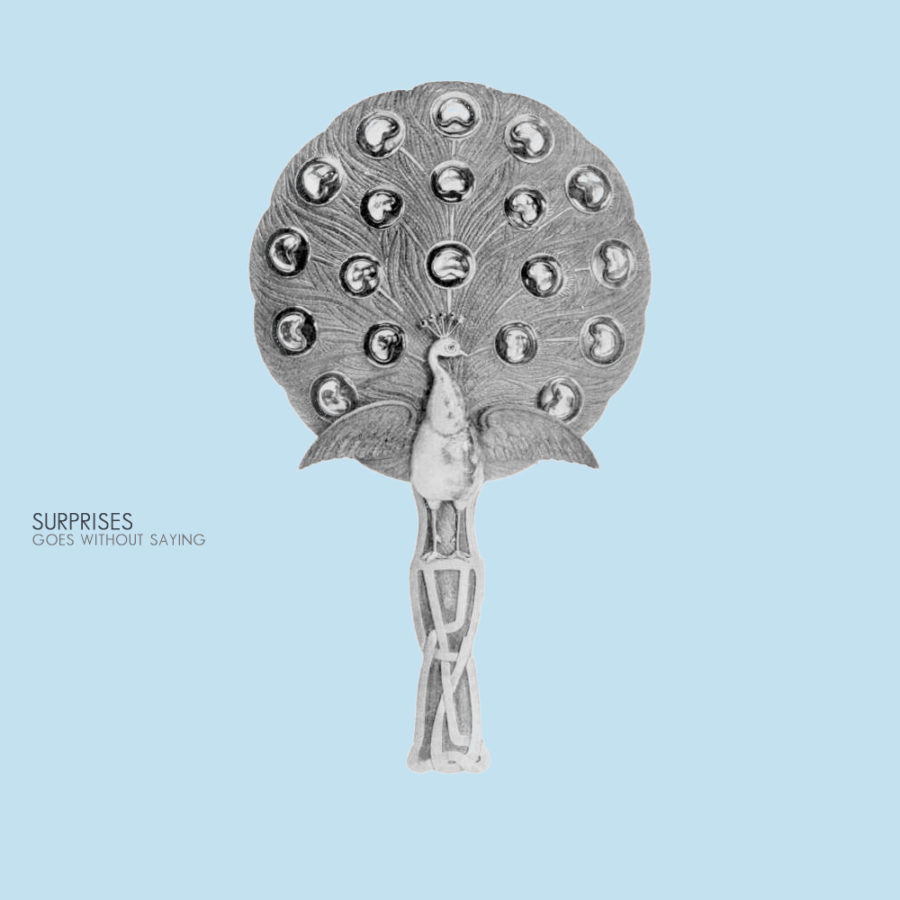 Artist: Surprises (Twitter)
Title: Goes Without Saying
Label: none
Release Date: 4/2/13
Reviewer: Carter Fraser
Tracklisting:
Freeze Frame
Stoned
Mouth
Parallel Lines
Anticipation
The Hymn Of Leslie Commons
Too Tight Squeeze
For Taylor,
Fire
Stained Glass Door
Surprises is the current project of Brooks Paschal formerly of Tooth and Nail act Sullivan. Paschal has released several albums under the Surprises moniker in addition to doing some producing, and this year he offers a new LP in Goes Without Saying.
Goes Without Saying is mostly acoustic based, not too far off the path of other contemporary frontman-gone-singer-songwriters before him. It's undoubtedly a pop album when it's all said and done, structured around its bouncy, playful choruses. You'll get a pretty standard rock lineup for about half the tracks to complement Paschal's dueling mechanical "aggressive" voice and a breathy, tender, soft one. He manages to craft a healthy handful of genuinely catchy tunes to carry this solo work through its quick twenty-six minutes.
Occasionally it sounds like you're listening to Goes Without Saying through slightly smaller speakers than you probably are. This isn't really an issue except in some of the big choruses like "Mouth" and "Fire," which could have used an ounce more of punch. However, on the softer cuts like "Parallel Lines" everything sounds absolutely fine, with the said track being one of the more poignant and mature songs presented despite its brevity (1:34). Goes Without Saying gets folksier as it goes, with the exception being "Fire," which is perhaps the truest "rock song" on the album. The opening riff is terrifically infectious and the glossiness sets the guitars and muted drums' appealing sheen apart. The shorter, near-interlude tracks are effective in splicing up the tempo. Without them the six 3+ minute songs could have easily comprised a jam-packed EP, but their inclusion helps with pacing and overall adds quite a bit to the album.
Conservative listeners should be alerted that there is a bit of language and questionable themes on Goes Without Saying, although they're far from overbearing. However, regardless of opinion of the content in general, the occasional profanity does seem to be present in an offhand manner and probably could have been better phrased to seem like less of a copout. For example, the aptly-named "Hymn of Leslie Commons" is a lovely ballad, but the poise of the chorus is upset by the emphasized line "but I don't give a d*** if I ever see you again," which, moral judgement aside, just seems like bland writing. It's a scattered issue for sure, but not quite an isolated one. It's not hard to avoid getting bogged down in this however, as Goes Without Saying's upbeat mood keeps things feeling positive though Paschal is always very lyrically forthright.
Overall: Goes Without Saying is a worthwhile pop rock album with its fair share of bite. Sullivan's fans will surely enjoy hearing Paschal putting out new material, and at a minimum highlights like "Fire" and "Parallel Lines" are worth a listen, among others.
RIYL: Sullivan, Number One Gun, The Rocket Summer, The Afters