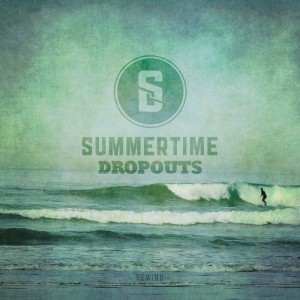 Artist: Summertime Dropouts
Title: Rewind
Record Label: Voluminous Records
Release Date: 06/12/2012
Reviewer: Sara Walz
Tracklisting:

Full Time Cutie
1999
Get Lost
Getaway
X
Spring Flings
Just The Way
Put 'Em Up
Amie
1999 (Rewind)
From the land of 10,000 lakes comes a band who sounds like they grew up on the beach. Summertime Dropouts released their debut album, Rewind, in June and it's the perfect soundtrack to the summer of 2012. It is unabashedly pop-punk and is steeped in nostalgia (think old school Sum 41 meets Blink 182 meets Third Eye Blind). "Full Time Cutie" and "Amy" are ridiculously catchy with hooks that after hearing it once, you won't forget it. Seriously, you'll find yourself singing along wondering how you already know it. The biggest derivative from the polished punk sound is "X", sounding like it was plucked from the fight scene in a rags to riches movie about a boxer, it's a fighter song and a welcomed change in sound to keep the album from getting static. To wrap up the album there is a lovely little ballad, a slowed-down version of "1999". It features the keyboard, an instrument that is non-existent on the rest of the album, and is the flawless end to what can only be described as one of the most fun releases of the year.
Rewind might as well be synonymous with "anthems for the underdog" as this debut album has the common theme of fighting for the little guy. From the story of the girl who will never be prom queen ("Full Time Cutie"), to jilted love ("Get Lost"), to the dream-chasing musician ("Just The Way"), to a song that literally says, "this one's for all the underdogs / those days where everything goes wrong /…./ don't you forget / you're way too strong to give up yet," ("Put Em Up") these boys are all about cheering for the Cinderella story. There are a couple of nods to the wonders of love, "Amie" and "Spring Flings," and a song that anyone who has ever had to work in an office can relate to ("Getaway").
Overall: When I was asked what I liked most about Rewind my most eloquent answer was, "That sucker is just so dang singable," and that is really the best way I can describe this album. It brings you back to a time when life seemed simpler and makes you want to grab some friends and crank it up while you head to the beach. Don't believe me? Download the first single and album teaser for free at NoiseTrade and see for yourself.