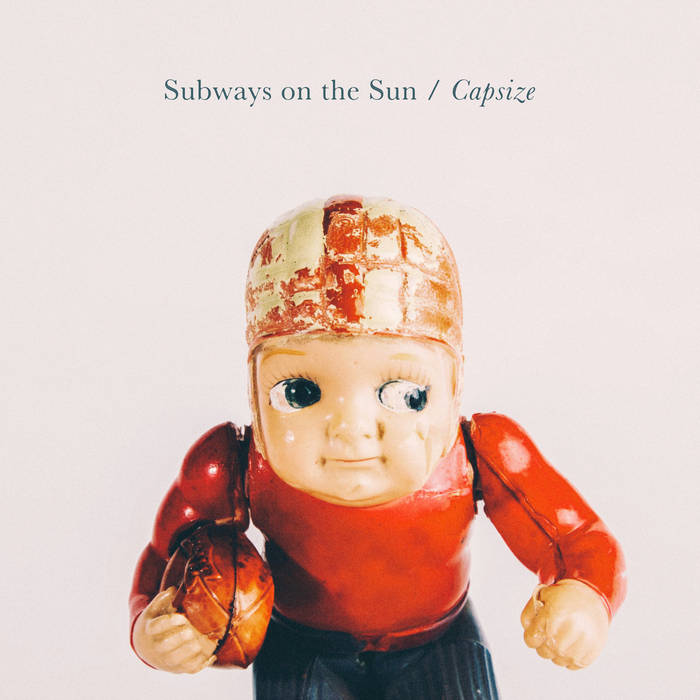 "I hope you like getting old / and waking up on the floor."
It's a striking sentiment but certainly a relevant one for plenty of people in their 20s and 30s. It's the sense of disillusionment that life didn't play out quite as expected; it's the heaviness of the passing of time itself. It's this line, pulled from "Hope You Like Getting Old" off Subways on the Sun's latest record, Capsize, that manages to serve as a proper summation of the album's themes. It's a poetic, if not sarcastic, jab at the pains of aging.
For those new to the band, Subways on the Sun is anything but amateur. The band includes Erick Newbill (guitar/vocals) and Nick Barber (bass/vocals), who both played alongside Aaron Sprinkle in the Tooth & Nail band, Fair. These gentlemen are veterans in their own right, and they're rounded out by Lars Katz (guitar/vocals), Greg Swinehart (drums), and Jimmy Nichols (keys) who each bring their own strengths to the table.
Capsize is the band's second record, arriving five years after their debut, The Honeymoon Stagecoach. Naturally, a lot changes in that amount of time and the band's sound has adjusted accordingly. Whereas The Honeymoon Stagecoach was largely an accessible brand of indie rock, Capsize is a bit more aggressive and uncomfortably honest. If anything, it's a more dynamic album: piano parts permeate many of the songs, but they're also met with gritty guitars and punchy bass. It's all done with great balance. Capsize feels nothing like a Copeland or Keane album but the use of keys is just as compelling, if not integral, with the band's sound.
There's a mix of grunge and alt-rock here that gives the album a bit of a timeless feeling. It fits nicely alongside many of the early 2000s Tooth & Nail releases musically, but it's this sense of nostalgia that only makes the lyrics hit harder. It's as if a band you grew up with reciting lines like, "Knowing is the hardest thing / the part that gets me every time," and you're reflecting on the lyrics decades after they were written. The album is assuredly much more recent than that, but it's this temporary parallax that's easy to get lost in.
It's hard to argue the band didn't intend to play into these feelings. Take the video for "Hope You Like Getting Old", complete with infamous 90s technology, children's toys, and worn figures battered by the passage of time.
Ultimately, Capsize is a strong album with a mix of stylistic influences and dynamic compositions. There's the pairing of "I'm an Island", a piano-led ballad, with the jam-session-based "Tongues" that shows both extremes of Subways' songwriting abilities. "Works" is an upbeat and fun indie-pop track, "Know it All" is gritty and alternative, and "On Repeat" is a proper closing track with its crescendos. There are a couple more forgettable tracks in the mix as well, mostly in the second half of the album, that keep Capsize from being an instant favorite, but the highlight tracks more than make up for their counterparts and you might find yourself playing them on repeat (no pun intended). Subways on the Sun isn't playing into nostalgia as a gimmick – their sound and imagery is an honest part of who they are and where they've been. It's authentic, and it simply sounds good.