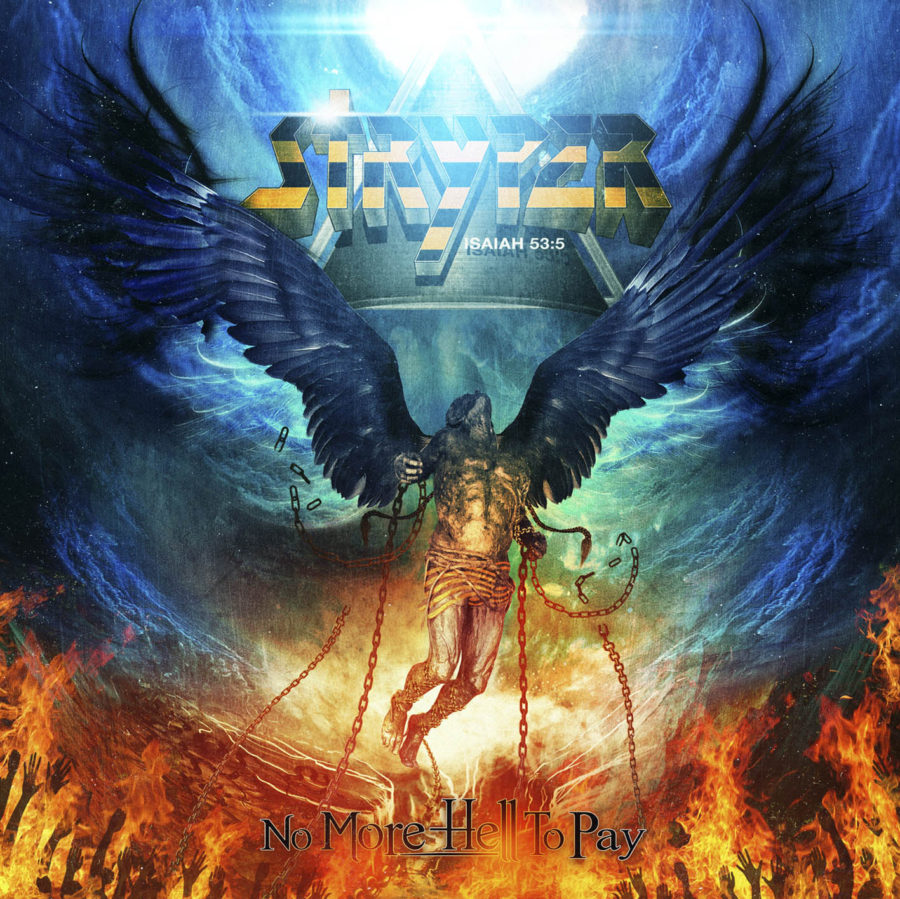 Artist: Stryper
Album: No More Hell to Pay
Label:  Frontiers Records (Universal)
Release Date: 11.5.13
Reviewer: Lee Brown
Track Listing: 
Revelation
No More Hell to Pay
Saved By Love
Jesus is Just Alright
The One
Legacy
Marching into Battle
Te Amo
Sticks and Stones
Water into Wine
Sympathy
Renewed
When it comes to writing a review it is standard practice to write as if your reader may never have heard of the band in question. This becomes difficult to achieve when the band you're reviewing has had such an impact on their genre, the Christian music sub-genre, and even mainstream music as a whole as Stryper has. No matter your musical preferences, it is impossible to ignore the weight such a band carries. With a career spanning back to 1984, Stryper are widely considered among the godfathers of all heavy Christian music and there is simply no arguing objectively that they are one of the top Christian rock/metal bands of all time. Having sold over a combined 8 million records and racking up distinctions such as being the first band to have two songs in MTV's top ten at the same time, being Grammy nominated, being Dove award winners, and even being listed by VH1 as one of the "Top 40 Hair Bands of All Time" the band have simply become a part of the zeitgeist. Heck, even Larry "the Cable Guy" claims to play them prior to his stand up shows to get pumped up.
Though they took much of the 90's as a sabbatical, the band picked back up where they left off with original members Michael Sweet (vocals/guitar), Oz Fox (guitar), Tim Gaines (bass), and Robert Sweet (drums), several years ago and have worked continuously to support each new release. With No More Hell to Pay Stryper takes their signature hair metal sound for another run around the block. Longtime fans of the "yellow and black attack" will find refreshing the familiarity with which this album comes across, while those just joining the party will find masters who have honed their respective craft in their respective genre to a fine point. But, after almost three decades, can Stryper's "usual" still be relevant?
To answer that question, one must step into the broader scope of where music is going today. Fans of harder music have long wondered what the next "sound" to evolve on the scene would be. Years ago metalcore was the most strikingly new development in hard music with the advent of bands like Underoath so dramatically innovating the genre… and in music as a whole EDM proved to have a strong resurgence from the ashes of techno and dance/groove/electronica. As I've recently argued in my reviews for Even the Dogs and Righteous Vendetta certain genres of music (such as metalcore and EDM) have pushed ahead by looking to the past. Within metalcore in particular, there seems to be an increasing trend towards incorporating 80's flavored rock and even shades and whispers of  hair metal into the mix.
I've teased the idea of calling this hybrid power/metal/core mostly to show that a new sound is being developed in the soup of these current and retro mixtures. With that in mind, perhaps the most groundbreaking and relevant thing Stryper could do with No More Hell to Pay was simply to continue to hone in on the sound fans know the band for the best; hair metal. And that is exactly what the listener gets. With little exception and only slight over-generalization No More Hell to Pay could have been released in the band's original heyday in the 1980's and early 1990's.
This should not imply that no dynamic growth exists on the album. Certainly, the musicianship displayed represents the height of what each individual member has honed in their three decades (total, not active) as a band. So, call it retro… call it "old school…" or call it whatever you want… this album is unmistakably a Stryper album. The high octave vocals with uncannily high-pitched falsettos and the riffing guitars are there in force along with the strong message and boldly faith-filled lyrics fans would expect.
In terms of progression, this is certainly a heavier and more aggressive Stryper album overall. For the most part, fans will find more To Hell with the Devil and Soldiers Under Command than they will somber ballads or light instrumentals. Still, the fact remains that though exceptionally skillful, this album is somewhat "more of the same" if you've followed the band for any measurable time. To some, this will be a stumbling block, but purists would not have it any other way.
No More Hell to Pay begins strong with "Revelation." From the opening chord progression and initial vocalizations there is no mistaking what flavor of sound to expect. This is rock infused hair metal without fail. "Revelation" uses imagery from the Biblical book of Revelation (of course) to impart a call to repent because "there's a revelation… coming down for you." The song hits all the right beats and notes. There's a great power guitar solo, high-octave vocalization, and a distinctly faith-filled message. Michael Sweet's voice shows no sign of aging or wearing out despite his years of touring and the band as a whole is simply flawless in their execution at this point.
Following the opening track, the band unleashes the title track, No More Hell to Pay. In many ways this is an anthemic track in that it boldly make statements about not caring what the doubting voices say and promises to "follow You until there's no more hell to pay." Fans who are waiting for that truly high-pitched moment from Michael Sweet will find their first real taste here. Overall, the song hits all the right paces and is highly enjoyable. As I mentioned, the 80's stylings are coming back both subtly and not so subtly and I would certainly not be surprised if a song like this one (or… you know… this one) were to make a splash in the current market as something new and groundbreaking. "No More Hell to Pay" is a really well executed song that fans will definitely want to check out. In fact, be sure to check it out below in the band's first music video in almost two decades:
The pace (and ear piercing screams) continue to ramp up with "Saved by Love," which feels like one of the most distinctly 80's experiences on the album complete with a chorus of vocals, power slides on the guitars, and several moments of high frequency singing that serve to underscore the bold message of love and hope in Jesus Christ being shared. On a transparent personal note, though I myself have not been one to follow Stryper closely through the years (I've long had singles for "Soldiers Under Command," Disciple's cover song, and was shown by Sweetragedy frontman Tim Bariteau the joys of Michael Sweet's "Blue Bleeds Through," however) it was by this point in the album that I could not deny just how skillful and absorbing this album really is for anyone and not just genre or legacy fans.
That being said, "Jesus is Just Alright" served more as a low point for me. Though the song is skillful and well executed… and certainly not a "bad" song… a few factors come into focus. First of all, this is one of the rare occasions where my wife and I happened to be listening to "my" music in the car together and she brought up a good point to consider. When the famous chorus hit Renae asked something along the lines of "shouldn't there be more to it than Jesus is just alright." While I knew the history of the song coming from the Doobie Brothers and its connection with the Jesus Movement where saying that Jesus is alright was very countercultural and revolutionary at the time… we do sit in a world challenged by guys like Kyle Idleman to be more than just a fan of Jesus and that message may not come across as a counter-cultural revolution any longer, even though I know that Stryper certainly tows the line. Secondly, having grown up in the 90's with dc Talk's version, it's hard not to compare the two and land favorably with rose-tinted glasses on my first encounter. That being said, the "doo doo do doot" part does resonate nicely in both versions, though I prefer dc T's placement of it at the front of the track.
"The One" moves to power ballad territory. Again, there is a high level of technical mastery present and is an overall strong track. What stood out most prominently for me, however, was that the "oooooh aaaaahhh oooooh" running in the background behind Sweet's primary vocals carried a very similar warble and style to the aforementioned "Blue Bleeds Through" (though it is a little less aggressive). This was so much the case that I found it extremely difficult not to hear "Bluuuuuueeeeee bleeeeeeddsss throough-ooooo" every time the ooohh aaah's played in the background. Still, "The One" reminds the listener that God is still the one that captures our hearts (and the band's) even after our/their long years putting our/their feet to the road.
"Legacy" returns the album to its harder path and works as one of the more aggressive songs with some burn-out done to Sweet's vocals. The message of the song is very fitting as it works in duality to ask the listener what their legacy will be as they leave earth and as a examination of the impact Stryper has had after thirty (or so) years. In this, the track serves as the right song at the right time with where many of the band's original/early fans will be in their own lives and as an examination of Stryper's validity in a world where their genre has long come and gone (though see opening comment on that one).
My personal favorite track on the album stomps in next. "Marching into Battle" is the spiritual successor to "Soldiers Under Command" and "To Hell with the Devil" all at once. Continuing the imagery of the book of Revelation, "Marching into Battle" presents a hypnotic battle anthem set to a fitting arrangement with a bold message about the final battle mankind will face. Just as fittingly, the track serves to continue the overall imagery started in the first two tracks and visualized on the cover. For longtime fans of Stryper, this will be the track to put on repeat, yet even those new to the band will find in this track a spirit of victory in music that is infectious. In many ways, though they are entirely different experiences, this track deserves to sit alongside Demon Hunter's "Storm the Gates of Hell" in people's playlists as a kindred spirit.
For me, "Marching into Battle" was the close of the first half of the album (though numerically it is not). Aside from my small amount of disinterest for the "Jesus is Just Alright" cover, I found the entirety of the first half to be quite engaging and surprisingly addictive. Unfortunately, I didn't feel as strongly about the latter portion. While no song on the album is distinctly "bad" or "poorly done," I certainly didn't engage as well with the remaining tracks.
"Te Amo," for example, has a very catchy chorus and some of the most distinct riffing on the album, but wasn't one of the tracks I would run back to once I put the album down. That said, others will certainly have a different experience in this regard, as it hits all of the notes 80's metal fans look for. The same could be said for "Sticks and Stones," which is a solid enough song with a greatly relevant message (the age old message that words can really hurt us), but still landed flatter for me.
The one track that sits as an exception to this, for me, was "Water into Wine." As an examination of the miracles of Jesus, "Water into Wine" has a great message of asking what we would do if Jesus were here today. Musically, the song felt like it hit a few Bon Jovi-like moments with that "bad boy" sound to it that was popularized by acts like his. As a total package, the track just worked for me and (as before) will be big with those who miss those "best of the 80's" sounds.
"Sympathy" hits a theme very close to Skillet's "Circus for a Psycho," but just didn't leave me wanting to come back, for some reason. Again, there is nothing objectively wrong with the track. The lyrics are engaging enough and the allusions are apparent in what the band is going for, for their part. I simply wasn't as captured and didn't see myself clamoring to come back for more.
The album closes out with "Renewed." In terms of the message of the album, "Renewed" is the right choice to exit on. Facing the problems of the world ("disillusioned… convoluted… tired of breaking down"), the band asks for God to take "us," shape "us," and make us renewed. All in all, the message and track are solid. Most importantly, the song leaves the listener on a high point, clinging to renewed hope and devotion. The 80's rock breakdown is also a nice touch to "play the album out" and into the history books… though the squawking at the end (preceding the final signature high note) could have been left out.
Musicianship: As stated before, Stryper have quite simply mastered their craft. Though some will certainly wish the band had experimented and branched out, most will rest easy knowing that they are paying for the very best this legendary band has to offer.
Lyrics: Stryper is unashamed to speak what they believe in. Lyrics are bold both spiritually and in dealing with relatable issues, such as our broken world. "Legacy," in particular, is a lyrical gem for some as it will likely be a theme many of the band's early followers find very real and relatable at this phase in life.
Lasting Value: It's hard to count out any band that has lasted as long in the music industry as Stryper has. While all bands have their ups and downs, No More Hell to Pay is certainly a strong addition to Stryper's expansive discography and may be a high point, overall. For "modern" (or simply younger) listeners, the lasting value may well depend on the impact of the album and the direction the overall hard-rock genre takes in the coming months and years. If the winds were truly to swing increasingly back to the 80's influences so readily apparent in some areas, Stryper could actually be ahead of the curve by staying right where they've always been.
Overall: The yellow and black attack are back. If you understand that phrase without any explanation, you don't need to know anything else. No More Hell to Pay is a solid addition to Stryper's discography and is a worthy addition for any fan. Those unfamiliar with the band can expect some of the most solidly produced hair-metal out there.
RIYL: Bon Jovi, Ratt, Poison, Whitesnake, Stryper (after 30 years they deserve to be mentioned in their own RIYL).
Related media: