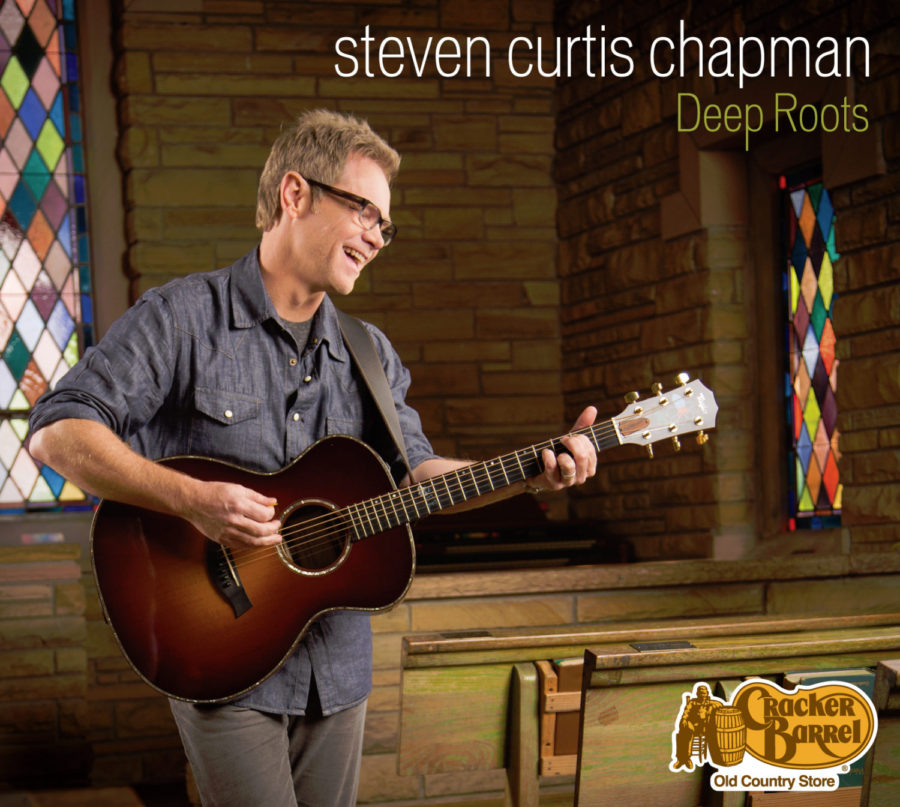 Artist: Steven Curtis Chapman
Title: Deep Roots
Label: Reunion Records
Release Date: 3/12/13
Reviewer: Jonathan Andre
Tracklisting:
Tis So Sweet to Trust in Jesus
How Great Thou Art (feat. Jillian Edwards Chapman)
What a Friend we Have in Jesus (feat. Ricky Skaggs)
Blessed Assurance
Life is Like a Mountain Railroad (Life's Railway to Heaven) (feat. Herb Chapman Sr. and Herb Chapman Jr.)
He Touched Me (feat. Herb Chapman Sr. and Herb Chapman Jr.)
Hiding Place
Rock of Ages
Be Still and Know (feat. Caleb Chapman)
His Eyes
My Redeemer is Faithful and True
Cinderella
Steven Curtis Chapman has been one of my favourite artists for a while now (in fact, after Carman and Delirious?, he was the next artist I listened to with his 1996 album Signs of Life). Since then, I have been able to listen to some of his greatest music, from 'Speechless', 'Dive', 'For the Sake of the Call', and 'Treasure of You'; to 'Not Home Yet', 'God Follower', 'Beauty Will Rise', 'Cinderella', 'Yours' and 'Much of You'. With Steven in the music industry almost as just as long as Michael W. Smith and Amy Grant, Steven has released more than 20 albums throughout his career, and is currently considered as one of the most prolific, poignant, compelling and encouraging songwriters in the history of CCM. Winning a variety of awards for his music (5 Grammy Awards and 56 Dove Awards), it was the fateful day of 2008 when his adoptive daughter Maria passed away that created a stir in the media, leading Steven and his whole family to declare their faith in Jesus to the public and the press, acknowledging that even in such a situation when they don't understand, God is still creating beauty from the ashes, making things new. Steven and his family have been advocates for adoption for a long time, and it's after 2008 that their campaigning for giving children a better life took on a whole new meaning. With his new songs reminding himself of a hope in Christ amidst difficult circumstances and his older songs sung in a different light, Steven has released his brand new 2013 album titled Deep Roots, encompassing 12 songs of bluegrass, acoustic and country style hymns, older songs, and heartfelt melodies only available digitally on iTunes and Amazon, and sold physically exclusively at Cracker Barrel Old Country Stores. Not your average CCM album that's heavily pop friendly, this acoustic set list of songs is able to excite any Steven Curtis Chapman enthusiast, as they see some of his older hits like 'My Redeemer is Faithful and True', 'Be Still and Know', 'Hiding Place' and 'His Eyes', as well as his poignant melody 'Cinderella', re-recorded and sung to reflect the tragedy and the hope he has received in Christ, reminding himself and us as well that even when there are trials, '…the dance will go on…', as we press forward in light of Christ's redemption of ourselves back to Him and the broken world He is constantly fixing. A certain purchase if you're a fan of Steven's or if you really like a departure from him to incorporate country and bluegrass, Deep Roots is great to listen to as a reflective tool of worship as we listen and understand that '…this is my story, this is my song, praising my Saviour, all the day long…' ('Blessed Assurance').
This album is particularly special to Steven, with a great number of collaborations with his family throughout a number of songs on the album. From singing with his father, his brother, his son and his daughter in law, Steven's harmonies with each of his family members alone is enough to keep listeners interested in his 2013 album. With no drums and a fair amount of acoustics and a violin, this country and bluegrass inspired album is something that Steven has never done before, and for me personally, it's a good welcomed change. From 'How Great Thou Art' featuring Jillian Edwards Chapman to 'Be Still and Know' with Caleb Chapman and both 'He Touched Me' and 'Life is Like a Mountain Railroad' with Herb Chapman Sr. and Herb Chapman Jr., Steven's heartfelt duets on Deep Roots solidly anchor an album full of old hymns and newer melodies to create a sense of timelessness these hymns can provide. Listening to his poignant declaration of how '…when Christ shall come, with shouts of acclimation, and take me home, what joy shall fill my heart…' ('How Great Thou Art') is a great moment, with 'How Great Thou Art' possibly being my favourite duet on the album. As Jillian's soothing vocals remind me of lead singer of Sixpence None the Richer Leigh Nash, Steven's duet with his daughter in law is sung with much passion to give us a great rendition of a classic hymn. Possibly one of the most famous hymns of all, 'How Great Thou Art' gives us a renewed hope and a declaring spirit as we individually and collectively cry out God's goodness to us always!
Both Steven's father and brother shared the vocals with him on well known hymn-like songs 'He Touched Me' and 'Life is Like a Mountain Railroad', and while each of these songs were not familiar to me prior to listening to Deep Roots ('He Touched Me' was written by Bill Gaither and famously covered by Elvis Presley, 'Life is Like a Mountain Railroad' by songwriter M.E. Abbey in the late 1800s), Steven's renditions of these two very old hymns certainly pays homage to how they were originally recorded. Normally one can tell the era of a song just by listening to the musical style, and listening to these two songs that remind us of God's greatness and His guiding us '…till we reach that blissful shore, when the Angels wait to join us in Thy praise for evermore…' ('Life is Like a Mountain Railroad') as well as giving a personal testimony of how '…He touched me, and oh the joy that floods my soul…' ('He Touched Me'); Steven's harmonies with his father and brother showcase some of the most impressive modern songs that imitates the era of 19th century music quite well. With light acoustics and powerful vocals from both himself and his family members, lovers of older hymns (and possibly less popular hymns) will certainly enjoy these two tracks that remind us of the simplicity of songs back then, yet songs that were just as profound as the modern anthems we sing today. Well done Steven for such a compelling and inspired musical recording!
'Hiding Place', 'His Eyes', 'My Redeemer is Faithful and True', 'Be Still and Know (w/ Caleb)' and 'Cinderella' were all written by Steven and released on a variety of his albums, stretching back from 'His Eyes' on First Hand to 'Cinderella' on This Moment. While many of these songs don't necessarily sound to different from their original recording counterparts, the new and updated versions of each of these Steven Curtis Chapman classics are great to listen to against the musical backdrop of bluegrass, country and acoustic. As Caleb sings the second verse on 'Be Still and Know', it can be hard to decipher his voice at times, with myself almost thinking that Steven was singing the whole song. Caleb's voice certainly will be a great one in the music industry, and following in his father's footsteps to become a singer-songwriter will certainly pay off, if this song is any indication to go on. 'Cinderella' is a beloved song that has taken on a whole entire new meaning since the fateful day in 2008, and every time Steven sings it, we are reminded of how precious our time is here on Earth. With the acoustic nature of the song accentuating the lyrics and messages it portrays, all of Steven's re-recorded songs ('Cinderella' in particular) have strengthened this album greatly, as we hear a collection of songs that, while written a while ago, seem to evoke and give us the same emotion and hopefulness that the original recordings gave us years ago. 'Hiding Place' lets us know that it is Christ that we can run to whenever we need to hide and search for safety, while 'His Eyes' lets us know of the omnipresence of God, and that He is watching us with love as '…He whispers, "My child, I created you too and you're my most precious creation; I even gave my Son for you."…' Both these songs employ a light acoustic musical presence to let the listener relax and listen to the poignant words being sung over them. 'My Redeemer is Faithful and True' is also an older Steven Curtis track, and while this song may not be that familiar to me (the only time I heard it was on a live DVD Steven did in 2002), Steven's rendition of a fan favourite gives me great assurance that Christ is who He says He is, faithful and true til the end of time. With both his father and brother singing backing vocals, 'My Redeemer is Faithful and True' sets us on a journey of revelation as we listen to this lyrically simple, yet equally poignant melody that reminds us of God's goodness to us. Well done Steven for this great rendition of a 1987 hit song!
Overall: From 'Blessed Assurance' where Steven presents the most acoustic song on the album as we hear him declare that '…this is my story, this is my song praising my Saviour, all the day long…' to 'Rock of Ages', a hymn that I did not know the original melody of until I listened to Steven's version (the only song I heard was 'Rock of Ages' by Charlie Hall); Steven's choice of hymns and older melodies were songs that I didn't really expect him to cover or even sing. Most of these song choices are obscure and out of left field, but that's what is great about Steven and his singing. Even though there are no familiar hymns on the record like 'Jesus Paid it All', 'Turn Your Eyes Upon Jesus', 'It is Well' or 'The Solid Rock', Deep Roots still feels like a hymns album, and one of the most unique hymns album for a while since Faith: A Hymns Collection by Avalon in 2006. Firmly grounded in faith as Steven relays some of his beloved songs and hymns of his own past, we are met with an album that could be uncomfortable for some who may not be that exposed to the bluegrass/acoustic genre (I myself had a little difficulty listening to the Gaither song 'He Touched Me'), Deep Roots remind us where our foundation really lies, and that in Christ, we ought to know that '…what a friend we have in Jesus, all our sins and griefs to bear…' A great purchase if you thoroughly enjoy the acoustic and bluegrass genre, this album is a great divergence from Steven, as he branches out into some new music. Well done Steven for a different, yet equally profound and welcoming album!
RIYL: Michael W. Smith, Ricky Skaggs, Randy Stonehill, Amy Grant
Buy the Album: iTunes/Amazon mp3