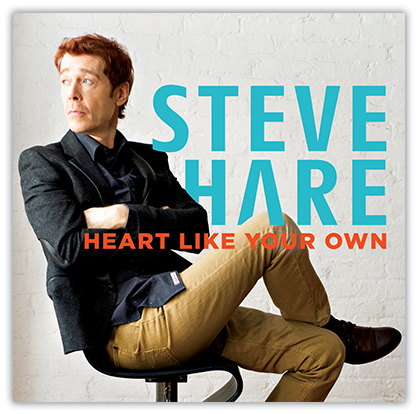 Artist: Steve Hare
Title: Heart Like Your Own
Label: DREAM Records
Release Date: 5/7/13
Reviewer: Jonathan Andre
Tracklisting:
A Heart Like Your Own
Back to Your Heart
Take It Over
See You Shine
Hold Nothing Back
Reach A Heart
You Ain't Seen Nothing Yet
On the Edge
I Will Not Be Moved (feat. Beckah Shae)
Our God is Here
Beyond Our Wildest Dreams
Your Fire is Here
Heaven Bound
The newest signing to DREAM Records, a record label housing artists like Kingdom, Luke Dowler, Nicole Croteau, Press Play and Jonathan Thulin; Steve Hare's debut album label Heart Like Your Own is a great breath of fresh air. The genres of worship and dance have collided to create an album certain to be purchased by fans of artists like Group 1 Crew, Warr Acres or even Britt Nicole, as Steve showcases his heartfelt melodies as some of the most infectious and refreshing dance hooks and riffs since the melodies in Britt Nicole's Gold and Group 1 Crew's Fearless released last year. Serving as a chaplain for the Philadelphia Soul Arena Football Franchise, as well as being the founder of REACH Radio and one of the advocates for Project Restoration Inc, an outreach ministry that reaches out to troubled kids and families in the inner city and provide them with music, games and a mentoring program that reaches individuals where they're at; Steve's heart for missions is certainly evident, not just through his music but also through his words about what the ministry is about. Through the confrontation of '…little children playing the street with drug deals going down on the corner…', Steve brings in teams on a regular basis to affect the lives of those living within the neighbourhood for the better; and while A Heart Like Your Own may be a different change for Steve, his passion and encouraging spirit still remains the same. His passion to '…help others meet the heart maker and know His love for them…' is fervently shown through the title track, as well as many other album highlights like 'See You Shine', reflective keyboard ballad 'Hold Nothing Back' and the Warr Acres cover 'Heaven Bound'. Reminding me vocally of Michael Tait from the Newsboys, Steve's debut album on DREAM Records is destined to become a fixture in the dance-worship music playlist, as I'm sure many listeners will respond to the heartfelt message that God replaces our heart with one like His own, reminding ourselves that God continues to work within us as we are moulded and shaped into the godly men and women He longs for us to be!
'A Heart Like Your Own' is the first radio single from the album (and also the first track) and with a rhythmic electronic beat and a powerful message about giving everything to the Lord, even if it means to trust Him to break the things in our lives that are not of Him; Steve Hare gives us a powerful single and a reminder that our main priority ought to be us longing for a heart like Jesus. While EDM music can seem a little repetitive with looping beats and electronic music that can seem a little forced and musically bland to some people, others adore it while many others can seem indifferent to it. Myself? Lately with the listening of Group 1 Crew's Fearless, Britt Nicole's Gold and Kerrie Roberts' Time for the Show, I don't think I can get enough! With such hope and powerful vocals shown through the first song, this DREAM Records artist has certainly created a song relateable to many, as Steve cries out that '…I've got this inward curse so I don't wanna serve the needs of anyone but myself, it goes against my grain so if I'm gonna change, it's gonna take your mercy to help…' As we become fully aware of the struggle deep within us with both sides of us, the one that loves to honour God and the other that longs to live life selfishly, we can manage our own inner turmoils with Christ within us reminding us of His love for us no matter what choice or decision we make. Regardless of whether we ask God to break our hearts and replace it with His love or not, He will still love every part of us, even the destructive places that we so often are ashamed of. Powerful and reflective; Steve has presented us with a song that encourages inward change and the fear of losing the control we so often want to grasp and hold onto. Well done Steve for a great song that shows us that our hearts, even if we think they are unlovable, are just one cry away from being replaced '…with a heart like Your own…'
'Heaven Bound' is one of my favourite songs on Warr Acres' 2011 album (also released on DREAM Records), and to hear it here on Steve's debut album as the last track is a joy to listen to. Similar in lyrical melody yet uniquely different in terms of musicality (a lot more electronics to make the song more dance music friendly), Steve covers this song pretty good, as we are reminded that our focus ought to be on the eternal as we fix our eyes on Christ, the author, provider, perfector and sustainer of our faith. With looping percussion and passionate vocals to create an 'ooohhh' dance moment where we can't help but dance along with the song, Steve's rendition of what I think would be a classic in many years by Warr Acres is fitting as the last song on the album. Our hearts and lives ought to be focused on being heaven bound; knowing that everything in our world will pass and that ultimately Christ alone will remain. Also reminding ourselves of the power we have within us through Christ to do considerably more than we can ever ask or imagine; 'Beyond our Wildest Dreams', written by American Idol finalist Chris Sligh, challenges us to dream big and trust in a God that can show us the outcomes, which I'm sure will be bigger, better and much more exciting than we can ever hope for or even imagine. Starting off with a keyboard riff introduction and a looping percussion that fits quite well with the dance-ballad musical atmosphere Steve is trying to create; we are given a moment of clarity as Steve invites us to see '…a love that's beyond ever ending here…a hope that'll chase away all your fear…a peace that passes all understanding…' A God that will meet our needs and desires before we even utter the words is something to celebrate, and 'Beyond Our Wildest Dreams' does a great job at inviting us into this reality. With Steve also covering 'Our God is Here' by Phillips, Craig and Dean to create a dance worship song full of hope that '…oh we've got a hope that will never shake, when we put our faith in the one who saves, mountains move, giants lose, dead men walk out of empty tombs…'; Steve's covers, just like their original counterparts by Chris Sligh ('Beyond Our Wildest Dreams'), Warr Acres ('Heaven Bound') and Phillips, Craig and Dean ('Our God is Here') showcase some of the heartfelt and poignant worship melodies created in the last few years. Great to listen to on joyous and happy occasions, it is the cover songs I believe that will grab the attention of potential listeners of the album as they explore the genre of dance-worship.
'Back to Your Heart' starts off like a euro dance mix as if the song was a remix rather than the actual song (which is a great thing for EDM lovers) as Steve unveils his heart for the Lord and showcases his devotion as he cries out '…take me back to the start…take everything away that isn't true, taking anything away that isn't You…'; while 'See You Shine' gives listeners the hope and courage to shine for Jesus wherever we are, and that Christ continues to unveil Himself through others and the creation around us. Electronic keyboards are the main instrument in 'Your Fire is Here', a dance-pop revival song about crying out to the Lord asking for his presence to reign down on us and show us the fire from heaven and the hope and love that comes with it, and while the song can seem like an odd declaration, the fire of God is enough for us as we delve deeper into the Lord's presence. The music behind 'Take Me Over' reminds me of something TobyMac, KJ-52 or Group 1 Crew would use in one of their songs and will certainly impress fans of these artists as they listen to an album full of electronic beats that remind listeners of a variety of rap-hip hop and dance artists, yet while the music represents 'happy dance time', the lyrics speak a bit deeper, with Steve asking the Lord to take control and full control of his life. Understanding that humans ourselves can be selfish and inconsiderate of a bigger picture than of what we're seeing at the moment, surrender to the all-knowing all-loving God can seem like a forceful act at the particular moment, but in time, I'm sure we all can agree that with surrendering gives a form of peace and comfort given from striving less. 'Hold Nothing Back' peels back the electronic music base to present a ballad-like anthem with Steve urges listeners to come to the cross as we are, holding nothing back from the Father as we declare for God to '…break down the walls, capture my soul, I'm laying down all that I've been, rescue my heart, take it apart, I surrender my life to Your hands…' and present to Him a prayerful song full of vulnerability and trust.
Overall: Also reminding us of faith with action and helping in brothers and sisters in Christ (and those not in Christ) in the piercing yet encouraging 'Reach a Heart'; as well as giving us motivation in the hard times in 'You Ain't Seen Nothing Yet', a powerful encourager that shows us that Christ hasn't given up on us even if at that point we have; Steve's hopes for the album are painted quite clear in each and every song- allow ourselves to be transformed by the love of Jesus as we shows us the places to go and people to meet along this life's journey with Him close to us to give us guidance and provide hope whenever we need it. Fans of any Christian dance music will certainly fall in love with this album, providing listeners an outlet to express their own dancing inklings (or even express their pain, sorrow and hurt)- through this music, I'm sure Steve will obtain a massive positive response through his original songs and covers alike. Fans of Britt Nicole, the Newsboys, TobyMac, even Group 1 Crew and KJ-52 would definitely enjoy these songs by the newest signing to DREAM Records, or fans who love worship with a modern dance-pop edge. One of the standouts in May 2013 that I've heard so far, I'm sure Steve's second album, whenever that may be, will certainly be just as good as his first. Well done Steve for such an inspirational and enjoyable album!
RIYL: TobyMac, Britt Nicole, KJ-52, Newsboys, Group 1 Crew
Buy the Album: iTunes/Amazon mp3