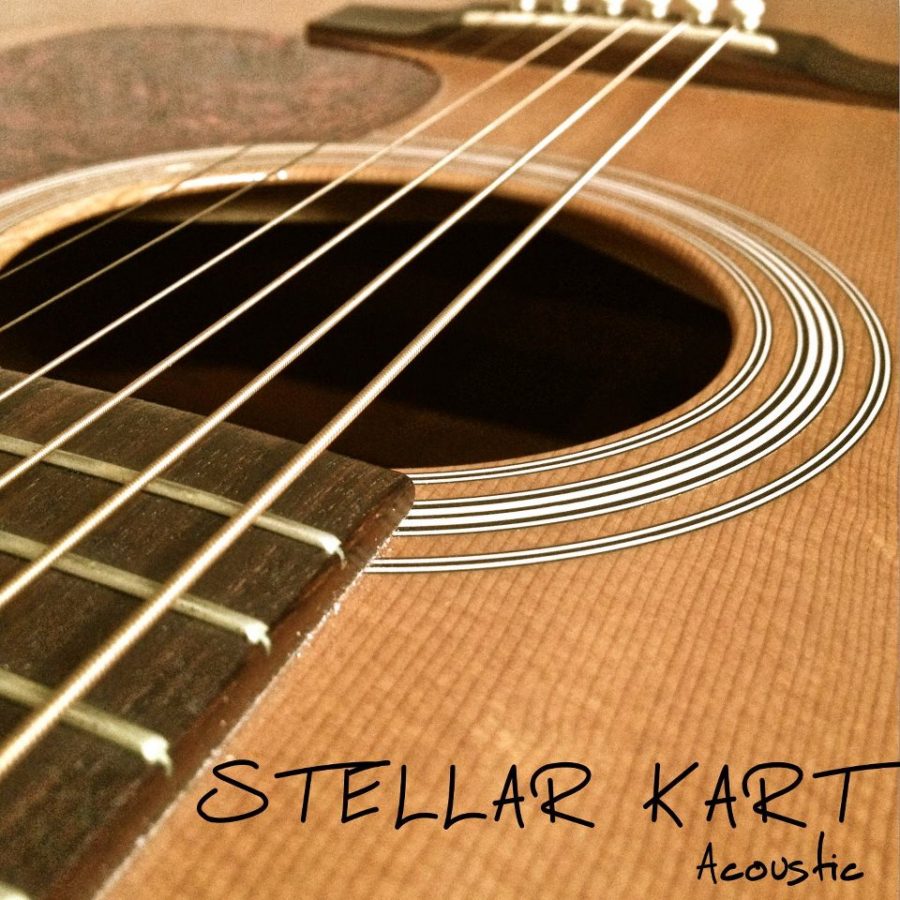 Artist: Stellar Kart
Title: Acoustic
Label: independent
Release Date: 10/16/12
Reviewer: Jonathan Andre
Tracklisting:
Letters
Ones and Zeroes
Me and Jesus
Shine Like the Stars
Something Holy
Finish Last
Wishes And Dreams
Criminals and Kings
It has been around 2½ years since Stellar Kart released brand-new material. Releasing their worship album Everything is Different Now, the band experienced some personnel changes with long-time bassist Brian Calcara and drummer Jordan Messer leaving the band to pursue other interests, leaving Adam Agee as the only founding member present in this now 3-piece group. Releasing a Disney covers EP last year August with hit songs from Disney films like 'Kiss the Girl', 'Be Our Guest', 'A Whole New World' and 'Can You Feel the Love Tonight'; Stellar Kart's announcement via twitter and Facebook of their brand-new acoustic album has been met with ecstatic euphoria as fans around the world gear up for the band's highly anticipated 2013 new studio album release. With a collection of some much-loved songs throughout their career inclusive of hits 'Me and Jesus', 'Something Holy' and 'Wishes and Dreams'; as well as two brand new acoustic songs 'Criminals and Kings' and 'Ones and Zeros', this unique, vibrant and invigorating acoustic album is a new way to listen to old songs, with Stellar Kart peaking their fans interest (including mine), as listeners around the world anticipate their new studio album for 2013!
'Me and Jesus' is arguably Stellar Kart's most famous song, and with just an acoustic guitar and Adam Agee singing out the vulnerable, heartfelt and encouraging words '…someone loves you, even when you don't think so, don't you know, you got me and Jesus…', listeners are exposed to the vulnerable side of Stellar Kart, as with just some simple acoustic guitar plucking and great vocal work from Adam; we are able to just rest in the words being sung, that even when we may feel like giving up, or that no one supports us anymore, we have Jesus with us, reminding us that if He is for us, nothing can stand against us. Another great radio single re-recorded is worship melody 'Something Holy', one of 2010's biggest Christian hit songs by any artist. Reminding listeners that every soul on the planet is searching for something more than just the mundane existences we sometimes may lead, we are presented with the lines that '…we were born to be a part of something holy, all of us a restless til we find…bigger than you and I, bigger than all our lives…'; and through the guitar picks and nice riffs by Nick Baumhardt, I am able to fall in love with this song even more, giving myself (and all listeners) the assurance of our confidence in Christ as the creator and the life giver and sustainer of our lives. 'Letters' is a poignant melody of longing and waiting and with the song making it ambiguous about whether Adam is singing to God or to His wife, we are met with a moment of honesty and transparency as we understand, as Christians, that even in this life if nothing seems to go right, we have the confidence and assurance that '…some day soon we'll be together, where a moment lasts forever and our love shines brighter than the stars…'
The acoustic guitar strums instead of the strings, drums and electric guitar solos are what makes these songs much more reflective, and particularly in 'Shine Like the Stars', the rock anthem is transformed into a heartfelt plea from Adam as he declares above the heavy acoustic guitar strums that we ought to '…shine like the stars wherever you are, wherever you go, be heavenly go…' A call for Christians to come from hiding into the world to proclaim the good news to everyone they meet, though this song's musicality is drastically different than the original, its message is the same- declare Christ wherever we go! The last two Stellar Kart 'old' songs aren't necessarily the most popular, but 'Finish Last' and 'Wishes and Dreams', from the album All Gas. No Brake and We Can't Stand Sitting Down respectively, remind us of the unending love of Christ to His creation and how the race that we're running in our lives does not compare to the love and abundance of grace showered upon us by Him, and that even if we do finish last and viewed by the world as a failure, God's view of us will always be first. The acoustic versions of these two songs are so enjoyable that I may just enjoy these two renditions better than their original counterparts! Well done Stellar Kart for these acoustic tracks of fan-favourites.
With 2 brand-new Stellar Kart songs on this album, and quite possibly on their new studio album out in 2013; 'Ones and Zeros' is the 2nd track on Acoustic. With the song portraying a patriotic feel and a sense of togetherness as Adam declares that '…we are the ones, we are the future heroes, a colourful symphony…', I am able to soak in the understanding that Christ makes us with a future in mind for each of His creation, giving us a clear voice for those who don't have any, and compelling us to stand up for these men and women. A song about unity and accepting the call Christ has upon our lives, 'Ones and Zeroes' is a perfect first single for their 2013 new album. 'Criminals and Kings' presents a dichotomy of understandings that we sometimes believe of ourselves, even after who God says we are. Understanding that we are priceless in His worth, we may still sometimes slip into the false belief that we are still not free- we are Kings and heirs, but sometimes we may believe that we are the criminals we once were, or even act that way too. This song full of life and vibrancy as Adam and Nick strum the guitar to imitate percussion, and is one of my favourites on the album with an expression of honesty- understanding that even if we do mess up in our lives, we can be sure that '…You are my only freedom…' Well done Stellar Kart for this song of hope and freedom in Christ!
Overall: From reflective melodies like 'Letters' to rock songs like 'Shine Like the Stars' and 'Wishes and Dreams', Stellar Kart has been able to acoustically cover their most loved songs and some that may not necessarily have been the most popular in a radio sense, as well as placing in the mix a couple of new songs to whet listeners' musical appetite until next year, this surprise EP from a band that had many listeners wondering when their next new song material would release, is able to better Kari Jobe's The Acoustic Sessions as my favourite acoustic album of the year! With a musical flavour similar to Sanctus Real and Hawk Nelson, Stellar Kart's continued presence in the music industry with this acoustic album as well as the Disney EP last year has given me much anticipation, hoping that their new album will be their best yet. Meanwhile, we are able to enjoy these stripped-down acoustic tracks sung in an honest and real way with Adam reminding listeners that '…Your words of hope remind me somewhere the sun is shining, don't give up the fight…' ('Letters'). Well done Stellar Kart for such an awe-inspiring and hopeful album. Bring on 2013 for the new release!
RIYL: Relient K, Hawk Nelson, Sanctus Real, Kutless
Buy the Album: website/Facebook Bandpage