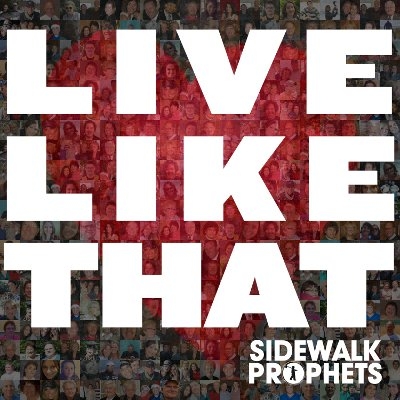 Artist: Sidewalk Prophets
Title: Live Like That
Label: Fervent Records
Release Date: 3/26/12
Reviewer: Jonathan Andre
Tracklisting:
Hebrews 12:1 (Prelude)
Live Like That
Love, Love, Love
Save My Life
Keep Making Me
It's Good (Love's Not Safe)
Help Me Find It
Heart's On Fire
Wrecking Ball
Nothing's Gonna Stop Us
For You Tonight
This Is Not Goodbye
Sidewalk Prophets have had quite a ride since August 2009. After their debut album These Simple Truths, they have had much radio success, with their hit single 'The Words I Would Say', peaking at No. 3 on the Billboard Christian Songs Chart; so popular that it featured on both WOW Hits 2010 and WOW Hits 2011. Releasing their sophomore album, Live Like That last March, I was very eager to listen to how their sound progressed. Personally, this is a sentimental album for me, as when the band announced that they wanted their fans on the cover of the album, as to make a statement saying 'I admire ____ and want to live like them, as when I see them, I am inspired to live like Jesus'; I jumped at the chance. My brother sent a picture of me, and me of my brother, with the first 300 submissions landing on the front cover. I had 3 pictures of myself, and my brother had 4, but the real test was the music. As I listened, reflected and compared this album to their last, I felt like they improved, but not to what I'd hoped considering the 3 years between. Apart from a few hit songs, most sounded like radio-friendly pop melodies with little distinction between each of the songs. Not to diminish Sidewalk Prophets' passionate and honest motivations to see everyone come to the realisation that God wants us to draw closer to Him in relationship; I expected better from a band that had such a successful debut.
'Live Like That' is the first album single released to radio last December. As I listened, I can safely say that this song is one of the best that they have recorded. Focusing on a heavy piano undertone in the verses before the anthemic choruses, Dave Frey poses a question to the listener, asking them whether '…am I proof that You are who You say You are, that grace can really change a heart, do I live like your love is true?…' As I ponder this lyrical statement, I am astounded at how as a society, we tend to just live our lives, rather than to stop and ask ourselves, 'How am I living? Am I showing the love of Christ everywhere I go?' Tagged to this song as a prelude is a 40 second instrumental track, titled 'Hebrews 12:1'. As I looked in Hebrews, I found this passage; '…Therefore, since we are surrounded by such a great cloud of witnesses, let us throw off everything that hinders and the sin that so easily entangles…[running] with perseverance the race marked out for us, fixing our eyes on Jesus…Perfecter of faith…' This is exactly what we need to do, as we surrender everything to the Lord, we must look forward, running towards the goal of knowing the Lord more. What a wonderful first single from Live Like That!
'This is Not Goodbye', as last tracks go, is one of the best. Although an unspoken rule with placing stronger songs near the beginning of the album, this last track is one of my favourites. Having a similar thematic element to Michael W. Smith's 'How to Say Goodbye', Dave sings across the strings and piano, revealing his heartfelt cry to a friend that '…the time has come for you to leave, it's so hard to let you go but in this life I know you have to be who you were made to be…' Though the mood can seem like he's singing about someone who's passed away, it can certainly seem like that when you're farewelling a friend that you know you won't see for a long time. This is a hopeful song, that even if we may not see our friends now in this life, if they are fellow believers in Christ, we will definitely see them in heaven. One of the most powerful songs on the album, this piano ballad proves that even the simplest of melodies can evoke in someone a response so emotional.
'Heart's on Fire', 'For You Tonight' and 'Save My Life' can all be radio singles, and have all struck a chord with me as I listened through the whole album. 'For You Tonight', written from God's perspective, shows us that we are never alone, that God wants us to come to Him, with everything that is pressing on us, to lay it at His feet. As Dave sings the chorus, God sings down to His creation, that '…my heart beats for You tonight…there is a hope with arms open wide for you tonight…' With a strong drum beat, I can see this song ministering to people, showing them that God's arms are open, with no condemnation or judgement. 'Heart's on Fire' is an acoustic piano-driven song, showing Dave's devotion to the Lord, as he sings out '…maker of all, I want to know You, You are the flame, my heart's on fire…' Something different from the band, this acoustic song challenges us to keep burning for Christ, hearts alive and minds pure. Confronting and comforting at the same time, this is a special treat from an album that is a mixed bag. Lastly, 'Save My Life' is my favourite song on the album next to the title track. A song about someone speaking to someone else, asking them to help them when they need it; we need to understand the call that God said to us, to be the hands and feet of Jesus to the world we live in. As I hear the words '…right now I need a little hope, I need to know that I'm not alone, maybe God is calling you tonight to tell me something that might save my life…' I am truly convicted that just one person's words of encouragement or personal attack can make all the difference when it comes to someone else's life.
An album can't be perfect, and this is resembled in the remainder. 'Keep Making Me' speaks about how we ought to pursue God, our one desire; but should we truly ask these questions '…make me broken so I can be healed…make empty so I can be filled…make me lonely so I can be Yours…' in order for us to experience God's love and desire? Both of Sidewalk Prophet's rockers 'Wrecking Ball' and 'Nothing's Gonna Stop Us' seem out of place in a CCM-heavy album, with drum kicks and guitar sounds sometimes sounding overdone and overpolished. There is even a moment when I knew that the drum kicks were added post-production, maybe as an afterthought. Both 'It's Good (Love's Not Safe)' and 'Love, Love, Love' speak about an important fruit of the spirit. However, this is an overdone concept in CCM, and having these theme-related songs on the album seems unoriginal.
Overall: Sidewalk Prophets' new album on its own is a surprise. With heartfelt songs about hope, comfort and living like Jesus, this album provides an avenue for people who may need to know that they are loved unconditionally. But when compared to their debut album in 2009, this release isn't a step up, with only half the tracks standing out. Not to put down the heart and soul of the band, I'm sure their intentions for this album were genuine. However, with some overdone cliché-themed songs and questionable sound mixing, this album is only a 6/10, good but not great, a good listen, but not that memorable compared to others like Britt Nicole's Gold or Jimmy Needham's Clear the Stage.
RIYL: MercyMe, mikeschair, Casting Crowns, Big Daddy Weave
Buy the Album: iTunes/Amazon mp3