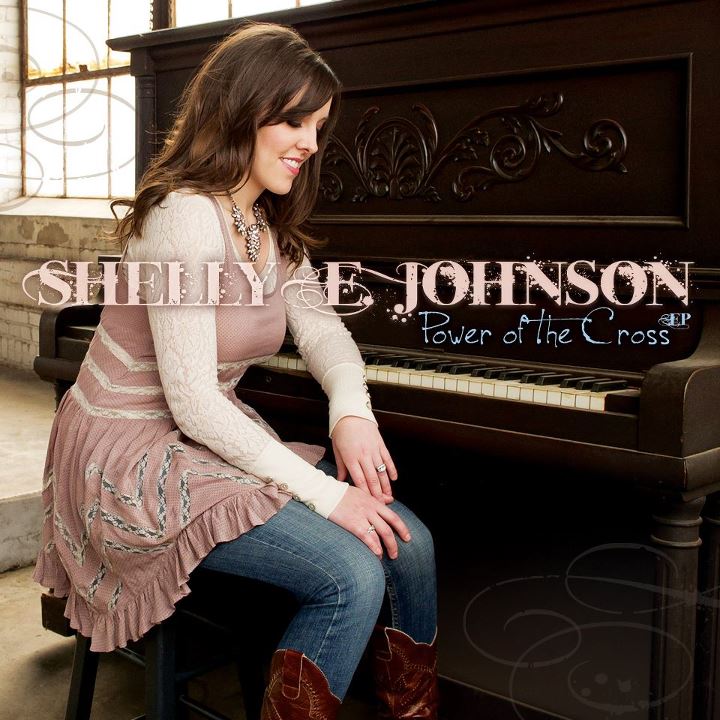 Artist: Shelly E. Johnson
Title: Power Of The Cross EP
Label: Maranatha! Music
Release Date: 8/14/12
Reviewer: Jonathan Andre
Tracklisting:
All Things Beautiful
Power of the Cross
Refuge
Hallelujah Forever
Many songwriters are just that, writing behind the scenes giving ideas and written prowess towards a lyric or melody that will be sung by worship leaders and artists around the world. Some however are exceptions- Jason Ingram (frontman of One Sonic Society), and now Shelly E. Johnson (songwriter of a global musical hit, 'Power of the Cross'!). One of my favourite songs on Natalie Grant's latest album Love Revolution, her version of the Shelly E. Johnson penned melody 'Power of the Cross' (not to be confused with Keith Getty's hymn-like version with the same name) has been and always will be one of my favourite songs on this Dove Award nominated album. Now in 2012, the songwriter behind this powerhouse radio hit has released her label debut EP on Maranatha Music, also titled Power of the Cross. Listening to this EP, I was able to parallel vocal leanings towards Superchick singer Tricia Brock, as well as mainstream artist Katharine McPhee, and even likening Shelly to Natalie Grant herself. From the power ballad proclaiming that '…that's the power of the cross, see the chains fall…' ('Power of the Cross') to the heartfelt first single of 'All Things Beautiful' describing moments of beautiful surrender as we entrust our lives and the shaping of them into Christ's hands; this 4 song EP is a welcomed and refreshing taste into what is hopefully a great musical career, for months and years to come.
Initially hearing 'Power of the Cross' on Love Revolution, this is a song about redemption and healing as listeners respond to the declaration that '…once a stranger now a child, empty now filled, once condemned now reconciled, broken now healed…', realising that the feat of Christ's death and resurrection was enough to save us from an eternity of separation from our Father. Grasping the enormity of this fact, this is a freeing melody full of enthusiastic proclamations as Shelly hardly strays from Natalie's recording, with the same powerful vocals and hopeful lyrics propelling this song into one of the most celebrated and appreciated hymn-like melodies of the last few years, and in my opinion, possibly could succeed 'In Christ Alone' as the next modern hymn for today's generation. The first single of the album 'All Things Beautiful' is less worshipful and more down-to-earth as it exposes and brings to light some of humanity's concerns with the life that we live. Lyrically poignant, challenging and ultimately comforting, the words '…a soul that finds a song to sing despite the pain and suffering…how beautiful the heart that brings an offering of praise towards the One who makes all things beautiful…' give us not necessarily answers to the burning questions everyone on the planet has, but rather assurance that Christ will weave all the pain and hurt in our lives and make it something beautiful, thereby transforming us into His likeness in the process. A guitar driven and vocally powerful melody at heart, Shelly offers insightful understanding of the song's message- '…I become overwhelmed by all the suffering…and [reconciling] this in light of the loving and all-powerful God, I am simply left…asking 'Why?'  This song is my response…I can confidently place my hope in Christ because I know His plan is perfect and that one day He will redeem, restore and make all things beautiful…' Well done Shelly for these two powerful and motivational melodies!
'Refuge' and 'Hallelujah Forever' are the other half of the EP, each with their moving and emotional messages of hope and redemption, full of praise and adoration as listeners hear two polar opposites musically, yet both equally as powerful full of rich biblical truths. 'Refuge' speaks about how Christ is our refuge in our times of need and through strong percussion and an earthy vocal technique, reminding me of both Bethany Dillon and Lindsay McCaul through this melody; Shelly cries out '…Your love redeems, Your mercy heals, forever You are my refuge…' and as listeners are confronted with the message that God's love pours deep within us, His touch healing and protecting, we are able to rest in the comfort and assurance that Christ gives us freely. 'Hallelujah Forever' is a celebration and musically, one of the most vibrant. Full of keys and guitars and a dancing rhythm undertone, Shelly declares from the outset, '…let the fallen rise and stand, let the broken be whole again, it is done…hallelujah forever…', her passion evident as we meet the message of restoration head-on with this anthem, a certain changer for our souls that are never finished with a reminder of God's redemptive nature. As listeners understand and comprehend God's character of rescuing the people out of even the most hopeless of circumstances, we can continue to share what we know to those around us. One of my favourites on the album, 'Hallelujah Forever' is a gem to all who listen!
Overall: This EP is a great teaser to a possible full-length album either this year or next year from an artist certain to achieve highly in the Contemporary Christian music circle of artists. Full of vibrancy, hopefulness and sometimes confrontation, Shelly has been able to offer songs of questions and answers as we wrestle with life's questions, continuously understanding Christ's role in creating the beautiful in our lives amidst all the calamity and chaos. If you're a fan of all things CCM, and enjoy music from Natalie Grant, Tricia Brock and Bethany Dillon, this album is a certain purchase. Well done Shelly for a snapshot of what may come in the future. Can't wait for the full length album!
RIYL: Natalie Grant, Tricia Brock, Bethany Dillon, Lindsay McCaul
Buy the Album: iTunes/Amazon mp3