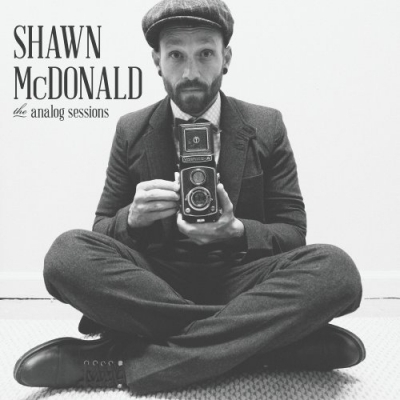 Artist: Shawn McDonald
Title: The Analogue Sessions
Label: Sparrow Records
Release Date: 3/26/13
Reviewer: Jonathan Andre
Tracklisting:
Eyes Forward
What Are You Waiting For
Gravity
Closer
Through it All
Rise
Captivated
Beautiful
The Space Between Us
Take My Hand
All I Need
What Are You Waiting For (Radio Version)
Through It All (Radio Version)
Releasing four studio albums throughout his almost-10 year musical career, folk-acoustic artist Shawn McDonald has had much commercial and critical success through songs like 'Free', 'Gravity', 'Captivated', 'Times' and more recently from his latest studio album Closer, the title track and other chart topper 'Rise'. Now releasing a somewhat best-of album featuring a new technique in the album recording process (capturing the songs using analogue techniques, such as using tape or film rather than digital ones like the computer) as well as introducing 2 new tracks to listeners in both the radio and acoustic format, fans of Shawn McDonald's earlier work will certainly jump to these new, different and unique renditions of these songs as they provide a brief snapshot of his career, yet equally intriguing as the album gives a chance for newer fans of Shawn (like myself) to take some of his hits throughout his career, listen to them, and then explore the rest of his songs that make up the last four albums of his music career so far. While this album certainly appeals more to die-hard Shawn McDonald fans, I have thoroughly enjoyed this project, even though personally, I know only a few songs on the album. With The Analogue Sessions certainly going to peak my interest in previous albums by this Oregon native, this album is certain to stand tall amidst other releases in March 2013. As Shawn describes the recording process, '…when I was talking to my longtime producer Chris Stevens, he proposed an idea of recording at an old school studio where we'd record live to tape just like they used to do. I didn't even know if those places still existed, but we found Welcome To 1979 studio, which used to be a record pressing company back in the day. There were no computers, just tape machines, vintage amps, crazy old keyboards and I even sang on a microphone Frank Sinatra used for years…', we are given a great amount of history that comes with the album, providing a different light and perspective on the album and thereby making myself and I'm sure other listeners gain a more appreciative approach and a refreshing outlook to the album. The Analogue Sessions showcase some of the best produced acoustic tracks since Steven Curtis Chapman's 2011 album Re:Creation.
'What Are You Waiting For' is the first radio single from the album, and a great melody to introduce new listeners to the work and music of Shawn as we reflect upon the heartfelt message of moving from a place where you're stuck to one where Christ is the centre of every decision you make. The motivation to move on from your mistakes can be hard to find when you're in the moment of hurt, but as Shawn sings out through the looping percussion and keyboard in the radio version, '…what are you waiting for, you're standing at an open door, this is your life, you never live twice, step through to the other side 'cause there's so much more…' we are reminded of the fantastic and marvellous things God has planned for us if we just step out in faith and move from the uncertain over to still uncertain, but also together with a trusting in Christ that our lives will be better as we delve more into His presence. A motivational song that is certain to inspire change in a lot of people, the radio melody mixed with an electronic and keyboard prominent backdrop is sure to gain some popularity as I hope 'What are You Waiting For' to be at least a consideration for the list of songs to be in WOW Hits 2014. The acoustic song fits in very well with the rest of the album recorded through an analogue avenue, with acoustic guitar replacing the percussion loops to anchor the song musically. One of the most vulnerably written songs of the year along with Josh Wilson's 'Carry Me' and Plumb's 'Need You Now', we are invited into a place of healing as we start to open up to a God that heals, restores and makes whole our hearts that are in desperate need of fixing in a spiritual sense. Well done Shawn for a song that's certain to be a precursor to another studio album towards the end of the year or in 2014. If this is a snapshot of what Shawn McDonald is going to unveil in his next studio project, then count me in! Well done Shawn for one of my favourite songs of the year!
'Gravity', 'Captivated', 'Rise' and 'Closer' have all been standouts on Shawn's previous albums, and to see them presented on The Analogue Sessions in a unique and different light is a joy to listen to and even critique. With these four (alongside 'Free' and 'Times' which weren't on the album) possibly even anchoring Shawn's career as songs that showcase each music album period he was in, we are reminded that while electric guitars, programming and digital effects certainly enhance a song (just look at most of Capital Kings' debut album), acoustic albums often draw out the enthusiasm and passion of a singer, and that's certainly true of Shawn and his music. With just an acoustic guitar, light percussion and an analogue tape, he starts to sing about a variety of musical themes, from pleading to God to hold onto him when '…gravity is pulling me down…' ('Gravity'), and declaring that God has captured his heart through all of creation ('Captivated'), to a motivational melody about rising from the struggles of life ('Rise') and the anthem that reminds us of the essential need for us to be close to God in a relationship as we present our vulnerable selves knowing that there is no judgement or condemnation in Christ ('Closer'). While each of these songs are certain to make some listeners nostalgic as they reminisce about earlier albums Shawn has released, it does give us a sense of timelessness as we hear the impact and emotion these songs carry years after they have been written. Such power and hope in a song, Shawn's efforts with the analogue versions of these tracks is spectacular, from maintaining a country style musical effort on 'Gravity' as the song speeds up slightly with a pulsating drum kick and acoustic guitar strums, to lengthening 'Rise' to create more of an instrumental section with light acoustics and hand claps, evoking a moment of reflection as the song starts. 'Captivated' strips away the heavy acoustic presence of the original track and replaces it with keyboards and percussion and a strong vocal performance, while 'Closer' the most resembling of the studio counterpart track. Well done Shawn for these flawlessly performed tracks as I gain a new perspective of Shawn's songs and a greater motivation to listen and explore some of his earlier material!
While the remainder of the album I may not be as familiar with, Shawn still marvels us with great acoustic tracks with a hint of blues-ness and a stripped back atmosphere. 'Eyes Forward' pays great homage to the 40s and 50s bar blues music as Shawn encourages us to place our eyes forward, not looking back on our past mistakes, failures, disappointments and fears, but rather to look '…forward, don't take your eyes off the prize…' The prominent bass guitar and light strings in this song creates a musical genre not necessarily explored as much in CCM/pop as it could've or even should've, and Shawn through his music manages to give us a genre of music we have been missing for a while (yet the folk-blues-acoustic music is coming to the fore again with the introductions of Jimmy Needham and newworldson into the music industry!). 'Beautiful' is a love song to God originally recorded on his debut album Simply Nothing in 2004, and with a keyboard and the poignant honest lyrics of '…what a beautiful God and what am I, that I might be called Your child, what am I, what am I…' presents to us a dichotomy of feelings felt by us- honour and thankfulness mixed with the feeling that we still don't deserve the grace unending given by God to us. One of the most heartfelt and vulnerable songs on this album, 'Beautiful' paints a moment of deep gratitude as we realise that God loves and values us to the extreme- enough to send Christ to die for us. 'The Space Between Us' is another thankfulness song with light acoustics and Shawn describing that Christ makes old things new and fills up the space between us, yet this song feels like it's lacking something compared to the other more well known tracks of 'Closer', 'Rise' and 'Captivated'. Maybe it's the music that strips down the music to present the most acoustic song on the record, but regardless, 'The Space Between Us' is a decent song, yet there were other songs on The Analogue Sessions that were much more lively and enthusiastic. 'Take My Hand' is an upbeat prayer to God that we need him always as we are met with fast acoustic guitars and a 'na, na, na' backing vocal, while 'All I Need' is another heartfelt prayer for the Lord's presence, and is a great way to end an album before the 2 radio singles.
Overall: Shawn's fifth studio album (and first acoustic album) is sure to be met with acclaim and praise from critics and listeners alike as we hear some of the better acoustic renditions of original tracks since Steven Curtis Chapman's Re:Creation. While the second radio song 'Through It All' employs to much electronics for my own liking (especially after listening to an album full of acoustics!), it's message is true and centres the theme of the entire album- that God loves us '…through the highs, the lows, the fights, the blows, the hurts, the pain…' ('Through It All'). As Shawn continues to let his presence be known within the Christian music industry, his music is a great alternative to all the radio single music playing on the radio, or for those who are just wanting to listen to something new, invigorating, fresh, exciting and different from the original songs. While Shawn McDonald may not necessarily be an artist that I would gravitate to before boldly listening to this album, after The Analogue Sessions I'm glad I did, as I am able to sit back and listen to some of the most underrated pop-worship music to be released over the last decade or so. While he's not that publicised even on Sparrow Records (maybe in favour of other more popular artists like Mandisa, Britt Nicole, Matthew West and Sanctus Real), Shawn's music will be a blessing to anyone who listens. Well done Shawn for releasing an album that's new and different from the contemporary pop norm. Can't wait til the new album (with all-new studio tracks) releases in the near future!
RIYL: Jimmy Needham, newworldson, Dara Maclean, Steven Curtis Chapman
Buy the Album: iTunes/Amazon mp3