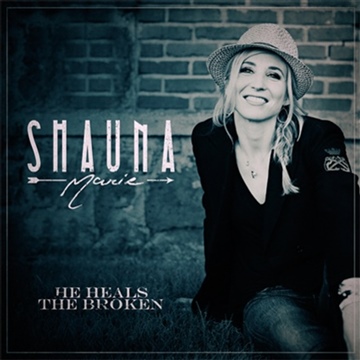 Artist: Shauna Marie
Title: He Heals the Broken
Label: independent
Release Date: 1/21/14
Reviewer: Jonathan Andre
Tracklisting:
Can You Hear Me
He Heals the Broken
Stay
Don't Want to Miss Right Now
Everything You Are
'…God will not call us to do something we cannot do through Him. There are so many people in the Bible that said, 'I can't' but God said, 'With Me, you can.' He promised Moses He would be with him, and He was. The same is true for us today. We can have peace knowing that whatever God calls us to do, He will provide everything we need to follow thru…' Shauna Marie, or known to her friends as Shauna Coleman-Ewert, is another one of these new independent CCM artists that has caught me by surprise, in a good way. Vocally reminding myself of Marlene Brehm, Natalie Grant and Jaci Velasquez; Shaua's powerful voice, soothing harmonies and emotion comes through in each of these 5 songs that make up her debut EP He Heals the Broken. Released on January 21st, Shauna's story of how she came to do music ministry full-time is nothing less than a miracle. Having struggled with lupus for her entire life, Shauna's miraculous healing of it one afternoon led to her pursuing a singing career as she trusted (and continues to trust) God throughout what is perhaps one of her deepest, darkest periods of her life, even til this day. Shauna reflects in these songs the faithfulness of our God, with this collection of songs being one of the best EP's since City Harbor's Come However You Are EP, released in October 2013. From the pop and upbeat 'Stay' to the mellow and lamenting 'Everything You Are'; we are met with 5 songs of vulnerability and hopefully hope, as we hear and listen to Shauna being able to perform and travel, something that may not have been the case if she still had the dreadful disease. As Shauna uses this album to be an encouragement to those '…out there struggling with a chronic disease or those who have a loved one with a chronic disease to not give up…', we are able to see the joyous and happy side of Shauna as she reflects her personal experience into each of these tracks. Released in the same month of albums from artists like Jamie Grace, Red Roots and Casting Crowns; Shauna is a welcomed and enjoyable CCM artist, that has used her craft to deliver an EP that is certainly going to stand out in weeks and months to come. A great purchase if you love artists like Kari Jobe, or Natalie Grant.
With four songs out of the five being recorded in Nashville and the other one recorded in Oklahoma, Shauna's music style of power-pop and ballads are hopefully able to strike a chord with anyone who listens. The title track, 'He Heals the Broken', is a great snapshot of the theme of the entire EP, and possibly the theme of Shauna's life right now. With a piano riff and a light violin to start off a hauntingly refreshing and powerful ballad, Shauna leaps into emotion and realness, presenting to us a situation where a persona '…can't find the words to say, your heart feels heavy, and about to break, can't seem to lift your eyes, or kneel down to pray…' This above lyric statement is certainly true of everyone at any point during their lives, including mine. There will probably come a day when we feel something like this, and though we don't want it do, and it's not ideal, it is when everything is stripped away from us that we truly rely on God's provision and reliance. And while 'everything' in our lives may not be to the extent of Job and the story of his faithfulness to God, God will take away the things that hinder our relationship with Him, even if at that certain point, we believe that thing to be an important part of our life. 'He Heals the Broken' is an invitation to declare, a prayer to proclaim to God, and a moment of clarity, knowing that even when the '…storm has reached its peak, when the ground begins to sink, our security cannot be stolen, and even now, His love is shining down, through the darkness we are found…He heals the broken…' With immense emotion, Shauna has been able to create a melody that's certain to be a catalyst for inward change and healing. One of my favourite songs of 2014 so far (bested by only 'This is Now' by Casting Crowns, and 'I Still Believe' by City Harbor), Shauna ought to be commended for wearing her emotions on her sleeve, knowing that it is in vulnerability through song that people can relate, and hopefully be changed by our Healer, Saviour and Friend. Well done Shauna for such a poignant melody, and a standout, not just on the EP, but a standout song of the year so far!
Shauna continues to remind us of God's goodness throughout the rest of these songs, exploring styles of CCM, upbeat material, and other reflective piano and string central melodies, giving listeners a wide range of styles of music. Similar in theme to Jaime Jamgochain's 'Everything You Are', Shauna employs hand clicks and strong piano chords to anchor 'Everything You Are' musically. Presenting to us a message of how '…everything that You are is beautiful to me, everything that You are make my heart sing…', Shauna is able to pour out her heart in worship and praise, with her vocals just as strong as they were during the title track. Shauna's ability to praise God because of her lupus healing is a great testament to God's grace, but this song also challenges us to praise God, even when things don't go well. To declare the statement 'everything that you are is beautiful to me' is to also proclaim that the things that happen that are heartbreaking are beautiful, because God will make something out of it that will bring us closer to Him. And while it may be hard to sing out this statement when we're in the middle of our circumstances, this song is a good reminder of God's goodness always. 'Don't Want to Miss Right Now' is a slightly more upbeat song with a light electric guitar undertone, as Shauna delves into a relationship song, and whether it's singing to God, or to her family, she declares the poignant words, of not wanting to miss out on the things she has in front of her. A call for us to stop with our 'busy' lives and focus on the relationships that matter, Shauna invites us all to declare these words with purpose and intent, allowing for God to move our priorities around if need be to make sure our focus is clearly on Him and the people around us that need our love and presence.
'…"God, are you listening?" Haven't we all wondered that at one time or another? I know I have, and in fact, I wrote this song during a particularly difficult time. At times the question may seem to go unanswered, as it does in the song. In our moments of despair, when we are crying out to God, the silence can sometimes feel overwhelming. It may appear in that moment, without any tangible or physical sign of His presence or comfort, that God does not care. However, the Bible assures us this is simply not the case. Over and over we are told that God hears us and that He answers our prayers…' As Shauna invites us into some insight behind her song 'Can You Hear Me', we are able to take a sneak peek into the processes behind writing not just that song, but her whole process of writing songs for the album as well. Drawing upon personal life experience to create a violin centred melody with the confronting words of '…can you hear me when no one's listening…are You listening now…', a cry of desperation is shown to be the fuel for the song, and while the song was borne out of hurt, we are able to be comforted and reminded that God indeed hears us, and heals us, yet in His timing. Trust and faith in God is crucial in living this life, and 'Can You Hear Me' is a song, not necessarily about things ending nicely, but about real moments of hurt and confusion, and hopeful reconciliation with God and other family and friends. 'Stay' on the other hand is perhaps the most bouncy, fun, light, upbeat and encouraging song on the album. Written with maybe another person in mind, Shauna encourages the persona to stay, in relationship with God, and in the situation, knowing that in time, things will change and that God will restore all circumstances and use them to glorify Himself and shape them for our good. With driving electric guitars and powerful vocals, Shauna invites her friend, and the rest of us listening to '…stay, I know you're hurting bad, don't run away, when hope is all you have, cause I'm here to stay always…', a comfort that knowing that friends, family and God will be willing to stay with us through our own trials, even when we find it hard to believe that we can even stay in that moment ourselves. A song of restoration, forgiveness and hope, Shauna delivers one of the most vocally powerful songs on He Heals the Broken EP. Well done Shauna for such an open, compelling and emotional song performance!
Overall: While Shauna may not have wanted to sing originally, she was able to have the right vocal coaching, and the healing of God to rid her of lupus, so that her dream of creating songs for encouragement can be realised. And what has resulted are 5 songs of emotion, power and encouragement, and possibly my favourite EP of 2014 so far, and favourite EP since The Sonflowerz's Love Walked In which released in September 2013. Shauna is going to go far, both in the indie and the CCM industry, and if this is the quality of the music she has done independently, I'm sure the quality will be just as good, and even better, if she were signed to a label (which I'm sure, will happen, it's a matter of when). If you haven't heard of Shauna or her music, then stop what you are doing right now and listen to her music- it's that good! With her songs focused on hope through Jesus Christ, we are able to have a glimpse into Shauna's life through the vessel of music. Well done Shauna for such an awe-inspired performance of these 5 tracks, arguably my favourite 5 tracks by an indie artist this year so far!
RIYL: Natalie Grant, Marlene Brehm, Jaci Velasquez, Kari Jobe, Charmaine
Buy the Album: iTunes/Amazon mp3