Album Review :
Shai Linne - Lyrical Theology Part Two: Doxology
By Anthony Peronto in Reviews | Comments closed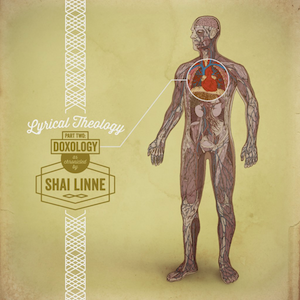 Artist: Shai Linne
Title: Lyrical Theology Part Two- Doxology
Label: Lampmode Recordings
Release Date: 05/26/2014
Reviewer: Anthony Peronto
Tracklisting:
Doxology Intro

Worship God ft. Wes Pendleton & Phanatik

Be Glorified (Psalm 55) ft. Chris Lee Cobbins

Nothing But The Blood ft. Eric Mcallister

You Alone Are God ft. Chris Lee Cobbins

Our Treasure Interlude ft. Leah Smith

C.H.R.I.S.T.

Come Lord Jesus Come ft. Joint Heirs

Our Treasure Is Christ ft. Leah Smith

Dedication (Remix)

To The Praise Of His Grace ft. Leah Smith

Light And Heat ft. Blair Linne

Psalm 37 (Remix)

Doxology Outro ft. Brooks Ritter
Doxology, in its most basic form, is an expression of praise to God. While many congregations and individuals are on-point with their theology, there is a significant lack of passionate and creative praise to our Creator. Shai Linne, "the lower case emcee," made his most complete album, Lyrical Theology Part One: Theology, which had a prevalent throwback sound. In Part Two: Doxology, Linne decided to go a different route with producer Wes Pendleton. This direction might throw many for a loop.
The album, described by Linne, is a "praise and worship record with contextualized psalms, hymns, & spiritual songs." The production featured is a collection of different styles with Wes Pendleton adapting from one style to another with ease. Using a "less is more" style, Wes includes as much instruments as needed. Some of the best songs on the album, which include "Worship God", "Nothing But The Blood", "Be Glorified (Psalm 55), and "Dedication (Remix)", contain only a drumbeat and a keyboard. These songs will not make you jump out of your seat. Though you could ride to it on a warm summer evening as you take in the majesty of God and his creation.
Ironically, the songs mentioned earlier, contain the majority of Shai Linne's audible contributions on the album. Taking on a somewhat "Quincy Jones role" on the album, Linne serves as the writer and co-producer on the album and brought in some talented singers to perform on them. From Chris Lee Cobbins, Leah Smith, and Joint Heirs, these artists hold their own on Shai's more R&B and spiritual tracks (which include "You Alone Are God", "Come Lord Jesus Come", "Our Treasure Is Christ", and "To Praise Of His Grace"). These songs were specifically made for congregational singing, which explains the lack of rapping, however some are not without blemish. The sometimes-repetitive nature of the lyrics and basic song structure might work in a live setting, but some of the songs lack progression and meander. But there's one misfire that sticks out like a sore thumb, which features Linne but doesn't have any emceeing: "C.H.R.I.S.T." Great in concept but lacking execution, this throwback call and response song doesn't quite hit its mark.
Even if some listeners might be put-off by the lack of rapping on Part Two, in Shai's defense, several exceptions include "Light And Heat" and "Nothing But The Blood". The first, a continuation of "Sacred Science" off of Part One, has Blair Linne killing it with her spoken word over a smooth jazz beat, piano, and horns. Lord, you indeed "deserve an apology for our lack of doxology." The second, a reworking of the classic hymn mixed with old-school hip hop, has the cadence, percussion, and background gang vocals that cry out 90's boom bap. The hymnal lyrics are kept intact and it's a combination that oddly works even without Linne's emceeing.
Overall: While some may find it underwhelming on first listen, repeated rotations reveal that Lyrical Theology Part Two: Doxology is risky but rewarding. Concentrating on songwriting over rhymes, though not always successfully, Linne's hip hop prowess may be missed but the album has his fingerprints over every aspect of the music. For listeners who want straightforward "hip hop meets worship", they'll be sorely disappointed. But for those who want an artist's analysis of doxology seen through ten years of hip hop experience, you won't be let down.
RIYL: Stephen The Levite, Hazakim, Timothy Brindle, S.O., Evangel