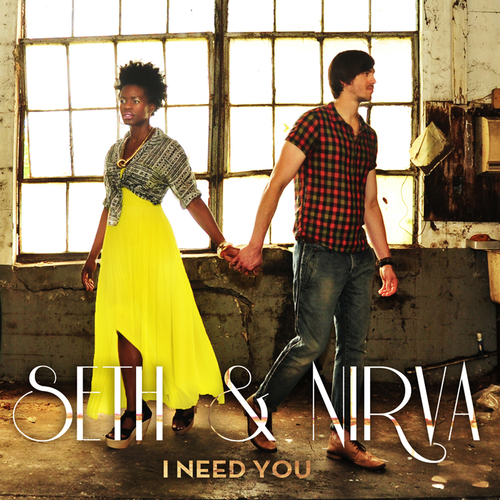 Artist: Seth and Nirva
Title: I Need You
Label: independent
Release Date: 12/17/13
Reviewer: Jonathan Andre
Tracklisting:
Praise Him
Free People
All Praise
I Need You
Whole World
I Found a Love
I Need You (Remix)
Duos have thrived throughout the years within the Christian music scene. Artists like Love and the Outcome, Capital Kings, for KING and COUNTRY, The Sonflowerz, Gungor, All Sons and Daughters and The Civil Wars; each of these groups have delivered to us heartfelt melodies and emotional songs, from 'Proof Of Your Love' (fK&C) and 'Beautiful Things' (Gungor), to 'You'll Never Be Alone' (Capital Kings), 'My Adoration' (The Sonflowerz) and 'He is With Us (Love & The Outcome). In between a band status and a solo artist status, duos seem to possibly be the most interesting artists to take notice of (in my opinion), and with a new duo of Seth and Nirva Ready releasing their first EP I Need You in late December 2013, this newly formed husband and wife group is one to take notice of and be excited for. With Nirva being a back up singer for years in TobyMac's Diverse City band, her and Seth have been able to release their own music, endorsed and promoted by Toby himself, and also featuring rapper for TobyMac's band GabeReal in some backing vocal and rap sections on the duo's record. As the album infuses together gospel, pop, R&B and hip-hop, this is an album certain to be enjoyed by listeners who have loved Toby's material from both his dc Talk days and his current solo releases, as well as by listeners of other artists like Ayiesha Woods, Mandisa, Britt Nicole or Group 1 Crew.
Throughout the album, there is a distinct musical flavour as elements of rap, reggae, funk, soul, gospel, R&B and pop collide and infuse together to create a unique genre that elevates this album as one of the most musically unique collection of songs since Royal Tailor's self-titled album released in October 2013. Starting off with a Kirk Franklin-esque rap introduction on 'Free People', we are reminded that '…the bible says, in the book of John 8:36, whom the Son sets free is free indeed…', before the song moves into R&B territory with swinging melodies and a gospel flavour and the introduction of Bryan 'Mr Talkbox' Chambers. A great song to be on the radio, 'Free People' speaks about the concept of freedom and how it is in our relationship with Christ that we show Jesus to others, freeing people from the life of sin and shame into one of hope, happiness and promise. One of the most easy-to-learn melodies and possibly the one that will be used and utilised by the radio to promote the song, album and artist, both Seth and Nirva use their harmonies and vocals interchangeably to provide one of my personal standouts on I Need You. The title track on the album is recorded as two versions, one a piano melody that features just Seth at the vocals as he poignantly wants the Lord to be with him everywhere he goes, while the remix version boasts a rap and synth section from Shonlock as he unveils to us a poetic rhyme and verse, showcasing some of the most heartfelt lyrics on the album as we discover that '…when my storage's depleted, your whispers is what would feed it, prune and let me bloom…' Revitalising and encouraging, it is the remix that ends the EP in a great way as both versions of the song emphasise our need for God in both good times and bad. Conveying the same message in a piano central melody as well as a remix song is further reminder of the musical versatility of Seth and Nirva! Well done guys for both 'Free People', and both versions of 'I Need You'!
'All Praise' is an electronic-worship melody, with both Seth and Nirva declaring that '…Your glory upon me, ignitable for Your fame, we give You all praise…' amongst the light acoustics, heavy electronics, and a dance beat that would make this track be right at home with other songs from artists like Group 1 Crew, Warr Acres, Royal Tailor and Capital Kings. Featuring a TobyMac rap introduction to set the scene, both Seth and Nirva have conveyed through this track and others of how encouraging and important it ought to be to praise our Father and give Him the thanks, encouraging both God and us in the process. Energetic and enthusiastic, fun-filled and worshipful, 'All Praise' is just the song to start off the day with hope and adoration, especially with the ever-familiar TobyMac taking the reins of the second verse to proclaim to '…keep to the way of the Lord, turn your eyes to Him, let all of the things of this world god strangely dim, cos He is near…' 'Praise Him' also invites us to deliver praises unto the Lord, and also showcases Seth's vocals in a gospel way, with his singing style reminding me of someone like Donnie McClurkin or Kirk Franklin. The Diverse City band rapper GabeReal also adds to 'Praise Him', performing an effortless bridge as he unveils his personal testimony as evidence to give thanks and praise the Lord.
Ending the album with the subdued acoustic/reggae melody 'Whole World', a song that places evangelism at the front and centre as Seth passionately enthuses that '…I want the whole world to know You and how You saved me…'; and the slow building worshipper 'Found a Love', both tracks seemingly never build to a crescendo, and seem to pale compared to the other melodies. The passion and enthusiasm are still there in each of the songs, and while 'Whole World' and 'Found a Love' may heavily minister to someone, these songs sadly haven't really made much of an impression on me as I listened to the EP from start to finish. Nevertheless, each of these songs are great thematically, with 'Found a Love' being a worship track and 'Whole World' inviting us to participate in the acoustic and reggae scene. Kudos to the duo for trying something different with worship when all the rest of the melodies are pop/gospel/funk. With the duo travelling into Bethel or Hillsong territory with 'Found a Love', both Seth and Nirva give us great reminders of God's faithfulness and our response to such a gift given freely to us!
Overall: Seth and Nirva's first EP is one to be listened, if only for the unique musical arrangements and the collision of genres like pop, funk, rap, hip hop, soul, gospel and worship. And while it may come at a surprise that this duo is not on Gotee Records, but choosing to release their music independently; this husband and wife duo certainly have given just enough to at least warrant a listen on Spotify whenever the listener has a chance. With Seth and Nirva's music hopefully being enjoyed by those who love other similar artists like TobyMac, Group 1 Crew, Warr Acres and Royal Tailor; this is a duo to look out for in 2014 as their music will certainly be captured and played by Air1, K-Love, Way FM, or a number of other Christian music radio stations around America and over the world. Well done to both Seth and Nirva for delivering to us an enjoyable and heartfelt album of devotion and praise!
RIYL: Warr Acres, TobyMac, Group 1 Crew, Capital Kings, Royal Tailor
Buy the Album: iTunes/Amazon mp3