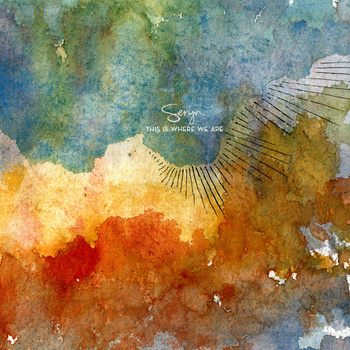 Band: Seryn
Title: This is Where We Are
Label: Velvet Blue Music
Release Date: 1/25/12
Reviewer: Josh Hamm
Tracklisting:
So, Within
Of Ded Moroz
Beach Song
We Will All Be Changed
Towering
Our Love
River Song
Bete Noire
On My Knees
Untitled
Seryn is one of the few bands I listen to which manage to transcend music as a form of entertainment or as a way of passing time. They evoke feelings and emotions in ways few musicians are able to do. They have a distinct folk sound, with some light pop thrown in for fun. However, they're not a light, feel good band, nor a sad, melancholy folk, no; they instill a deep sense of joy which leaps from the music to your soul. They have a grand scale of sound, an epic quality that surrounds you as it rises and falls like the ocean.
This quintet hails from Denton, Texas, and one of the first things you notice is that they have an abundance of
instruments gracing each and every track on the album. While there is a lead singer, there is no distinct frontman, all the members work seamlessly as one body. Each member picks up at least two but up to four different instruments during each song, including beautiful five part harmonies, the violin, trumpet, cello, banjo, pump organ, accordion, and ukulele as well as the traditional guitar, drums and bass. The result is awe inspiring.
What their songs have going for them is an intrinsically beautiful and lush soundscape. Admittedly, there are some skippable songs here, but the ones that aren't are well worth it regardless. Expect to be blown away at least once. From instrumental tracks of soft guitar finger picking and orchestral background to swift tempos and foot stomping choruses, there is something for everyone to enjoy.
The greatest song of the album is "Of Ded Moroz," a hauntingly beautiful ballad with chilling lyrics and harmonies which seep inside your skin. This is a song which will land in your most played list for a long time. Other highlights include the seven minute "Beach Song," which starts slow and quiet, but builds into a grand, sweeping explosion of sound. "Towering," "On My Knees," and "Untitled" are instilled with a reverent sense of awe of God and fit as inspiring worship songs which differ enough to be unconventional and original, yet familiar enough to be comforting.
There's not much to find at fault here, but Seryn still falls short of perfection. On songs like "We Will All Be Changed," the lead singer's vocal range and power is stretched a little thin, but besides that the only weakness would be that most of the songs sound very similar. However, if you are a fan, then that's just an unexpected perk, not a bad thing at all.
The undisputed strength of Seryn is their ability to effortlessly harmonize and allow their songs to rise and fall organically, so the listener is tugged out into the swells and ebbs of the music.
Overall: When I listen to Seryn's debut album, I can't shake the feeling that they're on the verge of developing into one of the best indie bands out there right now. I realize that I'm not going to be disappointed in any future releases; this is one wagon I'm not afraid to hitch my horse to. If you enjoy a big, full sound and long, sweeping folk songs, this is not an album to miss. The harmonies and passion behind the music and lyrics will inevitably pull you in. I can guarantee you that you will not be disappointed if you grab this album and set it on repeat for a week.
RIYL: Mumford and Sons, Josh Garrels, Sufjan Stevens, Jon Foreman, Sigur Ros.