Album Review :
Sarah Reeves - Acoustic Worship Covers Vol. 1
By Jonathan Andre in Reviews | Comments closed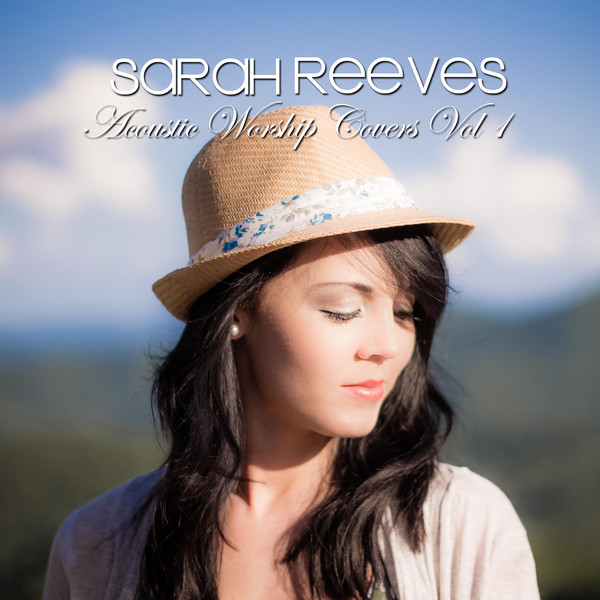 Artist: Sarah Reeves
Title: Acoustic Worship Covers Vol. 1
Label: independent
Release Date: 3/25/14
Reviewer: Jonathan Andre
Tracklisting:
Take Me To the King
Oceans (Where Feet May Fail)
Chasing You
Wake (feat. Elise Miller)
Sovereign
Lord, I Need You
10 000 Reasons/Whom Shall I Fear
Redeemed
You're Beautiful
Holy Spirit/Set a Fire
In Christ Alone
Scandal of Grace
This is Amazing Grace (feat. Ross Hebert)
Above All
'…I specifically remember praying a prayer when God called me to this when I was 15 years old, "If this ever becomes about me, take it all away". Be careful what you pray for! It became about me and when it did, doors started to close. When that happened, I stepped back and lived some real life for a while and God graciously humbled me. I realized that living real life means exactly what Jesus says in Matthew 6:33. He tells His disciples, "Seek first the Kingdom of God and His righteousness and all these things will be added unto you." That's where life is found…the abundant life that God promises. In the process of stripping everything away and gutting out the pride in my life, God was able to begin shaping my character and my integrity. He placed the things inside of me that needed to be there to prepare me for this new season of life where He's giving it all back and allowing me to lead His church in worship again…' Sarah Reeves. Former Sparrow Records artist. Famous for her songs like 'Mighty Wave', 'Sweet, Sweet Sound', 'God of the Impossible' and 'Come Save'. And while her success she found in the 2009-11 period hasn't really continued towards the year of 2014, Sarah nevertheless still worships, and through her cover acoustic worship videos she has released on her youtube channel since mid-2013, you can certainly tell that Sarah has an enthusiasm and a renewed passion for worship- especially when I myself have enjoyed many of Sarah's covers, even better than the originals (and that is saying something about Sarah's heart for music and the way she pours out her heart in these songs, even if they are not her own). Now releasing an acoustic covers worship album so that we can continually hear the melodies on our computers, laptops, in our cars and on our phones instead of just watching them on youtube, Sarah continues to show us that worship songs, no matter who writes them, are great for us to delve into as we hear some of Sarah's favourite melodies and some of the most powerful and emotive songs of the 21st century so far. While her last full length original album was released in 2011, this album is a testament to God not being finished with Sarah in terms of music ministry, and who knows, maybe a full album of all-new material in 2015?
With just a keyboard and her voice, Acoustic Worship Covers Vol. 1 is a great album to purchase if you love Sarah and her singing, or even modern worship songs by artists like Chris Tomlin, Matt Maher, Hillsong or Jesus Culture. While there isn't much instrumentation in the album as a whole, what it lacks in the music department it makes up for quite well through Sarah's enthusiastic singing. 'Chasing You', original recorded by Bethel Music from their album Tides, is a melody that encourages us to chase after God and after His presence as we yearn for more of His love and encouragement in the lives we lead. With a looping percussion and some powerful ethereal vocals by Sarah, we are met with a vulnerable moment, and one of my favourite and standout melodies on this 14 track album. 'Oceans', arguably the most powerful worship song of 2013, is also on this 14 track set of songs, and with just a keyboard, the heartfelt lyrics are able to be brought to the fore even more. Such emotion and power is able to come from humility, and as we hear the heartfelt words of how '…I will call upon Your name, and keep my eyes above the waves, when oceans rise, my soul will rest in Your embrace, for I am Yours and You are mine…', Sarah is able to impart to us a moment of hope, vulnerability, and the ability to ask for assistance if we need to as we are in awe of possibly my favourite song by Hillsong UNITED so far. Also originally recorded by the umbrella of Hillsong, 'Wake' (by Hillsong Young and Free, and a duet with Sarah's friend Elise Miller) and 'Scandal of Grace' (by Hillsong Live) also give us reminders of God's grace when we don't deserve it, and that as we call upon His name to work in us how He wants to, our hearts and minds will be awakened to His love and beauty. And while Sarah's version of 'Wake' as a little too fast for my own liking, it was great how both Elise and Sarah traded vocals, and the harmonies shown by each of them in the song. Matt Maher's powerful single, 'Lord I Need You', is also given the Sarah Reeves treatment, and while this song is terribly overplayed on radio, to the point where the melody is engraved in my brain, I can't help but enjoy Sarah's rendition, and her emotion that comes when she declares in the chorus of how '…Lord, I need You, Lord, I need You, every hour I need You…'
Sarah also shows some love for worship artist Phil Wickham (a favourite of mine as well) in 'This is Amazing Grace' and 'You're Beautiful', the former being an acoustic duet with Ross Hebert of the band Crave, and the latter being a sombre piano only moment that shows us a moment of tranquillity that comes from knowing how beautiful God is, with Sarah's version of 'You're Beautiful' being as popular to me as Phil's original recording, or even the MercyMe cover on The Worship Sessions. While 'This is Amazing Grace' didn't offer us the trademark of Sarah's keyboard playing, as well as the chorus being a bit off melodically, the song overall encapsulates the passion given to us from the original Phil Wickham recording, and while I preferred Phil's version (or even Bethel's) over Sarah's, the song still ministers to me, and is one of my own standout worship tracks of 2013. With Sarah also trying her hand at some classic melodies as well, like the Paul Baloche modern hymn 'Above All', Matt Redman's '10,000 Reasons' (tagged to a refrain of Chris Tomlin's 'Whom Shall I Fear'), gospel singer Tamela Mann's 'Take Me to the King', and the Keith Getty modern hymn 'In Christ Alone', Sarah and her vocals, as well as her great keyboard playing, makes each of these renditions as enjoyable as their original counterparts, and also provide us with a sense of timelessness as we see an album full of modern worship song standouts and some classics of the 1990s and 2000s, further showing us that a good worship song can minister and impact us often years after it was written/recorded.
Overall: This 14 track collection of worship covers is an absolute gem if you love the vocals of Sarah, and acoustic worship, or even both. If you haven't heard of Sarah or her music, then stop right now and check her music out- on Spotify, iTunes, or Youtube. Then check out these video covers, and then be amazed of how honest, emotive, powerful and passionate her vocals are- which is a reflection of her own faith and love for Christ Jesus. And looking through this 14 track album, why wouldn't you check this album out? With hits like 'Holy Spirit', 'Redeemed', '10 000 Reasons', 'Above All' and 'This is Amazing Grace'; worship songs and these renditions show us that songs ought to go beyond the artist, showing us that a songs impact can easily be felt, either by the original artist, or as a cover. A certain purchase if you enjoy worship artists like Phil Wickham, Chris Tomlin or Meredith Andrews, Sarah Reeves and her return to the music industry after a few years break is certainly welcomed (by me at least). And with a Vol. 2 of Acoustic Worship on the horizon (because of her continued youtube covers of 'Break Every Chain', 'Christ is Risen', 'Lamb of God', 'Your Love is Strong' and 'Shores' after these aforementioned 14 video recordings), I am eager to listen to that album, as well as her new material, hopefully either this year or in 2015. Well done Sarah for such an enjoyable album, and my favourite album of covers since Seventh Day Slumber's Love and Worship in 2013!
RIYL: Meredith Andrews, Hillsong UNITED, Chris Tomlin, Bethel Music, Phil Wickham
Buy the Album: iTunes