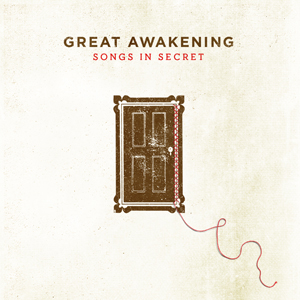 Artist: Great Awakening
Title: Songs in Secret
Label: Come&Live!
Release Date: April 26, 2011
Reviewer: Sam
Tracklisting:
Explore
My Gold
Maranatha
Lazarus
Let Me Hear (Ravish Your Heart)
Where Your Heart is Prevailing
The Invitation
Carry Me Away
Come; Follow
Many Waters
This was a difficult record to review.  If you're familiar with Come&Live!'s artists, and Great Awakening specifically, you have to approach this from another direction than you're used to.  I will admit, on first listen to Songs in Secret, I had every intention of giving it a mediocre record.  Great Awakening's previous record, Cities, had a tendancy to use lush musical layers and, at times, evidenced guitar work reminicient of As Cities Burn.  The lyrcis were worshipful for the devoted Christ follower, yet the music was interesting enough to attract a non-believer in for a listen. The intricacies of the music that I was familiar with and expecting were gone on Songs in Secret, yet it sounded enough like them to be excluded from the "reinventing themselves" category.  I was probably going to end up giving it a 5 or 6 because it seemed like a huge step backward musically (though not lyrically).
However, not wanting to just hand out a bad score lightly, I decided to reapproach the record.  This time, I took it from the angle of what they were trying to do with Songs in Secret.  This changes everything.
Great Awakening has come out with a project whose express purpose is to draw the listener in to intimate worship of Christ.  They accomplish this beautifully and masterfully.  The band forgoes a lot of the relatively complicated sounds of their last record in favor of a musically very simple, ambient record designed for the experience rather than just the music.  This is not music for mindless background noise or the music to keep you awake when you're driving.  This is intended for deep moments with your Creator and Savior.  Lyrically, you'll find a lot of honest crying out to God and authentic praise.  From my listen-through, I didn't note any canned lyrics, which is a definite plus. Approaching the record without the weight of past expectations bogging me down gives this record a whole different light.
As a free download from Come&Live!'s website, it's definately worth a download and a listen.  If you are familiar with Great Awakening's past work, approach this record with an open mind.  It's definitely designed with worship in mind.
Overall: It is easily to recommend this record to my brothers and sisters in Christ.  The title Songs in Secret is a perfect name for this record.  It's less of a title and more of instructions for how to listen to the record.  For best results: close the door to your room, turn off the lights, turn on this record, and start praying.