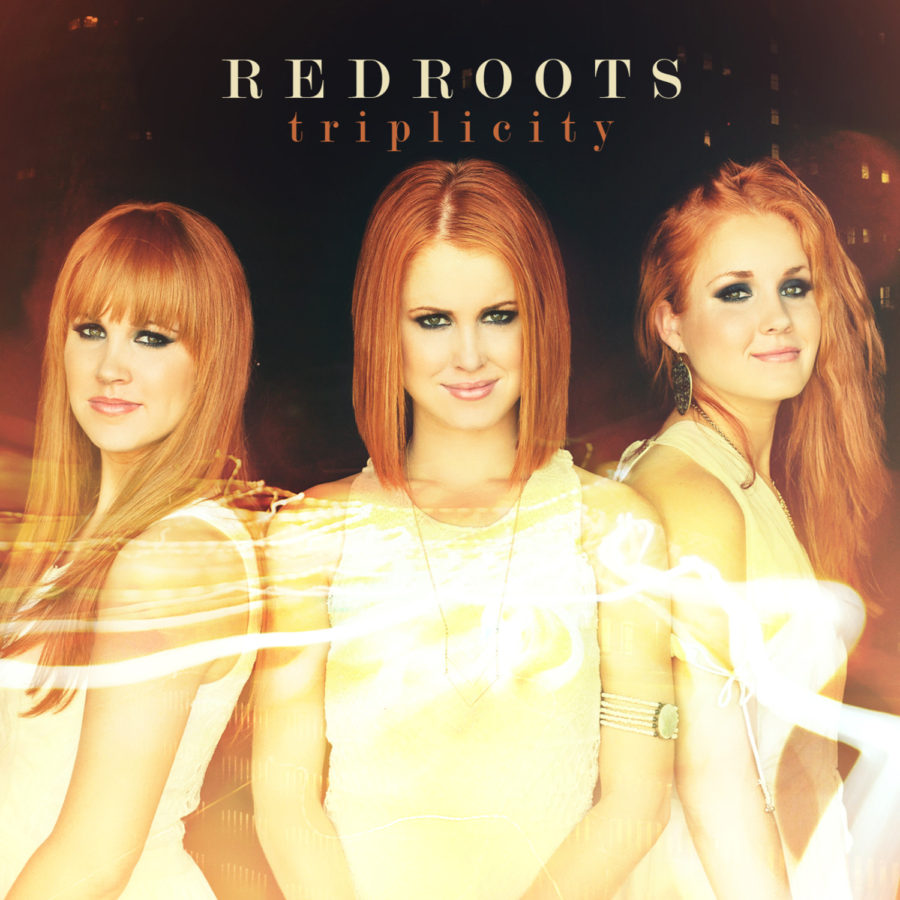 Artist: Red Roots
Title: Triplicity
Label: Red Hen Records/Daywind Music Group
Release Date: 1/7/14
Reviewer: Jonathan Andre
Tracklisting:
Seven Days
Ordinary Girl
Great Big Yes
Beautiful
All of My Life
If I Could
One More Night
Straight Shooter
Beautiful Storm
Come Around
To be honest, I've never really been into country music. Maybe that's the primary reason why I've stopped watching the ABC primetime country music soap drama Nashville, or maybe it wasn't; but as far as I can tell you now, my first choice of music wouldn't be country. Having said that admission, Red Roots and their own Christian Country music ministry is possibly by far the most that I have been stretched this last year in terms of music that I listen to, and music that I enjoy. Having first heard their music in 2012 with their rendition of Matt Maher's 'Turn Around', Nika, Natalie and Nicole Taylor, three triplets from Wade, Mississippi, have opened up a genre of music that I have been seemingly closed off to throughout most of my life (mind you, I have listened to a few Carrie Underwood songs here and there, primarily 'Jesus, Take the Wheel'). With that distinct gospel flavour and a southern American accent that's present in most country melodies, Red Roots and their ministry within the Christian circle, is once again a unique and fresh representation of Jesus music, and one that I am pleased to listen to throughout these last few years. Even though their new 2014 album Triplicity is their first album I have listened from start to finish, Triplicity and its unique blend of country, acoustic, pop and a bit of CCM has given me interest and intrigue as I set off on a journey to listen to their earlier albums in full as 2014 progresses. With great harmonisation between the three girls, their trademark of banjos, mandolins and some nice electric guitar work from both Nika and Nicole Taylor, has elevated their newest collection of songs as some of the most enjoyable in 2014 so far.
'Seven Days' is the first song on the album, and also the first radio single. With a unique electric guitar riff to set the musical scene, we are reminded about how our troubles are nothing when compared to what Jesus can do and accomplish. The title reminds us of the times of creation, and how with just one word uttered from God's mouth, stars, planets, animals, plants, night and day were made, and that as much as our troubles can see to ourselves, if '…I just sit back I know I'll be amazed…if I'd just give it all to You, the one who built the world in seven days…' A song to place things in perspective and give us clarity of how small our own problems are and how big the God we serve is, this southern gospel song is certain to be listened to and hopefully enjoyed, despite your musical preference. With Red Roots being a great marrying of both the CCM radio genre as well as the southern gospel/country genre, Nika, Natalie and Nicole give us great wisdom in the fun-filled track, and how '…Seven Days talks about how we serve such a big God, and sometimes we don't realise our problems are so small compared to what He did from the beginning, He created the world, He created people in just seven days, and we get so worried about these things, and don't think that always God can handle these situations, and we wanna handle them ourselves, you know…' At just 22, these young sisters have carved themselves a great future in both the country and Christian industry, and while 'Seven Days' can possibly reignite the literal v metaphorical debate when it comes to creation, the song however is a clear and focused reassurance of God's hand in every aspect of our lives. A great song to start off Triplicity, 'Seven Days' paves the way for some solid Christian country music that could easily place this as one of my guilty pleasure albums of 2014 so far.
Each of the melodies on the album have the interwoven theme of communing with the Father in every aspect and circumstance in our lives, while also relaying to us various topics and thoughts to ponder about. 'Ordinary Girl' starts off with an acoustic guitar and mandolin strum as Nika takes the helm and invites listeners in to see some of her personality and what God can do through girls (and guys) as 'ordinary' as herself. And while the title is called 'Ordinary Girl', the song applies very much to myself (who's a 24 year old male) as it does to the female population. The compelling chorus that reminds us that '…somehow God can change the world through an ordinary girl [and guy]…' is one that ought to give us confidence that God is bound by no limits, either limits we place upon ourselves, or limits others have placed on us.
'Beautiful', for me, is arguably the catchiest melody on the album, with a unique keyboard hook and Nika delving into personal stories about people who have sought beauty and identity from sources that aren't Jesus. Stories about how '…she's spent her whole life trying to find the perfect man…' or how '…he'd spend his whole life chasing the dream of a winning hand…' makes me pave similarities between these short yet profound stories, to that in the bible about the prodigal son, where he too was trying to find identity in something that couldn't give him any. 'Beautiful' is a great reminder to all of us of how God makes everything in our lives beautiful, and that we are beyond all worth in the sight of Christ Jesus. With guitar twangs and southern gospel swaying beat, 'Beautiful' is certain to fit right at home on an iTunes playlist with artists like Third Day, Carrie Underwood, needtobreathe or Rhett Walker Band. Beauty and identity is further explored in the banjo heavy melody 'Beautiful Storm'; that further extends beauty from being described about us, to using that word to describe circumstances. The juxapositioning of beauty and storm together is as classic reminder of how our concept of a storm can be in fact God's way of trying to gain and maintain the attention we should have on Him, and as we delve deeper in His presence, it is thereby through hindsight that the storm was in fact beautiful if it led us closer to God in the process. With harmonies between Nicole, Nika and Natalie, as well as some great guitar work, 'Beautiful Storm' clutters instruments together to maintain a 'stormy' feel as we are able to understand that sometimes our preconceptions can be in the way of what God is trying to let us know. Well done girls for powerful and hopefully inspiring songs in both 'Beautiful' and 'Beautiful Storm'.
Artists all write from experience, and with Triplicity, experience is what also makes some of the most heartfelt, enjoyable and memorable songs. 'If I Could' is possibly one of the most personal songs that I've heard ever since The Afters's 'Broken Hallelujah', and as Nicole explains, the song '…talks about a friend that we grew up with that chose a different path…they were involved in church but they were living two lifestyles. She chose the world over God and it hurt our friendship. Once she chose the world, we weren't as close. It's a Christian prayer talking to her, wishing we were as close as we used to be…' Knowing the story behind the song makes it ever more poignant, emotional and heartfelt, as I'm sure in our own lives, there are loved ones and friends that may have chosen different paths to us, and ones that took them far away from their friends, family and God Himself. And while this melody has a sombre feel to it, we are reminded through harmonies, southern gospel flavours and acoustic guitars that God can do all the things that we can't- '…come to your side…heal your brokenness…take all your regrets…Jesus can…' A song that can hopefully relate to as many listeners as possible, Nika, Nicole and Natalie continue with the personal on 'Straight Shooter', a song deep rooted in country music backdrops with electric guitar riffs and toe-tapping beats that give us a statement about what these triplets want in a boyfriend, husband and a man in general (similar in theme to 'Christian Country Girl' on The Middle of Nowhere). A song that encourages girls to pursue the godly man, it poses questions to the everyday man, asking them the question '…are you a straight shooter…', and whether our own priorities are with our girlfriends, wives and God, or in places they shouldn't be. And while I myself do not have a girlfriend yet, this is a track that'll hopefully inspire myself to be more of a godly man, both now and into the future.
With Red Roots also trying out different styles of music, from CCM inspired 'Great Big Yes', a song that reminds listeners that God is real and fixes the mess of those who are willing to call on Him (and one that'll most likely appear on K-Love if Red Roots decide to release a AC/Contemporary radio single), to album ender 'Come Around', the slowest song of all that presents a melody that gives thanks to God for showing up in people's lives; Nika, Nicole and Natalie continue to place their trademark southern gospel and country style throughout each of the melodies, often tweaking styles a little to bring in more listeners of more genres as they continue to create their fanbase on both twitter and facebook. From writing a poignant love song to God ('All of My Life') to giving us a song that'll certainly heal the broken and provide us with comfort '…when you feel all alone and everything you've ever known leaves you stranded…when you feel confusion take your hand…look up now, truth will set you free…' ('One More Night'), each song is one that will hopefully speak to listeners in a personal way, as these three triplets write some of the most unique and, to some extent, most enjoyable songs of 2014 so far (considering that I myself am hardly a fan of the country genre).
Overall: Like I said in the first paragraph, I hardly listen to country music, if at all. But Red Roots and their music have possibly made me rethink that previous statement, and if God chooses to speak through country music, then that's how it is. Nika, Natalie and Nicole and their maturity in songwriting, is far beyond their 22 years of life, something that ought to be applauded and commended as they release Triplicity this week. While not your average Chris Tomlin, TobyMac or Tenth Avenue North type of album, Red Roots and their stand for Christ in a world that sadly continues to stand for anything but, are a great band, group of role models, and girls whose music directs towards teenagers and young adults (which I myself am a part of). With so many life experiences and rich poignant gems of wisdom in each of these 10 tracks, Triplicity is not your average rock, pop or CCM album, and frankly, if I hadn't heard 'Turn Around' in 2012, I may not have decided to check out Red Roots, or even write about this unique and thought provoking album today. Thanks once again to Matt Maher, writer of 'Turn Around', for my introduction into a band that'll certainly be enjoyed by listeners who love the southern gospel genre, and artists like Third Day, Carrie Underwood, Rhett Walker Band and needtobreathe, or all-girl groups like BarlowGirl and The Sonflowerz. Well done Nika, Natalie and Nicole for Triplicity, a great start to 2014!
RIYL: Third Day, BarlowGirl, The Sonflowerz, Rhett Walker Band, Carrie Underwood
Buy the Album: iTunes/Amazon mp3