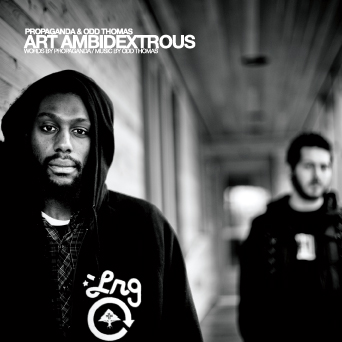 Artist: Propaganda & Odd Thomas
Release: Art Ambidextrous
Label: Humble Beast
Release Date: March 2011
Reviewed By: BMer
Tracklisting:
1. The City
2. So Help Me
3. Lean
4. Inheritance
5. Interlude
6. I Hate It
7. Change feat. Braille & Alert
8. Beautiful Pain
9. Dig
10. Como Se Dice
11. Art Ambidextrous
Art Ambidextrous is not for the faint of heart. Proganda teams up with Odd Thomas for eleven tracks of conscious-thought style hip hop, a style of rap that leaves the gimmicks and hooks behind and focus on some serious subject matter. Art Ambidextrous is released on Humble Beast Records and it's sure to get people talking. Propaganda says "I am not the artist, I am the canvas. Remind me of my own words even though I can't stand it." and that this work is "…rap and poetry, emceeing and imagery, mic and the canvas, Art Ambidextrous. I'm so thru wasting words."
The first thing you notice with Art Ambidextrous is the beats and music that are supplied by Odd Thomas; very restrained and stripped down, taking the focus off the music onto the lyrical subject matter. Just because the beats are restrained doesn't mean they're any less quality than other rap albums, the beats here are well placed and purposeful. Propaganda's style of delivery, most of the time, is more spoken word poetry than rapping, the opening track "The City" is a steady stream of statements, not a flow. The song is hard-hitting too, speaking about how "you are not your hood homie, you ain't gotta conform." The song talks about how different people have made it out of the hood, and how the journey is difficult, but necessary.
The feel throughout Art Ambidextrous is intense, every track is serious and passionate. Most tracks are simple yet heavy, while tracks like "So Help Me" and "Lean" are more like typical rap songs that feature a hook and a creative, complex beat. Songs like "Dig and "Beautiful Pain" are much heavier and cannot be overlooked. This is not an album you put on and check out, well-crafted tracks are designed to catch your attention with confrontational lines that force the listener to re-examine the lyrics. Propaganda's faith is not the only subject touched on here, politics, social issues, and personal demons all come into focus often. On the track "Beautiful Pain" you hear during the breakdown "…your pain, that's beautiful. Your mutilation, that's beautiful… Your life tattoo, it's beautiful." You can listen to the track over and over and still find new meaning and metaphors from Propaganda.
"Dig" is one of the standout tracks on the album with it's driving beat and hand-claps. With the opening challenge of "Find it, somewhere in your soul, the last bit of strength that'll take you back home. Find it, somewhere in your heart, to put the past in the past and go back to the start…dig." The song is a call for everyone to dig deeper for change, to desire a better outcome, that it takes work to make situations better. The beat provided by Odd Thomas is excellent with simple ambient keys and a some heavy breathing, it even features a little guitar run near the end of the track. Altogether this is probably the best track on Art Ambidextrous.
OVERALL Propaganda and Odd Thomas have combined to produce a fresh sound, one that focus on lyrics and subject matter that is supported by a quality musical foundation.  Art Ambidextrous is the type of collection that features well thought-out stimulating subject matter that will convict and challenge every listener.
Download it for FREE here