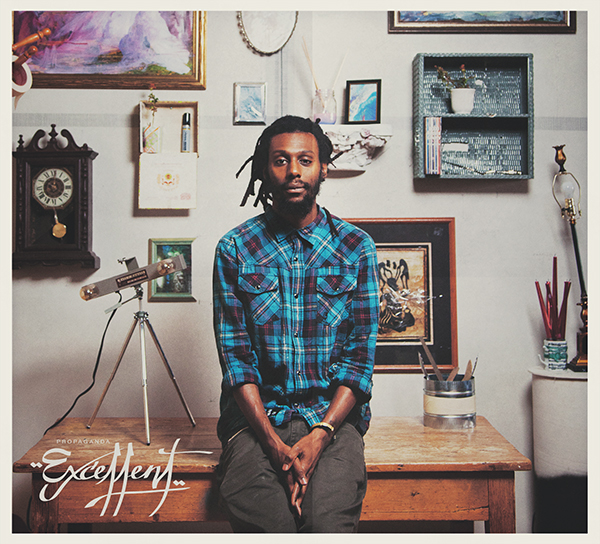 Band: Propaganda
Title: Excellent
Record Label: Humble Beast Records
Release Date: September 25, 2012
Reviewer: Jessica Cooper
Track Listing:
Don't Listen To Me
Excellent
Redefine Cutter ft. Lee Green
Raise The Banner
Excellent Analogy ft. Alphonso McAuley
Conquer ft. Theory Hazit
Precious Puritans ft. Kevin "K.O." Olusola (cello)
Forgive Me For Asking
I Ain't Got An Answer ft. Sho Baraka
Warm Words
Lofty ft. Joel (Ascend The Hill) & Beautiful Eulogy
Be Present (Live from Catalyst Atlanta)
It's not a commonality in the music industry for an artist to create something and give it a name that sums up its entirety in such a bold and accurate way. Props to Propaganda and his new project Excellent, a superior piece of art stuffed with truth, bursting with originality, not lacking in boldness, that accurately conveys his brilliance as an artist. There's no surprise in that when you also consider that the album is saturated with the organic production stylings of Odd Thomas, Braille, and Courtland Urbano, the collaborative genius known as Beautiful Eulogy.
The sound on Excellent is so diverse, incorporating backwoods blues, almost orchestral composition, and instrumental components produced from scratch by Beautiful Eulogy, giving it a natural, cohesive flow of sounds that are both organic and futuristic. Lyrical content is potent, hard-hitting, and challenges listeners to take charge in all walks of life, using political, cultural, and social awareness as a backdrop for its overall message. It's aggressive, passionate, and convicting, and those characteristics are what make a great hip hop album.
The guest vocal collaboration on this album is incredible as well. "Redefine Cutter" features Lee Green, who lays aside his ample rap skills for a bluesy vocal part. Then we have the return of Alphonso McAuley, who was on the Art Ambidextrous project Propaganda did with Odd Thomas, on "Excellent Analogy". This track is centered around defining the word 'excellent' according to pop culture and social norms, and while it takes a comedic turn towards the end, it still gives the audience a glimpse of how our foundation of excellence has more than metaphorically crumbled over time.
"Conquer" features Theory Hazit, another Humble Beast artist known for his realness and authenticity. This track is so impactful in its content: "I'm sick and tired of people blaming the devil when we need accountability, growth, and never settle, for your maturity level's like filthy rags, and when He conquers, everybody wave the white flag."
Probably my favorite track on Excellent in the realm of composition is "Precious Puritans". The track features Kevin "K.O." Olusola on the cello, and his contribution to the song is enough to give you chills. After an 8-count of the bow rapidly gliding across the strings, classic bass beats kick in along with what sounds like a torque wrench, followed by a snare drum roll, various clicking noises, and I'm pretty sure I heard the squawks of a seagull faintly in the background. It sounds like this track was recorded adrift at sea. All these crazy sounds coming together to create such a cohesive piece of art blows my mind. One of my favorite lines is in this song:  "So I guess it's true, that God really does use crooked sticks to make straight lines, just like your precious Puritans."
There's so much beauty in the simplicity of an acoustic track, but when it's laced with simple hip hop rhythm, a new form of appreciation is awakened in me. Two completely different musical components that work so well together, paired with the vocal collaboration of Joel Davis from Ascend The Hill, and Beautiful Eulogy, "Lofty" is hands-down my absolute favorite track on this album. Joel's voice is so unique and fitting for the part that he has in this song, and is perfect for what he sings: "I don't know why, but still I try to wrap my mind around You, Your thoughts are higher, Your ways are better, and I'm in awe, so bring me up to where You are."
And as if you needed any more convincing as to how incredible, monumental, and out of this world this album is, here's more sampling of "Lofty":
"It's evident in creation that God is the primary cause / the origin of all scientific laws / everything else is secondary / the very breath that comes from lungs is caused by the fact that God is involved / one must begin with the mind that was given to him to even believe he's evolved / I'm in awe when I think about quantum mechanics and the rotation of planets / and the exact calculation of the universe is permanently impossible to manage, / how photosynthesis takes place to perfectly convert the vividness of light into chemical energy for the purpose of maintaining and giving life, / intelligent design doesn't even begin to define His creative craftsmanship, / any attempt to align the mind of mankind to divine is insufficient and inadequate." 
Other tracks on Excellent include the title track "Excellent" that poetically conveys the meaning of the word; "Don't Listen To Me" which is a sort of autobiography in its content; the emotionally-driven "I Ain't Got An Answer" featuring Sho Baraka who shares his insecurity and fear of failure in parenting his son who deals with autism; the anthemic "Raise The Banner"; "Forgive Me For Asking" which explains the boldness of questioning and acknowledging the fact that it's sometimes not our place to challenge things; "Warm Words", a message of encouragement; and "Be Present" which Propaganda uses to express his thoughts on just paying attention to things that matter, like your marriage, rather than spending so much time focusing on how your environment is responding to your relationships with people.
Overall: Excellent is excellent. It's as simple as that. If you're a fan of hip hop, and you're looking for something to either add to your collection, or something that will challenge you in a whole heck of a lot of ways, this release is for you. As with all other Humble Beast releases, it's available for free download on the label's website, but I encourage you to purchase it via iTunes. Neither you, nor your wallet, will be disappointed.
RIYL: Braille, Odd Thomas, Beautiful Eulogy, hip hop.