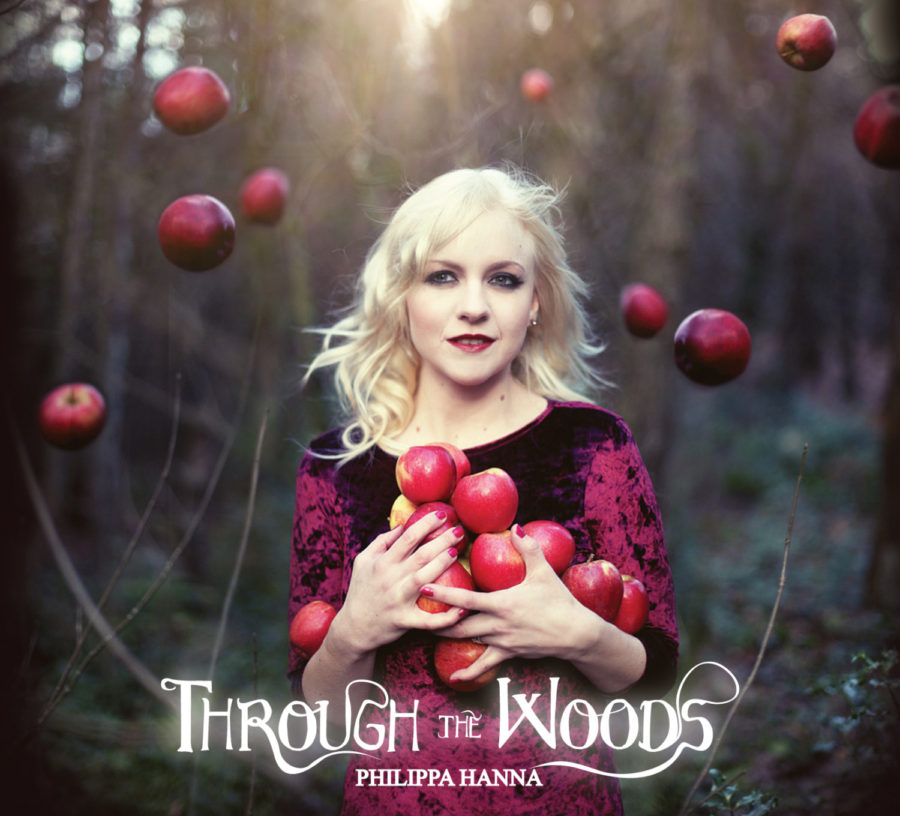 Artist: Philippa Hanna
Title: Through The Woods
Label: Resound Media UK
Release Date: 7/1/13
Reviewer: Jonathan Andre
Tracklisting:
Lighthouse
Stars Will Fall
Daffodil Song
Apples
Cherry Coloured Coat
Sharks
Hollywood
Fire
It's Just a Song
New For Old
Sweet Surrender
'…I was thinking about the 'wolves' in our lives, like 'wolves' of insecurity, and 'wolves' of worry about finances, jealousy, that's a real one, you know I think the wolf of jealousy seems to hound so many people, myself included. You find yourself becoming insecure about other people's success, or their good looks or whatever. And it's so destructive, and then it made me think about red riding hood and her ruby red cherry coloured coat, and how for me that's like Jesus. I can wear Him, I can wear my faith and it protects me from these things…' Philippa Hanna, one of today's most relevant, popular and heartfelt British Christian artists around today, has always inspired myself and I'm sure many other listeners with heartfelt songs over her 7 year music career so far, from her poignant and globally popular radio single 'I Am Amazing', to her standout songs on her 2011 album Taste, 'He'll Love Me' and 'Work in Progress'. Since becoming a Christian in 2004, Philippa's music has always inspired and become a testimony of sorts of how she lives her life in full confidence knowing who she is and the identity she carries of self-worth and unconditional love, from those around her and from the Father Himself. While Philippa may not necessarily be quite famous in U.S.A. or even Australia just yet, her frank honesty through all of her songs has made me give a lot of respect towards her songwriting and musical style. Boasting a collision between folk, contemporary pop and acoustic, these musical emphases which make up the musical backdrop behind Through the Woods are what makes this album musically brilliant, reminding myself that faith and inspiration can still be shared and written into melodies that even listeners of mainstream music can equally enjoy and love as well. Recently on tour with well-known artist Lionel Richie throughout 2012; Philippa's joy to experience life and write melodies about it, expressing faith in a not-so-threatening covert way is something that ought to be taken as a real asset when it comes to Philippa's musical craft. Filled with loads of motifs, imagery and metaphors; what has been funded by kickstarter in December of 2012 is certainly poised to become one of my favourite albums of the year so far. Arguably one of the most heartfelt British/Irish Christian artists currently active (Rend Collective Experiment is another one); Through the Woods infuses Biblical understandings and fairytales to present a theme of Christ awakening us from each of our own slumbers, being a lighthouse and place of solace as we remind ourselves that '…this fire, it burns for You, and no one else…there's nothing I can do, I can't help myself, this fire, it burns for You…' ('Fire').
The first song and also first radio single released from the album, 'Lighthouse' is personally one of my favourite tracks from Through the Woods. Released as a riveting music video in April 2013, we are first met with Philippa singing in a beach-like setting across from a lighthouse that reminds me especially about the story about the ship coming to shore and the lighthouse and its role as being the giver of light to the ship, providing a path to safety and security as the ship travels to its destination. With the song's theme similar to what I have described in these past few sentences, Philippa embarks on a song willing to stretch musical boundaries to present to us a country-styled melody is something that is a strength in the album musically. With a banjo and Philippa's heartfelt and emotional vocals, the song shows us a metaphor where Philippa describes a persona as being a lighthouse, and how '…You, You are a lighthouse, and You send the stars out, when darkness falls around me, and I feel not good enough, but You light me up…' While not necessarily explicit (and therefore the song can be depicted in both a Christian and a mainstream sense); it is her background as a Christian artist that shows us that Philippa uses music as the platform to declare her faith, which is exactly what she's doing in 'Lighthouse'. Through a heavy banjo presence, we are encouraged as a collective group of Christians (and individually as well) to keep our eyes focused on God, just like how any incoming ship would have to keep their eyes fixed on a lighthouse if they want to make it to shore. A song to encourage and motivate listeners to persevere in their goals and pursuits, Philippa's first single lays the groundwork musically and lyrically as we are challenged through lyrical motifs and ingenious musical arrangements, as Philippa continues to assert her presence in both the British Christian and mainstream industry (with her recent tour highlights being a lead-in to Lionel Richie in 2012, as well as being part of the annual Big Church Day Out's throughout the last few years). Well done Philippa for one of my favourite songs of the year so far.
With the album giving listeners songs full of motifs, metaphors, imagery, as well as intuitive and ingenious musical backdrops, each song and melody is a gift to many listeners of Philippa's music. Each song is different musically and lyrically, as the talented British artist delivers to British listeners and listeners around the world a message of hope, comfort, peace, and encouragement as she intends to appeal to both the listener masses of Christian music and mainstream music alike. 'Fire' is a powerful song about surrender and losing control, and we are met with a confession of Philippa admitting that she may be in a position where things may not necessarily be understood or even fathomed. And while situations can seem bleak, it depends on who you think Philippa is singing to or about. If the relationship view is taken, 'Fire' is about a love-hate relationship, and the toxic that forms if there is a proclamation that '…I don't know too much about you, about you, I'm afraid that I'm already in too far…', alongside the declaration that the fire burns for them, even though they are surrounded by 'smoke' and 'haze'. When you go into a relationship unsure about your surroundings or even your identity, turmoil can result, and one takeaway message from this hand clapper and guitar prominent anthemic like melody shows us just that. Yet if we take a Christian standpoint on the song, we are met with something much more hopeful and optimistic. As we are lost in God's fire of love and mercy, we can't help but lose ourselves in something so big, grandiose and often in some circumstances impossible for us to understand. There is an inner fight, and on the one hand, we have a fire that burns for Christ, and on the other, we feel like an emergency is occurring, as we are '…calling out to all who hear me…' Regardless of the view listeners take, 'Fire' is a poignant song, and one that will be a favourite from Through the Woods, reminding me of my own walk with Christ and how each one of us Christians ought to check as to whether our fires are continually burning for Christ on a daily basis.
With Philippa introducing an electric guitar twanging sound in 'Hollywood', a melody about the truth and reality about romances and how everything cannot go like a Hollywood script; as well as taking the viewpoint of God in 'Sharks', speaking to listeners who are involved with self-harm, declaring in the chorus that '…I would move the Earth to take way the pain you're going through, I would even die for you…'; the difficult issues and strikingly important themes never seem to cease as Philippa unveils one of the most lyrically layered song, 'Apples', full of motifs and important messages to consider when listening to this 4 minute 34 second melody. With a light banjo presence and sounds of xylophones and keyboards, we are given a moment to think about as Philippa divulges to us a story about how someone was fooled by a poisoned apple, and how whenever you're not grounded in what you believe, you begin to wonder and look around, being enticed by 'poisoned apples' around us (the song pays great homage to both Genesis 1 when the serpent tricked Eve into eating the apple, as well as the Snow White fairytale with the Evil Queen manipulating Snow White into also eating an apple). As we contrast both the first and second verses and understand that while the poisoned apple lets us sleep while the golden apple awakens us, we are reminded through clever imagery the power of Christ's power in us, and as we become further grounded in His Word, our centrality in Him will complete our hearts, thereby not letting our hearts fall prey to deception, itself being '…pleasing to the eye, a hungry heart will swallow any lie…' One of my favourite songs to factor in a lyrical technique that takes its roots both from the Bible and from fairytales (in fact, I think the idea for Snow White's demise came from Adam and Eve); 'Apples' remind us to have ourselves completely whole through Christ's redeeming love before venturing out to explore the world around us. Well done Philippa for such an inspired and powerful track, and perhaps my favourite (aside from 'Lighthouse') on Through the Woods.
With a great range of lyrical and musical style, the album showcases a wide range of moods, from happy melodies to reflective moments where the individual contemplates and dwells up the message the song portrays. 'The Daffodil Song', with finger clicks, acoustic guitars and a great amount of backing vocals, is a warm, fun and uplifting melody about self-worth and encouragement as Philippa compares the daffodil opening up its flowers to us living to our own full potential; while album ender 'Sweet Surrender' is a testimony of sorts, with an electronic keyboard undertone as Philippa recounts the time where she surrendered her life over to God during the early 2000s where she was '…letting go of all control, I'm on my knees in sweet surrender…' 'Cherry Coloured Coat' infuses light percussion, banjo, and the theme of Red Riding Hood wearing her own red coat to keep her safe, with Philippa alluding to the fact that as we are safe in Christ as He covers us with a coat of glory. With such a prominent allusion to the Red Riding Hood fairytale, we are made to understand that sometimes these stories often dismissed as fables can in fact have some truth if we dig deeper and ask the Lord if He is indeed speaking through these well-known fairytales.
'New For Old' is a piano only track that is made for ballad lovers as Philippa tells a tale of how an old man in charge of a tailor shop in London is able to bring together seemingly worthless pieces of material to form clothes often described as vintage and worth much more when the process is finished. An allegory to how Christ values us and uses the often dark places in our lives to weave together a tapestry of something beautiful, 'New For Old' is destined to become a favourite of mine (and I'm sure many other listeners) in the months ahead. Yet the most unique song musically is 'Stars Will Fall', an Irish-inspired melody musically with banjos, hand claps, trumpets, bagpipes and a strikingly powerful drum beat. With Philippa presenting to us a moment of adventure and wonder as we are invited on a journey with Christ to go '…far from the things that we know, just faith keeping me warm in the cold…'; it is the confidence that wherever we go with Christ is a moment to enjoy is something to remember as this song encourages us to be bold and travel along the roads of life that we may have been too scared to venture upon. A comfort to know that God will be with us in our travels of life, 'Stars Will Fall' is a moment of action as we are presented with the most daringly differently sounding melody on the album. Well done Philippa for such a poignant melody full of comfort and assurance.
Overall: Philippa Hanna's third full-length album is a journey of musical ingeniousness full of moments of both comfort and confrontation, hopefulness and reflective moments, wonder and declaratory statements of praise. While not necessarily the most publicised artist in terms of worldwide fame, her prominence in Britain is growing, with various interviews and appearances on the BBC, in the aftermath of her tour with Lionel Richie around the U.K.. Full of folk, pop, CCM, and moments of Irish music, the differing styles all packed into Through the Woods is what makes the album exciting, and certainly one of my favourite albums of the year (in fact, to date it comes it at No. 4, just behind Josh Wilson's Carry Me, Kerrie Roberts' Time For The Show and Building 429's We Won't Be Shaken). A joy to listen to regardless of whether you know the music of Philippa or not, Through the Woods is a call to be bold and courageous in the choices with make, all the while knowing that our centre comes from Christ and not those around us. From the banjo prominent first single 'Lighthouse' to the piano only 'New For Old', each song has a great message to relay to listeners as we witness one of the most imagery and motif prominent album release of 2013 so far! Well done Philippa for such an album full of inspiration and motivation. Can't wait for the music videos for 'The Daffodil Song' and 'Hollywood' later on during 2013!
RIYL: Vicky Beeching, Rend Collective Experiment, Audrey Assad, Martin Smith
Buy the Album: iTunes/Amazon mp3