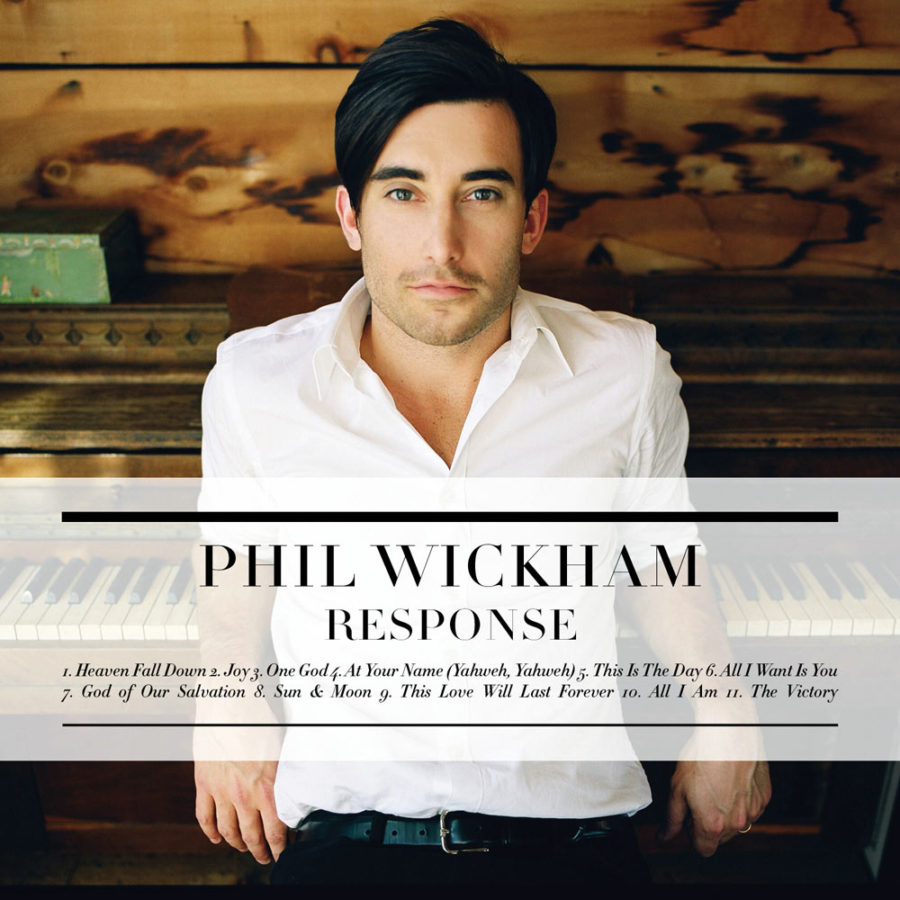 Artist: Phil Wickham
Title: Response
Label: Fair Trade Services
Release Date: 10/4/11
Reviewer: Jonathan Andre
Tracklisting:
Heaven Fall Down
Joy
One God
At Your Name (Yahweh, Yahweh)
This is the Day
All I Want is You
God of Our Salvation
Sun and Moon
This Love Will Last Forever
All I Am
The Victory
Phil Wickham has become a household name in the modern alternative worship movement. With his songs charting the billboard and Christian music charts, Phil has released a stellar album of 11 tracks that proclaim his heart for worship. As I listened to each song over and over, I was able to understand what Phil wanted each listener to experience; '…this really was the goal of this record. It was on my heart to try to put together a record of songs I could sing with people, and hopefully if they fit, into certain churches…' Worship songs are made to be sung inside the church; but also in our homes. Songs have the power to transform lives from the inside out, where people can engage corporately and individually in worship. These eleven tracks are the best that Phil has created throughout his career so far, and this album is one to savour for the generations.
Phil starts the album off with one of my favourites; 'Heaven Fall Down'. As Phil cries out, '…Heaven, Heaven fall down, Spirit, Spirit Pour out, on us all now…' listeners can understand the hunger Phil has for the Lord, and how this simple prayer can bring out such emotion and hope. Phil Wickham has further stated what he wants the track to be about; '…We see who He is and see bits of His glory and His heart and we respond by singing songs of thankfulness and worship and gratitude and praise…' With driving guitars and a drum beat to worship along to, this is a song where you can just be in, worshipping the King of Kings and asking Him to '…come Jesus, come, come like the wind, fill up this place, we welcome You in…' Once Jesus invades, He will move in ways unimaginable to mankind. When our hearts are aligned with His, and we understand what a great and marvellous God He is, we are able to worship with abandon and no hesitations as we pour out everything that we are to the God who formed our innermost being.
'At Your Name', a song written with Tim Hughes, communicates that everything happens because of Him, and that His name has power and is strong to save us. At His name, '…the mountains shake and crumble…the oceans roar and tumble…angels will bow, the earth will rejoice…' Sung with such passion and energy, I cannot help but be swept up in the song, praising the Lord along with Phil. As Phil describes it, '…It's such a blessing to shout out God's Name. We wanted to sing about Creation and how at the Name of God, mountains shake and oceans tumble at the power of God…it's cool to be a part of something like that…' Such an amazing song with amazing lyrics, sung with such heart and soul; this is one of the album highlights.
There are many other songs that will make your soul cry out to the Lord in adoration and spontaneous worship. 'This is the Day' is one of them. A drum beat which starts the hooking melody about surrendering into the love of God and starting each new day with Him, Phil sings with all his might, '…this is the day when the lost are found, this is the day for a new beginning; amazing grace how sweet the sound! Oh can You hear all the angels are singing, "this is the day, the day when life begins"…' and I am instantly hooked into the soothing feeling that surrender is not a bad thing, and surrender to God's will is one of the best things you would be able to do in your life. 'Joy' starts off in an eerie 80s fashion that pays tribute to the electronic sounds in Delirious?' 'Mezzanine Floor' or 'Gravity'; but through the keys and the soaring vocal ability from Phil, he starts to sooth the listener with the biblical truth that '…here I stand forgiven in the grace that I have found, when I think of all You've done, all my heart is overcome with joy…I sing for joy…forever I'll stay in Your joy…' Understanding that God endured everything for us to return back to Him would make our hearts also over burst with joy. What a fantastic song from Phil.
'This Love Will Last Forever' is Phil's attempt at a modern rock song, with plenty of drums and guitar to impress the rocker in each of us. As Phil sings the lyrics, '…I lift up my hands now, God I will dance now, this Love will last forever, lifting you higher is all I desire, this love will last forever…' I can't help but smile and sing along. This particular song and can sometimes be overlooked; as it was in previous reviews of this album. However, this is a song not to be brushed over, as Phil speaks of a love that is never-ending, unchanging, one that will remain in spite of what happens in this world. 'All I Am' and 'God of My Salvation' are other tracks that are solid. 'All I Am' makes us realise that we ought to give everything that we have back to the Lord because it's all His anyway; and 'God of Our Salvation' leaves us with the assurance that we can approach God for anything that we want; nothing is impossible for Him. Last on the album is the simple effective 'The Victory', which speaks about the crucifixion and resurrection of Christ. The profound chorus '…Jesus, Savior, my God my King my Lord, Jesus, Savior the Victory is Yours…' speaks volumes to those who listen. As Phil explains the song, '…I wanted a song about the cross on the record. I wanted a song about Jesus' sacrifice, but also victory over death…' With the piano at the start, the song starts to crescendo in the bridge with a choir singing the tag line, '…Death has been beaten, the grave has been conquered, Jesus is Risen, life ever after…' This song has struck a chord with many reviewers, myself included. This song defines the cross, and the resurrection. Death is defeated, and we should proclaim it loudly and let everyone know about the God that we serve.
Overall: As Phil proclaims in His song 'One God', '…There's only one God who can make the stars, one God who saves our hearts, one God You reign over all…'; there is a profound realisation that God can do anything. There are moments when you can just sit back and be in the presence of God. Songs that are sung corporately as well as individually, this album is definitely for fans who enjoy the style of modern worship singer songwriters like Leeland, David Crowder, and Kari Jobe. Response is one of my favourite worship albums in 2011, and if you want to continue to dive into the Lord's presence; look no further than Phil's latest effort.
RIYL: Leeland, Tim Hughes, Kari Jobe, David Crowder*Band
Buy the Album: iTunes/Amazon mp3