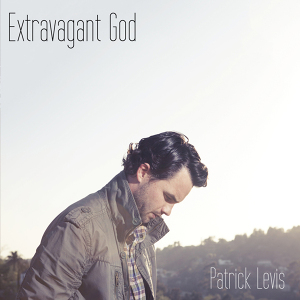 Artist: Patrick Levis
Title: Extravagant God
Label: independent
Release Date: 9/3/13
Reviewer: Jonathan Andre
Tracklisting:
Extravagant God
Magnificent Lord
Unwearied Savior
How Great Thou Art
Break My Heart
My Rock
Found Victorious
Streets of Gold
His Song
Take Your Place
I've never really seen or heard of a prominent actor/actress move from their career in acting towards more of a career in Christian music. Usually they either stick with acting, or they move into a pop mainstream music genre, but never into Christian music, worship, or even pop Christian music…until now. Enter in Patrick Levis, most famous as an actor for roles on the Disney Channel (primarily the role of Jack Phillips in the Disney Channel supernatural comedy, So Weird). Also being a worship leader at his local church, as well as being the vocalist and guitarist in his sibling-group Least of These; Patrick's desire to unveil his Christian faith through music has now come once again to the fore, releasing his first solo album in early September 2013. Even though Patrick's name may not necessarily be that well known to both circles of music lovers and TV show watchers (because honestly, who's watched the Disney Channel, let along something that was on air during the late 1990s/early 2000s?); his passion and enthusiasm presented in his album Extravagant God is just as poignant and powerful as any other current worship leader and artist. With a variety of independent albums releasing this year, Patrick's release is certain to be enjoyed and loved by listeners of contemporary worship music, or if you're a fan of someone like Chris Tomlin, Tim Hughes or Matt Redman. From upbeat to reflective, Patrick's debut as a solo artist is enough to place him on the map and be recognised, not just as 'Jack Phillips' (his most famous acting role), but as a husband, father, follower of Christ, and great leader of worship songs and now, an artist who delivers energetic and compelling songs, reminding us that He is the '…extravagant God, the world is Yours, You made us whole, Your glory, so here we are to glorify Your name, cause we want to see You extravagantly praised…' ('Extravagant God').
'Extravagant God' is the first song (and first single) from the an album full of moments of worship, songs for the church, and songs for communion between us, God and each other as we collectively sing alongside with Patrick melodies that are dear to his heart, and hopefully ours too as time goes on. With his vocals reminding me so much like Passion worship leader Charlie Hall, Patrick delivers to us a poignant message of hope through the opening musical backdrop of powerful electric guitars, and how '…our God, You are righteous in Your jealously…You alone are just and holy when You glorify Yourself, You created everything, let all creation worship You now…' God being the very nature God, reminding us of His nature as our King, but also as our Friend, Saviour and Father, is something that we ought to keep in mind when we stand in awe and in wonder of the very God that gave His Son as ransom for our lives. God is indeed extravagant, and unlike the acoustic melody, 'Your Love is Extravagant' from Casting Crowns, this song that expresses God to be extravagant does a great job at providing to us a message within a jovial and upbeat setting, reminding us continuously about the joy that it ought to bring to God and to us as we proclaim God to make '…us whole…so here we are to glorify Your name [and]…see You extravagantly praised…' Further carrying on from this theme is the second track, 'Magnificent Lord'. Reminding us that we ought to fix our eyes on Christ and His wonder, instead of focusing too much on our sin and guilt, Patrick declares in the chorus of this acoustic track to '…make my heart to wonder and lift my darkened eyes, turn my gaze of sorrow to see You magnified…', something that we all need to keep at the back of our minds as we continue to hope in the Lord in all circumstances of life. A call for us to ask the Lord to fill us with His presence, both 'Magnificent Lord' and 'Extravagant God' are two of Patrick's most powerful worshipful tracks that give us clear assurances that God is to be exalted in His rightful place, conquering sin and death to be the One whom we declare our praise towards. Well done Patrick for these two songs from Extravagant God.
'How Great Thou Art', one of my favourite hymns, is covered by Patrick, and set to some great acoustic guitar and some powerful vocal delivery throughout the 3 stanzas and chorus. Vocally reminding me of Nathan Tasker, particularly in this track, Patrick delivers one of his most vulnerable performances on the whole album, as we are yet given another great cover of a song that has become, alongside 'Amazing Grace', a testament to the timelessness of songs and how they can still minister to those who hear it today. With hand claps and backing vocals employed throughout the track, 'How Great Thou Art' fits right at home on the album, with its writing so good that it could've easily been written during the 2000s, if not for the thou's and thee's. 'Unwearied Soldier' paints a picture of Jesus's sacrifice through this reflective acoustic ballad, as we are met with hauntingly reflecting and refreshing reverbing keyboard underlying the poignant lyrical moments of how '…when I break His heart again and again to Him, I come with all my need, my unwearied Savior forgives me…'; while 'Found Victorious' is a light acoustic and vibrant 2 minute 45 second track with a message of us being found victorious and steadfast in Christ Jesus our Lord and Saviour. Further employing the acoustic music nature in songs like 'Break My Heart', a country twang emphasised acoustic track that unveils a message of pleading to God for Him to '…break my heart, shatter desires to make it alone, and I'll boast in nothing but Your Son who You gave to a cross…'; as well as 'My Rock', delving into the theme of us being steadfast, faithful and true inside God's love, and thereby making sure that we become secure with our foundation; Patrick's heartfelt music for the church is greatly expounded upon in these two tracks of 'My Rock' and 'Break My Heart'. Well done Patrick for such compelling tracks that call us to reflect upon the poignant lyrics amidst the acoustic guitars and light percussion that may hopefully allow more listeners to appreciate the lyrical content of songs all the little more.
'Streets of Gold' starts off with a light electric guitar reminiscent of the Peter Furler fronted Newsboys song 'Father Blessed Father', and turns out to be one of the strongest songs on the album lyrically. As Patrick begins to declare out from the point of view of God that '…I've paid for you with my own blood while you run, kicking and screaming, and I'll pave for you streets of gold…'; we are met with an honest portrayal of the lengths God went through to have us reconciled back to Him. A reminder of how much love Christ has for us, 'Streets of Gold' is a song for reflection, as we continuously remember and never forget how much thanks and gratitude we ought to give to the Lord out of the love received by Him unconditionally. Ending the album with an acoustic duet with singer Caitlin Wade in 'His Song', a melody dedicated to us declaring out to God that '…His song, hallelujah raised me from the grave and now for all my days I'll sing His song…'; as well as 'Take Your Place', a riveting keyboard and gang vocal infused song with a little bit of electronic music undertone that presents to us a poignant melody that exalts and elevates God to the place of honour, setting '…Your Kingdom on earth, as it is in Heaven above, take Your place, rule our lives, bow our knees and lift our eyes…'; both these songs are great and unique melodies compared the general acoustic nature of the album, offering up different musical genres against the central theme across the album to unveil worship melodies, for the church as well as for reflective and quiet time purposes. With 'Take Your Place' possibly my favourite upbeat song on the album, we can hopefully make way for Christ in the areas we so often long to hold onto, declaring outright that God be made ruler in every aspect of our lives. Well done Patrick for a great last song and a great lasting impression on an album that will hopefully capture interest from fans of Patrick (from his Disney Channel days) and fans of worship music alike.
Overall: Patrick's music as a solo artist is sure to gain buzz and interest, most probably because of interested fans of his previous work on the Disney Channel. But if you're searching for some mainstream pop material, this is not the album for you- Patrick's foundation and faith in Christ plays a great and central aspect in each of the songs on the album, and while he's not that famous in the Christian music circle at the moment, Extravagant God is sure to place Patrick on the CCM and worship music map of up and coming artists. From the title track to the last track to every song in between, this is an album for the church, songs to sing in moments of jubilation and others to contemplate to in moments of reflection. Well done Patrick for this indie album, and one of my favourite indie worship records released in September 2013 (alongside The Sonflowerz's Love Walked In EP).
RIYL: Nathan Tasker, Charlie Hall, Chris Tomlin, Matt Redman
Buy the Album: iTunes/Amazon mp3