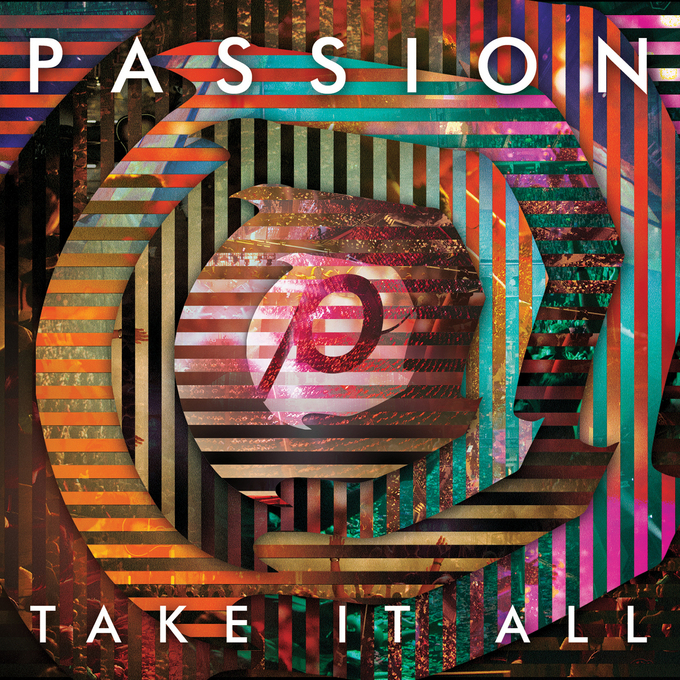 Artist: Passion
Title: Take It All
Label: sixsteps Records
Release Date: 4/29/14
Reviewer: Jonathan Andre
Tracklisting:
Don't Ever Stop (feat. Chris Tomlin)
Never Gonna Let Me Go (feat. Kristian Stanfill)
Let it Be Jesus (feat. Christy Nockels)
At the Cross [Love Ran Red] (feat. Chris Tomlin)
I Am (feat. David Crowder)
My Heart is Yours (feat. Kristian Stanfill)
Almighty (feat. Chris Tomlin)
You Came to My Rescue (feat. Christy Nockels)
Mercy (feat. Matt Redman)
Come As You Are (feat. David Crowder)
Worthy (feat. Matt Redman)
This Grace (feat. Kristian Stanfill)
Sing and Shout (feat. Matt Redman) (DELUXE EDITION)
My Heart is Yours (Radio Version) (feat. Kristian Stanfill) (DELUXE EDITION)
Come As You Are (feat. David Crowder) (Video) (DELUXE EDITION)
Let it Be Jesus (feat. Christy Nockels) (Video) (DELUXE EDITION)
The annual Passion album. You know the one that releases every year (around March/April), with artists like Chris Tomlin, Crowder, Matt Redman and others giving us new songs for the church that they have written and sung live during their Passion annual conferences in January each year. Passion has always been a great annual album to listen to, with their conferences led by pastor and excellent communicator Louie Giglio. Worship leaders like Chris, Matt, Christy Nockels and numerous others have promoted a message of passion and purpose, influencing the youth and young adults of America and others around the world as they come together annually in January for, what I reckon, one of the biggest worship conferences in CCM this 21st century. With 2014 being a year where I actually forgot to watch the conference footage online via their Passion Live Link stream (as opposed to 2013 where I managed to catch some of it), Passion's latest album has always given listeners (myself included) great songs for the church, corporate, and individual worship moments. While Passion's 2014 album is much more balanced (in terms of artists singing the songs) as compared to previous years, the album that was a result of this annual Passion event still promotes heavily the artists of Chris Tomlin and Kristian Stanfill, with both of them together contributing 7 out of the 14 melodies placed on Take it All, with other artists like Crowder, Christy Nockels and Matt Redman contributing 2 songs each, and Charlie Hall not even being at the event at all. However, on the whole, Take it All is a step up from last year's Passion offering, and is a great welcomed album from a movement that's going strong after 15 years, and shows no signs of slowing down any time soon.
Opening up the album with 'Don't Ever Stop', this Chris Tomlin-led rousing anthem starts with emotive and poignant fashion, using the electronic keyboard, hand claps and enthusiastic vocals of Chris to stir up the listener into a type of worship that allows them to dedicate their whole selves to God with total abandon. The pulsating drums, along with the emotion that is covered with the words of how '…whatever is true, whatever is right, whatever is pure, whatever is light, lead me in the way everlasting, don't ever stop, don't ever stop…', is enough for myself (and hopefully others who listen) to be rallied up as this song is a perfect 1st melody, and quite possibly one of my favourite first songs done by Passion since 'Here for You' on the annual 2011 album. Riveting and poetic, the electronic worship undertone cancels out any lack of lyrical creativity we see in the song (repetition of the chorus to be one), and while 'Don't Ever Stop' can seem a little cheesy in relation to other poignant Chris Tomlin songs like 'Our God', 'How Great is Our God', 'Let God Arise' or 'Jesus, Messiah'; the first song to an album that continues to impact hundreds and thousands of people, is one to be remembered, by myself and others, in months and years to come.
Yet with 'Almighty', the next Chris Tomlin offering, being as CCM as you can get (and sadly, quite forgettable after you hear the song), Chris nevertheless brings to the table a theme of us declaring that God is almighty through this melody, even though the theme has been covered a number of times (also by Chris… 'God Almighty' anyone?, or even songs like 'Almighty God', by Tim Hughes, or the one sonic society originally written melody of the same name). Chris also unveils his last led melody in 'At the Cross [Love Ran Red]'- and this song is the best of the three. A piano led melody from the start before electric guitars deliver the anthemic status we know the song is even when we hear the first few seconds of it; Chris invites us to take a journey towards the cross as we see that '…at the cross, I surrender my life, I'm in awe of You…' While on the long-ish side (aren't all good songs long?), 'At the Cross' is a moment of realisation and tranquillity, a knowledge of the transaction, enormity and the succeeding hope we now share because of His sacrifice. My favourite song of Chris's since 'Our God', I'm almost certain of this song's success, and even if this song doesn't become as popular as I know it should, 'At the Cross' will still be a favourite song of mine. Despite some lyrical simplicities, Chris's melodies ought to be commended, with these songs being instilled with a sense of any one of them being a catalyst for change in the lives of whomever hears them!
Crowder releases his brand new album Neon Steeple on May 27th, and in honour of the album releasing, these two new tracks representing Crowder on the Passion album ('I Am', 'Come as You Are'), both acknowledge David in his great ability to write heartfelt melodies, with both of his music offerings being hits (with myself at least) when they are heard. The first single from the new album, 'I Am' is a fairly standard live recording, almost following the script of the studio recording to the tee, complete with the banjo, acoustics and everything else (the only difference is the crowd). Still, Crowder still imparts such poetic brilliance into his songs, and 'I Am' is no different, with Crowder declaring out the powerful truth, that '…there's no space where his love can't reach, there's no place where we can't find peace, there's no end to amazing grace…' A song that gives us comfort that God, the I AM, is holding onto us, Crowder also delivers another poignant truth in the song 'Come As You Are', a song in which its theme is shown directly through the title, we are asked to lay down our burdens at Jesus's feet as we come to the cross with everything we have and everything we are. With string instruments, and a rustic music video full of sepia-tone colours to accompany a song that could be one of Crowder's slowest songs he's written for a while; 'Come as You Are' is for the listeners who may find it difficult to come to Jesus without the belief that they have to clean up their act before standing in God's presence.
Throughout the rest of the album, the remaining artists of Kristian Stanfill, Christy Nockels and Matt Redman, are able to share their own melodies of hope as the album delivers on both upbeat and reflective music styles. Matt Redman's 'Mercy', recently on his album Your Grace Finds Me, speaks about God's great mercy for both sinners and free men, and with Matt relaying an infectiously enjoyable and equally impacting bridge, we hear the timely words of how '…may I never lose the wonder, the wonder of Your mercy…', and how it is crucial for us to always remember the great things God has done in our lives rather than to just overlook them and forget them in times of hardship or struggle. With Matt also recording a new song 'Worthy', a simple worship song that encourages us to always sing to God and declare His worthiness, and presenting the upbeat 'Sing and Shout' on the deluxe edition (a riveting song that uplifts God through the words of how we ought to '…sing and shout, we'll sing and shout, open up our hearts and pour Your praises out…'), complete with slide electric guitars, electronic effects and big-sounding boom drums; it is nice to have a British influence on the album, as the movement is made global and different, and we are not just bombarded with another worship movement from the U.S.. Kristian Stanfill, the youngest member of the Passion Movement, also presents his own fair share of the album, from first single 'My Heart is Yours', a melody with a Hillsong-esque feel to it as Kristian powerfully resounds to us that our hearts are laid in God's hands, ready and willing for Him to mould and shape us in any way He wants, to 2nd track 'Never Gonna Let Me Go', an upbeat, country infused melody that has a rhythmic electric guitar riff that underlines a song that proclaims that '…His love breaking through my heart of stone, love breathing to awake my bones…', and 'This Grace', a modern hymn of sorts where the chorus is the anchor to the melody, and maybe even the anchor to the whole theme of Passion as a movement ('…this grace on which I stand, it will hold me til the end, never failing, praise the One who rescued me, Jesus You will ever be my salvation…').
And while Christy Nockels is the lone female singer placed on the album (but not the lone female singer during the conferences), it is in these vulnerable moments that Christy creates that can be some of my favourites within the tracks, which is the same of Take it All. Both 'You Came to My Rescue' and 'Let it Be Jesus' are possibly some of the best songs Christy has ever recorded, maybe even my favourites since 'Waiting Here For You' and 'Healing in Your Hands'. 'You Came to My Rescue' is possibly a song by Christy that I've never really heard before. Never before has Christy ever done something like electronic worship, yet here is 'You Came to My Rescue', complete with electronic keyboards, drums, and I'm sure a whole lot of dancing and celebration as the song marvels upon the theme of God coming to our rescue. While the chorus may be repetitive in the phrase of how '…You came to my rescue, calling on Your name, Your love came down…'; we are nevertheless given a song that just sticks in your head once you hear it, and that's not necessarily a bad thing. With a vibrant tempo perfect for us to dance along to during worship services that require us to be in a celebratory mood, Christy has given us a powerful hit, and will almost certainly be a favourite of mine if the song makes it onto her new album (provided she does do a new album). 'Let it Be Jesus', maybe even more enjoyable than 'You Came to My Rescue', is possibly my favourite song on the album, and one that ought to be sung in churches if it was my choice. With a piano riff, Christy proclaims out from first breath, the declaration of how it should be '…Jesus, the first name that I call, let it be Jesus, my song inside the storm, I'll never need another…', and from that moment, I'm hooked. One of the most vulnerable and honest track's I've heard Christy sing for a while, this is a song to sing when you're declaring God to be above everything else that matters, and how, as the chorus states, for us to live is Christ, dwelling in and around us. A song highlight, not just in Take it All but throughout 2014 as well; Christy should be commended for such a poignant melody, and one that stands tall amongst many other great songs on an album that's one of the band's best since White Flag.
Overall: It is sad to say that over the last few years, the Passion song choices on each of the albums has been leaning and leaning more to promoting Chris Tomlin and his songs rather than anyone else. Not that Chris's work isn't good, it just seems like there is a slight favouritism when it comes to which artists to place on the album. Nevertheless, a glance through the album gives us great songs from Chris, Kristian and the rest of the other worship leaders, from the heartfelt 'At the Cross [Love Ran Red]' (arguably one of my favourite Chris Tomlin songs on the album, and my favourite Chris Tomlin song of recent memory since 'Jesus, Son of God' from White Flag), to the poignant potential second single 'Let it Be Jesus' by Christy Nockels, and the soulful and emotive 'Come as You Are', a song from Crowder's first solo album Neon Steeple, releasing May 2014. Despite Charlie Hall not being at the event, and other artists being excluded from the song lineup (Hillsong UNITED, Kari Jobe and Capital Kings were all present at the event, yet their songs were not on Take it All); Passion's latest album is nevertheless a good album to purchase if you have been a fan of the Passion Movement for quite some time. While this album is better than Let the Future Begin (but not better than White Flag), Chris Tomlin and co. have produced a solid record to give listeners songs to sing in churches as we sing the anthem to God, longing for Him to take us all and mould us to be the powerful warriors of God we were created to be.
RIYL: Christy Nockels, Hillsong UNITED, Kari Jobe, Matt Redman, Tim Hughes
Buy the Album: iTunes/Amazon mp3