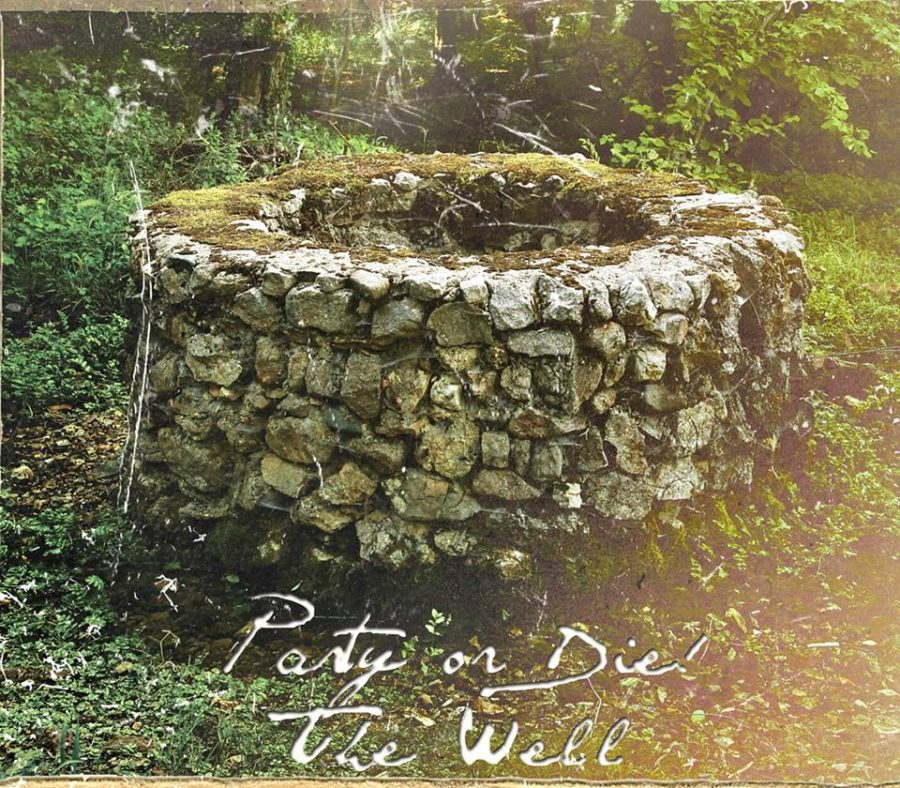 Artist: Party or Die!
Title: The Well
Label: Independent
Release Date: 11/5/2013
Reviewer: Ty DeLong
Tracklisting:
7:45 on a Tuesday
I'll See You In Another Life, Brother
They Come. They Fight. They Destroy. They Corrupt. It Always Ends The Same.
You Tell Him He's Going To Have To Die
There's No Such Thing As Miracles
Don't Mistake Coincidence For Fate
Imagine if TwoThirtyEight had kept at it and experimented more with the guitar tones, effects, and song structures of post-hardcore. That's the best way I can describe this excellent release from Party or Die!, an indie rock band based in Huntington, WV.  The raw emotion characteristic of that classic band meets with diverse guitar work and even and epic eight-minute track in The Well, by Party or Die!
The record opens with "7:45 On a Tuesday."  Effects-rich guitar gives the listener a taste of the first of many tones to be used. Drums, vocals, and bass soon join into the harmonically-rich arpeggios as Patrick sings of a treacherous mountain journey to a well that has gone dry. The song carries on with a steady and rocking pace until a mostly-instrumental bridge takes a break before the final chorus. Next up, "I'll See You In Another Life, Brother" is probably my favorite song on the album. With its interesting timings and accessible message, the listener is entreated to use their voice, regardless of if they feel worthy or gifted enough. This bittersweetly-triumphant tune leads into the longest song on the album.
One may expect that if there is an atypically-long track it would be the closing track, but Party or Die! place "They Come. They Fight. They Destroy. They Corrupt. It Always Ends The Same." squarely in the middle. It begins sounding very much like classic indie rock but morphs into a huge instrumental piece after four minutes. The band shows their experimental side as they allow the epic to fade out with piano, strings, xylophone, and subdued synth. The intro to "You Tell Him He's Going To Have To Die" abruptly jerks the album back into rock territory, though the mellow verses balance the song out. Listen closely for the cellos which seem to have spilled over from the previous track. Love it.
Down the home stretch comes "There's No Such Thing As Miracles." Parts of this slower track may start to sound familiar after the sonic variety in the previous couple of cuts, but key changes and particularly solid drumming mix things up a bit. Most intriguingly, the lyrics tell of one losing his faith. Paired with the title, I struggle a bit with the meaning, coming from a band of believers. Yet I can also see it as a narrative more than a personal piece, particularly given the message of the closing track. "Don't Mistake Coincidence For Fate" metaphorically speaks to one in doubt and simultaneously carries the theme of the album forward.
I see you're dying of thirst

So let me take you to the well that never runs dry

But you're still waiting in line

And I hold up my hand

Because I know that you're scared

You should know I'm scared too
An instrumental break halfway through the song reintroduces the more experimental elements that permeated the middle portion of the album. It is in that vein that Party or Die! powerfully finishes the record, reinforcing that they're more than a run-of-the-mill indie rock band.
Though not explicitly labeled as an EP, I would categorize the album as such. It's a cohesive collection of songs, yet there is good variety, as well. What caught my ear the most were the subtle additions such as cello and xylophone that show great attention to detail. Anyone can record a few tracks on a weekend, but to take the time to add layers and depth indicates great care for the music and end product. At the same time, nothing feels over-produced.
Looking at the album with a critical eye, I wish there had been a few more tracks to go ahead and round it out as a full-length since it clocks in at thirty-one minutes. Also, the vocal production did make it hard to distinguish a line or two in places. Patrick's singing is quite raw, which is a plus or minus depending on who you are. Personally, I wouldn't change the performance; I think it fits right into the genre. Lastly, I found it hard to connect with the themes and metaphors in places, but I admit that is somewhat subjective.
Overall:  Party or Die! deliver a fresh selection of indie rock songs that hearken back to classic emo while exhibiting some more mature songwriting and composition tendencies. The quality of the album certainly stands out for an independent artist not hailing from a major market.  I'm hoping we will one day get a solid full-length from these talented guys who aren't afraid to experiment a little. I give the album a solid 4/5 for representing the genre well while incorporating new and interesting elements.
The Well is available on iTunes, Amazon, and Spotify.
RIYL: TwoThirtyEight, Sainthood Reps, So Long Forgotten