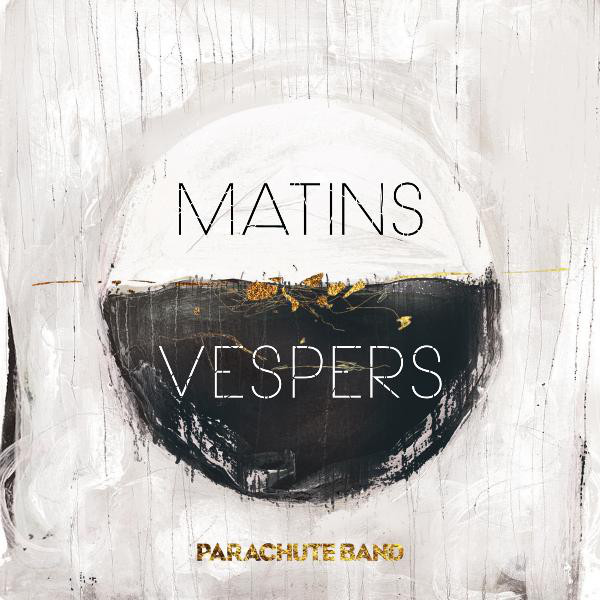 Artist: Parachute Band
Title: Matins and Vespers
Label: Parachute Music
Release Date: 1/31/12
Reviewer: Jonathan Andre
Tracklisting:
Hope is a River
Keep the Fire Burning
Promises
Run to You (+ Meet You)
In Your Name
In Jesus
The City of the Lord
Hark
Halt
Consecrate
Linger
Still
Rallentando
Simmer
After having a massive overhaul of members during 2005/06; the new lineup of the Parachute Band have been able to carry on their mission statement to influence the young generation through worship music that is relevant, engaging and exciting for them to hear. Listening to the band and how they have been able to keep their 'parachute sound', also reinventing the worship genre altogether by creating radio hits like 'Mercy', 'It's You' and 'You Remain'; I can safely say that 'Matins & Vespers' is their best yet, with half the album (7 tracks) full of original songs, and the other half mixes of instrumental tracks. With their name 'matins' coming from the definition 'morning songs' and 'vespers' deriving from 'evening prayers'; the album is able to showcase some of the best musical arrangements from any CCM band for a while; with Parachute Band now on par with the now-disbanded David Crowder*Band, and Rend Collective Experiment. With 14 tracks spread over two discs, having an album full of worshipful tunes, and another full of contemplative reflective instrumentals, is clever, catering to a wider listening base, as the New Zealanders continue to assert their authority in the Christian music industry!
'Keep the Fire Burning' is the first single on the album, which speaks about how we ought to make a conscious effort everyday to keep our walk with the Lord a priority. Starting with a big drum beat, hand claps, and a huge amount of percussion, we are urged to keep on running the race of life, never losing the sight of the Lord during the busy lives we lead. The encouragement from lead singer Omega Levine to '…keep the fire burning, let it shine out…' is motivation to us all that our relationship with Christ is a priority we shouldn't let dwindle because of our multi-tasking in this age where we are getting busier by the day. Through plenty of passion through the music and lyrical richness, I am able to soak in Omega's supporting words as he proclaims for God to '…light the spark, illuminate the darkest paths, burn away the worst of me…' One of my favourites on the record, 'Keep the Fire Burning' is definitely going to be one of my favourites from this 'new' incarnation of Parachute Band. Well done Omega and the team for creating a song, not only to be sung around campfires and small gatherings, but also in churches, for months and years to come.
Originally recorded by The Ember Days, 'Run to You' shows us that God is the only one who we are to run to, in the circumstances that we find ourselves in. Starting off with a light reverbing keyboard, together with an electric guitar picking tune, Omega sings out '…You are calling me to You, and…I run to You…'; leading to a big crescendo as he pours his heart in worship, along with the musical arrangements of synths, percussion, as well as a backing choir. One of the most poignant lyrically though there's not much lyrics compared to other Parachute songs; this song is destined to be a fan favourite, and is certainly one of my favourite versions of the song (along with the original 'Ember Days' recording).
'Promises', 'The City of the Lord' and 'In Your Name' all showcase Omega's strong vocals amongst programming, massive drum beats, percussion, as well as a vocal choir; as he provides listeners with songs that fit right into churches all around the world. 'In Your Name' speaks about how it is in Jesus' name that everything holds together; and that '…in Your name, there is healing…You make all things [new]…' A wonderful proclamation about how God is our deliverer and our comfort, this is a certain highlight amongst the seven singing tracks. 'The City of the Lord' starts with an acoustic guitar and Omega's vocals, as he relays the truth that '…God our refuge and strength, He's our help in trouble so we will not fear, though the earth may crumble, though the mountains fall, they fall into seas…You'll rescue me…' With a simple instrumental arrangement (acoustic guitar and reverbing keyboard and percussion); Omega shows us God's river, and how we ought to '…be still and know that He is God…', coming before Him with no agendas, our hearts and minds in tune to what He's showing us. 'Promises' incorporates electronic galore, with tons of synth programming and a strong bass line, as Omega uses this song as a declaration launching pad, giving listeners hope as he shows us that God's promises are true. His booming voice echoes through the song, giving us encouragement that '…I believe Your promises are "Yes and Amen"…' that even when we what is in front of us, God has given us the promise that He will use every circumstance that we face for His glory. What a wonderful song that has become one of my favourites by Parachute Band ever!
Parachute Band have split this album up into two, the first seven songs entitled 'matins'- more upbeat, lively, morning songs that proclaim and declare; whereas the other seven are grouped into a collective called 'vespers'; quieter, more reflective melodies, with no words, thereby letting the music touch the lives of those who hear it. From the soothing melody of 'Hark' with the use of electronics and a keyboard riff, to the light keyboarding that makes up 'Consecrate'; as well as the reverbing 'Linger' with the use of the odd percussion or synth riff; Parachute Band have created a collection of 7 tracks that places this collection of instrumentals in the same realm as Michael W. Smith's two instrumental albums, Freedom and Glory. Throughout these seven tracks, I was able to just soak in the presence of God, reminded that music doesn't have to be with words for it to be worshipful. The choir added throughout the song 'Still' is a certain highlight for me, creating a worshipful moment sometimes found in old church buildings or cathedrals around the world. A clever tactic of naming these reflective melodies 'Still', 'Halt', 'Linger' and 'Simmer' alludes to how each of these musical elements are received; that as we listen to these moments, we'll find the Lord telling us to just stop and rest in His overwhelming presence, that through these 7 works of art; we are able to worship just as effectively than if we sung a huge anthem. Though not my first choice of music, these instrumentals seem to flow together to create a collection of 'vespers' that will brighten everyone's night, regardless of our faith. Well done Parachute Band for such a moving experience!
Overall: Parachute Band have produced an album that has exceeded my expectations of what I thought was possible from them. With such passion shown by lead singer Omega Levine and the rest of the band; I have been able to soak in plenty of worshipful moments as I crown their latest release as one of their best throughout their career since 2006. With music that is able to touch both the declaratory and reflective listeners, Matins & Vespers are one of the standouts in January 2012; along with Kari Jobe's Where I Find You and Starfield's The Kingdom. A must buy for fans of Passion, Chris Tomlin and David Crowder*Band; well done Parachute Band for making such a satisfying worship experience!
RIYL: Chris Tomlin, Kari Jobe, Starfield, David Crowder*Band
Buy the Album: iTunes/Amazon mp3