Album Review :
Owl City - The Midsummer Station Acoustic EP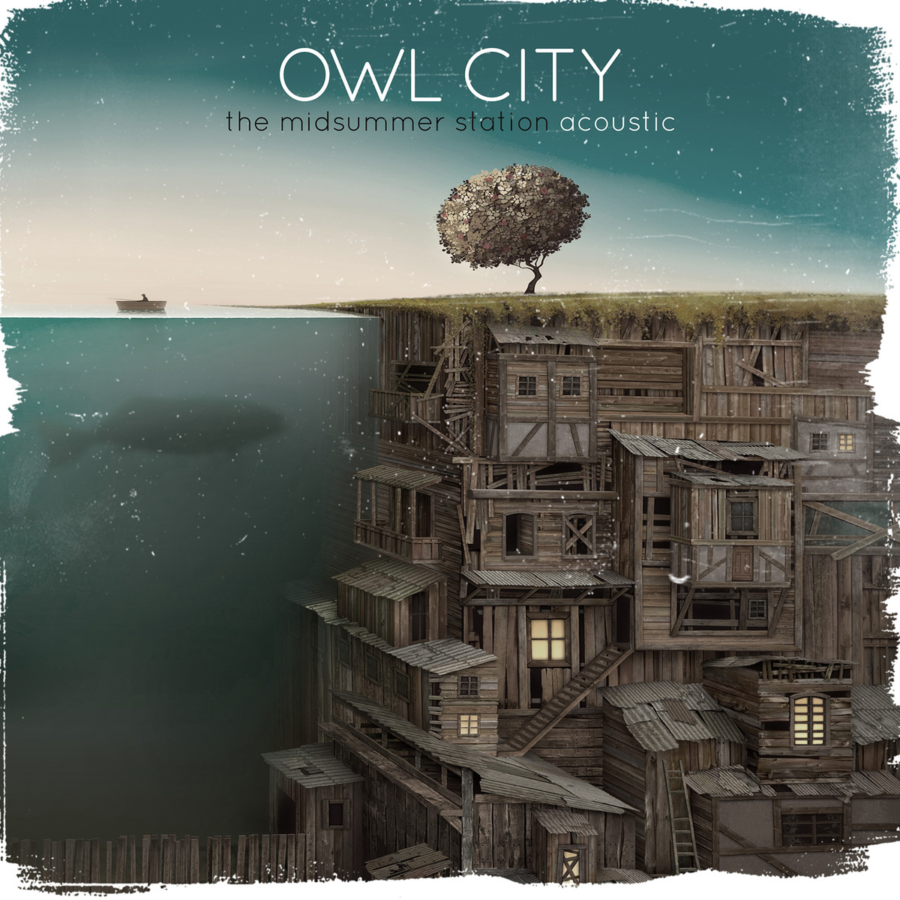 Artist: Owl City
Title: The Midsummer Station Acoustic EP
Label: Republic Records
Release Date: 7/30/13
Reviewer: Ian Zandi
Tracklisting:
Good Time (Acoustic)
Shooting Star (Acoustic)
Gold (Acoustic)
Hey Anna
I Hope You Think Of Me
It was a mere 4 years ago that I stepped foot into The Glasshouse in Pomona to see Relient K. As they were my favorite band at the time, I was undoubtedly excited about the concert. Being the young fanboy I was, I literally found out everything I could about the show. This included listening to the opening acts Runner Runner and Owl City. At the time, Owl City was still a few months away from releasing Ocean Eyes and their 4x-platinum hit "Fireflies". While I did not think that this kid with his synths, wall projector and uncomfortable stage presence were that exciting, I did see some potential (I later discovered that was probably his first live show ever). However, I did not predict that Adam Young could have possibly progressed into the huge pop-phenomenon that he is today.
Let's fast forward to present day. The one-man-band has released 2 more albums, multiple original contributions to commercials and movies, and 2 EPs since Ocean Eyes. One of these EPs, entitled The Midsummer Station Acoustic EP, consists of 3 songs found on The Midsummer Station as well as 2 new songs. I've always thought that hearing acoustic versions of Owl City would be interesting, so I took interest in reviewing this new EP. To say that I am very disappointed would be an understatement.
Taking a few of the popular tracks on the album, this EP tones them down to a slower pace. They are not acoustic in the conventional sense. In fact, they don't qualify as "acoustic" at all in my book. Synths are still present and Young's voice is still manipulated by auto-tune. On "Good Time", the number of differences between the "acoustic" version and the original single are scarce. The only noticeable changes include the slower speed/intensity and the absence of Carly Rae Jepsen's vocals. The acoustic version of the song also made me realize how repetitive the song really is. Though I am not a fan of Carly, I would definitely say that her contribution would have greatly improved the acoustic track. "Shooting Star" and "Gold" also lack much diversity from their original copies. They are slowed down to the point where I could imagine that even Adam Young could sing himself to sleep (that's saying quite a lot considering he is an insomniac). I also find myself wishing that a version of Dementia (feat. Mark Hoppus) could have made it on this EP. Perhaps that song could have had an interesting remix.
After listening to the lackluster acoustic tracks, I played the two new songs "Hey Anna" and "I Hope You Think Of Me" in hopes of receiving something better. I really wanted to like them. They were put on repeat again and again but they just wouldn't stick. Owl City has always been my go-to band for catchy guilty pleasure songs but these songs didn't make the cut. I think these 2 unreleased songs should have stayed unreleased. Even the songs that Young preforms for movie soundtracks are heaps better than the duo of tunes presented here.
While there is no redemption to be found on this EP, I did discover a different project done by Owl City that is a great example of what this album should have been. Late last year, Adam Young recorded "Shooting Star", "Good Time" and "Fireflies" for a Live at NYC Spotify Sessions release. All of these songs still retain their original energy while being played over piano and acoustic guitars. This combo makes for an excellent sound. The inclusion of "Fireflies" is also nice touch to the Spotify exclusive. It's too bad that those sessions are not the route that Young decided to take for The Midsummer Station Acoustic EP.
Overall: This EP should have never been made. The acoustic songs are not horrible but they have no real reason to exist (unless you want to know what Owl City in slow motion sounds like). Both of the unreleased songs are forgettable. Mr. Young did not showcase that same potential that I saw in him years ago. While Owl City usually gives us delicious sugar-coated pop music, this novelty EP gave me a toothache. Let's just pull that cavity out and hope that new material comes in soon to fill the void.
RIYL: The Postal Service, Lights, Carly Rae Jepsen, Relient K's Collapsible Lung,  falling asleep to music.