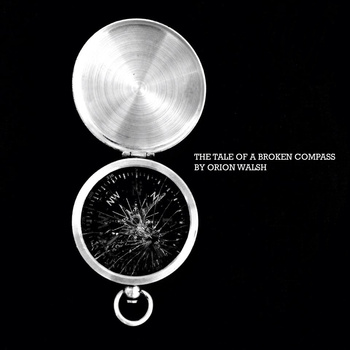 Arist: Orion Walsh
Title: The Tale Of A Broken Compass
Label: The Hunter Records
Release Date: 10/15/13
Reviewer: Josh Hamm
Tracklisting:
I Would
When the Hangman Calls
The Tale of a Broken Compass
Subtle Foe
Tree's I've Never Seen
Cold Shoulder Slip Off
Rambling Heart
Enola Gay
Struggle To Recover
Amazing Grace
Whenever I listen to an exceptional album from a lesser known artist, I get a small reminder of the injustice of the world – some deserve to be better known. Orion Walsh has become one of those artists. I say become, because while I've always appreciated his music, from his emo rock band days with Slow Coming Day, to his hard hitting solo album Tornado Lullabies, and 2012's under rated EP First By Water Then By Fire, it wasn't until now that I realized the full power of his song writing.
And he deserves some accolades for it. It's raw storytelling, drawing from personal stories of him and others, and told the powerful medium of folk songs, with a bit of country and blues thrown in for good measure.
The album starts off strongly with the stirring undercurrents of "I Would," a stark confessional of how a man would change his way of living to win back his love, but who knows that it's too late. It sets a dark tone for the opening, with lines like "I am selfish, and a coward / waiting for, that final hour/ I am a liar, I am a cheat/ I have been a drunk man, I am weak." Orion also displays his knack for wordplay without cheap humour. One of the verses ponders "If I could win you back, with this song/ Right all the things, I've done wrong." But the second line works both ways, if he could "Right" the wrongs, or "Write" all the things he's done wrong.
"When the Hangman Calls" carries it on, telling the story of a man condemned to die, scratching the days out in his cell, who finally escapes, but finds more than freedom from physical chains, but from spiritual ones as well. It's simple musically, but not narratively.
A self admitted Jonah story at its core, the eponymous "The Tale of a Broken Compass" is the strongest song on the album. It's a slow burn, building with soft guitar picking with occasional piano that brings a heavy weight of purpose into the song. A man is wandering the world, with only a broken compass to guide him, but instead of listening to God's plan for him, he runs away. It's a simple conceit, but the structure of the song brings it to life. The lyrics are not only poignant, but challenging: "I was sent here to sing the truth / Not to tickle your ears or make you feel good / Mark my word there shall come a day / When we will all stand before He who Creates / What will you then have to say? / For your actions now shall determine your fate."
That first line speaks to Orion's approach to music, along the lines of American monk Thomas Merton's words in Seeds of Contemplation:
"If you write for God you will reach many men and bring them joy. If you write for men–you may make some money and you may give someone a little joy and you may make a noise in the world, for a little while. If you write for yourself, you can read what you yourself have written and after ten minutes you will be so disgusted that you will wish that you were dead."
From what my ears tell me, Orion Walsh has chosen the first option.  But this isn't like some of this previous albums, where the themes of the songs seemed to bleed together – The Tale of a Broken Compass is just what the title says, a story of the different paths we go through in life, directionless, finding out way step by step. Orion writes about the times we flounder and fail to walk along the right path, but there's also hope that some of the steps we take are the right ones.
Fuzzy guitar riffs open "Subtle Foe," a story about Bill, an alcoholic whose life is rapidly destroyed by the "subtle foe," in this case represented by liquor.  He gets into a bar fight, sleeps with another man's wife, and eventually drinks himself to death. Could you call this song preachy? Perhaps, but a better term would be blunt. It's an honest story about a man who "died from drinking most of his life."
"Cold Shoulder Slip Off" is a fun, jaunty tune about a girl who repeatedly rebuffs an inquisitive admirer. It's the first upbeat, enjoyable song, and a welcome reprieve from the dark tales we've heard thus far. It's like NEEDTOBREATHE's "Girl From Tennessee," – there's not much "substance" or "profundity," but sometimes it's nice to just let a song roll over you, smile, and have a good time.
"Rambling Heart" soothes into the song with a harmonica and gentle guitar strumming, it's a quiet song about the conflict between home, love, and vocation. You can't be a rambling folk singer and have a permanent home – some choices have to be made.
This softer side continues to play out with "Trees I've Never Seen." It turns the tables on the first couple songs of strife, instead showing someone who's content and at peace, who refuses to "walk to others' drums." It's a comforting song in stark contrast to the often challenging and culture critique songs Orion is so adept at.
Then comes one of his standout story tracks: "Enola Gay." Like the gutwrenching "Journey of a Young Spruce Tree" on First By Water Then By Fire, Orion takes an inanimate object, in this case a plane named Enola Gay, and tells its story. In this case, Enola Gay is already well known, the plane that dropped "Little Boy" on Hiroshima. It's a brutal story; the subject matter itself charges it with emotion, but the song manages to convey it in a real way brings new life to it.
The album ends with two covers:"Struggle To Recover," written by an old bandmate, Eddie Spangler, who died of a brain aneurysm, and "Amazing Grace."  Both are songs about overcoming one's past and thoughts, although "Amazing Grace" is about God's saving forgiveness, and "Struggle To Recover" is a call for personal betterment,  to "put away emotions / put away your fears / put away those scars you've been carrying for years/ be free."
I'm very sorry to not have heard The Tale of a Broken Compass in 2013, because I want all the more time to digest what I've heard, and it would have undoubtedly made it on my Best Of list.
Overall: Orion Walsh is an honest storyteller who writes songs without thinking about what other people might think of them; he pursues truth. The Tale Of A Broken Compass meanders through the lives we all live, through heartache, fear, and hard times, but it doesn't wallow in darkness, instead allowing hope and new life to be found in its songs.
RIYL: Slow Coming Day,  Bob Dylan, Johnny Cash, Woody Guthrie, Bill Mallonee
Buy the album: iTunes, Bandcamp (The song "Struggle To Recover" is free)