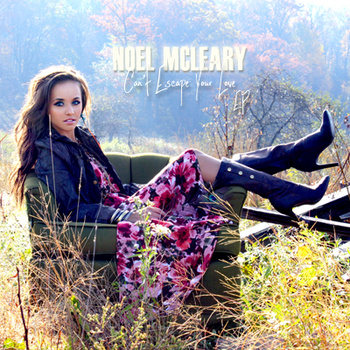 Artist: Noel McLeary
Title: Can't Escape Your Love EP
Label: independent
Release Date: 2/21/12
Reviewer: Jonathan Andre
Tracklisting:
Can't Escape Your Love
I'm Still Yours
What It Takes
'…I've always strived to live my life in a way that when God says 'go' I'm able to jump on board and follow.  I feel like in music; that time is now.  And I can't wait to enjoy the ride!…' Stumbling upon this artist on bandcamp a few days ago, I was impressed with what I heard. With Noel McLeary sounding pretty similar to artists Marlene Brehm, Britt Nicole and Holly Starr, I started to listen blindly to the album, not knowing any of her music before. Though I went into the album not knowing what to expect, I am confident now in saying that Noel has a bright future in CCM/pop music, and with this album produced by Rusty Varenkamp, I'm sure many listeners around the world will sit up to take notice (Rusty also produced albums for Tenth Avenue North, Sanctus Real, Mikeschair and Building 429). Reminding us that '…I can't escape your love, You saved me, saved me now…' ('Can't Escape Your Love'); this 3 song EP is just a glimpse into great things (hopefully) for Noel this upcoming year. With each song incorporating a pop/dance flavour, this is a great buy if you're a fan of Britt Nicole, or even the dance pop of Rachael Lampa and Stacie Orrico from the early 2000s.
'Can't Escape Your Love' is the first radio single from the EP, and as the song starts with looping drum beats, percussion and electric guitar strums, we are met with a message of overwhelming love from God to us as we understand that no matter how far we go or run from Him, the love that God pours out will always reach us, whether we acknowledge it or not. We are God's children, and as I am reminded about how '… there's beauty in the making of everything you're shaping…', God continues to make all things work towards His glory and our good. Touching upon the thematic elements of the prodigal son, Noel (who sounds so much vocally like Marlene Brehm or Holly Starr in this song) gives us an encouragement that no matter where I am, God's promises will occur- yet always in His timing. 'I'm Still Yours' is a reflective ballad filled with hopeful moments of surrender and acceptance as we come to God, broken and weary, yet realising the life that God freely gives to us as we immerse ourselves fully in Him. Filled with electric guitar loops and a percussion filled backing track that remind me of the musical introduction to Tim Hughes's 'All Glory', Noel offers up solace and hope in the words that even when everything is crumbling around, '…You hold my shattered pieces, Your arms have taken me in, broken but I'm still complete with you…' With an intense passion and enthusiasm that is able to bring listeners into a story of promise and redemption as we understand God as the constant in our lives, Noel gives us a promise that needs to be held on to- that Christ will always be with us even at our lowest. Finally, written by Anthem Lights frontman Alan Powell and producer Rusty Varenkamp is 'What it Takes', a gutsy 3 minute melody about trusting in God no matter the circumstances. Though only 3:04 in length, the songs packs in plenty of guitar chords and poignant lyrical messages as listeners ponder the statement sung by Noel, wondering that '…if this is what it takes to get me close to you…', are we going to trust God fully enough for Him to accomplish what He longs for us to do, regardless of the pain or the uncomfortableness that may occur along with the transformation? A song about relying on Christ in the moments when all you can do is just that; well done Noel for such a transparent and compelling song!
Overall: Noel McLeary has given us 3 songs filled with intense joy and passion as we are reminded of God's promises to us, filled with reflective melodies and pop songs along a similar musical vein to other artists like Britt Nicole, Holly Starr, Kerrie Roberts and even newcomer Marlene Brehm. Though not signed to a label now, this heartfelt collection of songs produced by Rusty Varenkamp is certainly going to create some notice by record labels. One of the most greatly produced independent EP's of the year (along with Willet's Love on the Outside), Noel McLeary is sure to be an artist to look out for in 2013. Well done Noel for such a great album experience!
RIYL: Kerrie Roberts, Britt Nicole, Marlene Brehm, Holly Starr
Buy the Album: iTunes/Amazon mp3