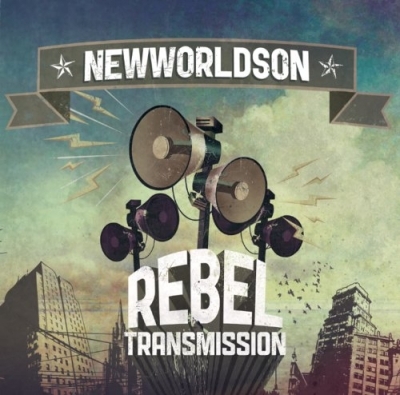 Artist: Newworldson
Title: Rebel Transmission
Label: Platinum Pop
Release Date: 04/17/2012
Reviewed By: Sara Walz
Tracklisting:
Radio Ghost Town
Homeless Child
Learning to Be the Light
5, 6, 7, 8
Old Time Religion
Today
Sweet Grace
Selah
Son of Man
Southern Cross
Shake Holy Spirit
If you're looking for a lighthearted album to make you smile, look no further than Rebel Transmission. For their fourth full-length release the Canadian soul band kept their piano-driven pop sound and added some polish. There are horns. There is guitar. There is a bass line created with vocals. There are hints of soul, jazz, gospel, and ska peppered throughout the 11 tracks which distinguishes each track from the next but the strong presence of piano gives the album a cohesive feel. "Radio Ghost Town" starts the record on a high, happy note and that sound carries through the entire album. There are a couple of tracks that start off a little slower, a little more ballad-y, but then by the chorus they pick up and are back to the bouncy sound that seems to be the musical theme through the record.
The music is peppy and fun and the lyrics bring the substance. Lead singer Joel Parisien says, "I believe we're in partnership together. It's not just about our artistic expression, although that's a big part of the impression we leave on people," Parisien continues. "At the end of the day, it's all about the message that we have." The first single off the album, "Learning to Be the Light," is based on the passage in Matthew 5 that says, "You are the light of the world. A city on a hill cannot be hidden." We are called to surrender our lives daily on the song "Today," and "Homeless Child" cries, "The earth just spins around. And it's cold and it's lonely here on the ground." Sometimes you have to dig through a little bit of cheese to find the lyrical gems, but they're there and when you find them they are worth the digging.
Overall: Rebel Transmission is best described as a happy album. Every song could be the song you put on when you're driving with your windows down and the sun is shining. Sometimes the lyrics get a little cheeky but the message behind them rings loud and clear, these guys are here to bring a message of Truth.