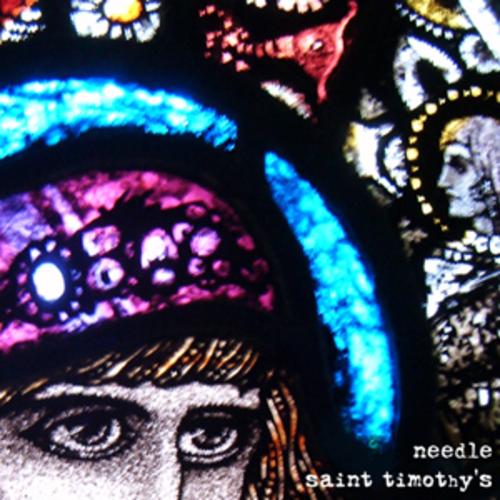 Artist:  Needle
Title:  Saint Timothy's
Label:  None
Release Date:  1/10/2012
Reviewer:  Jeremiah Holdsworth
Tracklisting:
1.  Oceans
2.  Let It Go
3.  Saint Timothy's
4.  Scenery
5.  Plan
6.  Sunsets
7.  Far
Sometimes I wonder how the members of a band come up with their name, and why they chose what they did.  Some of the most interesting have been one word names like Hum, Rush, Yes, Boston, Garbage, Oleander, Live, Hole, and on and on.  I was curious to know why a duo who consists of Julia Sea and Steve Beck, would choose the name Needle, for which their music would fall under.  After listening to their debut album, Songs Your Mother Never Sang You, and their most recent Saint Timothy's, I've come to the conclusion that their style of minimalistic indie avant/folk/pop, weaved with hauntingly depressing vocals, make for music that will prick or pierce you to the heart.  It's fitting that the word needle, would be able to encompass, all that that these two musicians lay out, through the art of sound.
"Oceans" begins the album with eerie scenery laced with piano and spacy guitar.  "Let It Go" brings calm and soothing piano and throws in some background ambiance at the right moments.  "Saint Timothy's" haunts your soul with simple piano and hi hat hits accompanied with cello.  "The Scenery" continues the depressing like mood with a less minimalistic natured piano and percussion from the previous.  The lyrics really mold with the music
You wanted out, you got out
And now your on your own
The scenery will bring it back
That all you are is alone
It was all about the solo act
Now your own on your way
So don't think of him, the state he's in
will bring you to your grave
"The Plan" chills you to the bone with creepy organ and redemptive lyrics
I open myself to the world
And it's falling
Getting sick in body and in mind
Your light is washing over me
"Sunsets" is about to bring these stories to a close and it brings about drifting off into another place.  "Far" ends on a bright note with faintly upbeat piano and melodies.
Overall:  This is a nice follow-up to Songs Your Mother Never Sang You.  Saint Timothy's highlights the spiritual but with just enough vagueness that each individual will get something unique out of it.  Poetic these songs are, and it makes the art crafted throughout a delight.