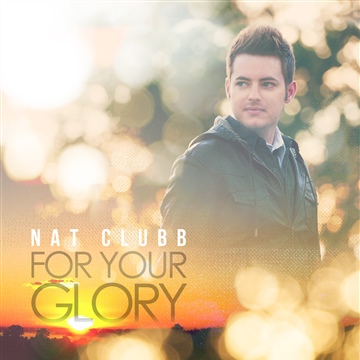 Artist: Nat Clubb
Title: For Your Glory
Label: independent
Release Date: 12/3/13
Reviewer: Jonathan Andre
Tracklisting:
I Will Never Forget
Taste and See (He is Good)
Come, All You Labourers
Here I Am
Chorus of the Free
'…I've only know Nat for a little while, but it was quickly evident that he has a heart for worshipping God and a heart for serving others. His music and lyrics definitely reflect that.  I can't wait to see what God has in store for him!…' This endorsement for Nat and his music by none other than singer/songwriter Jonny Diaz has led me to at least be intrigued as I listened to this new artist and his debut EP, For Your Glory, which released in December 2013. While relatively new in recording music, Nat has been ministering in churches and events around the San Francisco Bay Area for a while, taking a Worship Minister role at Shorelife Community Church in Capitola, CA during the 2000s. Now, he resides in Nashville, with his family, while also pursuing music and recording as a career; and if what is in store for Nat is only judged by these first few songs he has written and recorded, then Nat's recording and worship ministry future is all certain, bright and hopeful, with these 5 songs some of my favourite indie worship tracks that I've heard since Evan Wickham's melodies in Make Us One. Vocally sounding like Jonny Diaz, Lincoln Brewster, Nate Sallie and Hearts of Saints frontman Craig Felker; Nat's heartfelt songs, borne from his family's move from California to Tennessee, remind us of God's faithfulness, with each of these songs perfect for both individual reflection and worship, as well as congregational settings for collective praise and adoration on Sunday mornings. While only 5 tracks, Nat crafts his music with such poignancy and vulnerability, unveiling his faith and doubt, heart and hope, in all of these songs on For Your Glory.
The first song on the album, 'I Will Never Forget' starts off with a pulsating drum beat and some unique keyboard riffs as Nat proclaims that '…I will sing of the goodness of my God, I will tell of the wonders He has done…', giving us a reminder of God's continual goodness to each and every one of us, even in the moments of our own self-doubt and uncertainty of situations, and maybe of God Himself. An upbeat song that tells us the story of how a God never forgets His children, and how '…You are the God who leads me by still waters…', this 5 and a half minute melody that has the poignancy and emotion to carry it into the walls of the church on a Sunday morning is one of my favourite songs by an indie worship artist that I've heard within the last few months. With some vocal similarities, especially in this song, to worship leader Lincoln Brewster, Nat Clubb pours out his honesty, with the song being written out of a season of unemployment for Nat during his first few months without a job in Nashville. Giving us clarity that '…if your faith is in check, your provision is in Christ, not money or anything else. When we fully grasp that concept, that's when we see the blessings flow…'; Nat presents to us a great song that's nicely fitting to have as the opening melody to this 5 track EP. Another personal highlight of the EP for me is 'Here I Am'- no it's not a Michael W. Smith cover, nor is it 'Majesty (Here I Am)' by Delirious?. This song, originally written by Nat, invites listeners to dwell in the worship melody, soaking into its truths as Nat declares the poignant words of '…here I am…completely Yours…' Knowing Christ's sacrifice, the least we can do is offer ourselves in gratitude, as we lay down every burden and failure, triumph and hopeful moment of praise, at Jesus's feet and declare that we are at the mercy and grace of a God who loves and longs to give out those things to us as we use them to serve and further His kingdom. A mellow and piano driven song, Nat is able to utilise his vocals, enough for me to assert this song as being the best of Nat's, vocally that is. With the drum's never overpowering the lyrics, and the song perfectly timed at 6 and a half minutes (with some time for free worship during the song), 'Here I Am' is a wonderful anthem, especially during the moment of the bridge where Nat declares that '…everything be for Your glory…' Well done Nat for both 'I Will Never Forget' and 'Here I Am', both difficult musically but both reminding us of God's faithfulness, and that out of that, comes thankfulness, reverence and worship.
The rest of the album, 'Chorus of the Free', 'Come All of You Labourers' and 'Taste and See (He is Good)', carry on thematically from the previous two songs, and still propel this album to be one of the EP's of last year, that I didn't listen to last year, but I wish I had. 'Chorus of the Free', the EP ender, is a rousing anthem with strong guitars and an upbeat element as Nat invites us all to '…let the chorus of the free, let the song of the redeemed, we will worship and adore You…'; while 'Come All of You Labourers', the only 'live' acoustic track on the album (you can tell because of the echo that is captured on the track that is not evident in the other four), that gives us a reminder of the rest and peace that we can have when we are in Christ. As spoken by Nat himself, '…I wanted a stripped down song that offered a look at the scripture as a reminder to slow down and let God be our rest and peace. In our flesh, we're so prideful and don't like admitting when we need help or we're just oblivious to it all together…' Nat also offers up a moment of comfort in 'Taste and See', a song that's straight from Psalm 34, and aids us to see that as we delve into God's goodness, we too can realise that He is more than enough for us during our daily walks in life. The most CCM-like melody on the EP (and the most likely to be on the radio in the future), Nat channels some Matt Hammitt and Travis Cottrell in this track to invite listeners to '…taste and see that the Lord is good…', amidst the light electric guitar and the keyboard riffs that underpin this song (and underpin most of the EP musically as well). A song that's best played in a quiet area as we reflect upon God's goodness, 'Taste and See' is certainly going to be played in my iTunes playlist for months to come.
Overall: This first EP by Nat Clubb is an EP that every worship music fan should listen to, and even though this is his first EP, I'm all but certain that when listeners, critics and everyone else listens to these songs, Nat's popularity will soar, and who knows- maybe a record deal in the future (maybe Integrity Music?). With such vulnerability and humbleness in each of these 5 tracks, Nat uses these melodies to portray the character of God to the listeners- good, comforting, and working through every situation we are in. With hope and encouragement at the forefront of his singing, Nat firmly stands on the mission of his music, to write songs that can grow the faith of the Church and people in it, unifying the body of Christ in its goal to lift Jesus high and immersing themselves in God's presence. An EP that'll hopefully grow into a full-length album in the near future, Nat Clubb's first EP has me interested already to hear his second effort, whenever that releases. Well done Nat for such a great collection of worship songs, and some of my favourites since worship albums from Lauren Hicks and Luke Hellebronth!
RIYL: Jonny Diaz, Lincoln Brewster, Hearts of Saints, Nate Sallie
Buy the Album: iTunes/Amazon mp3