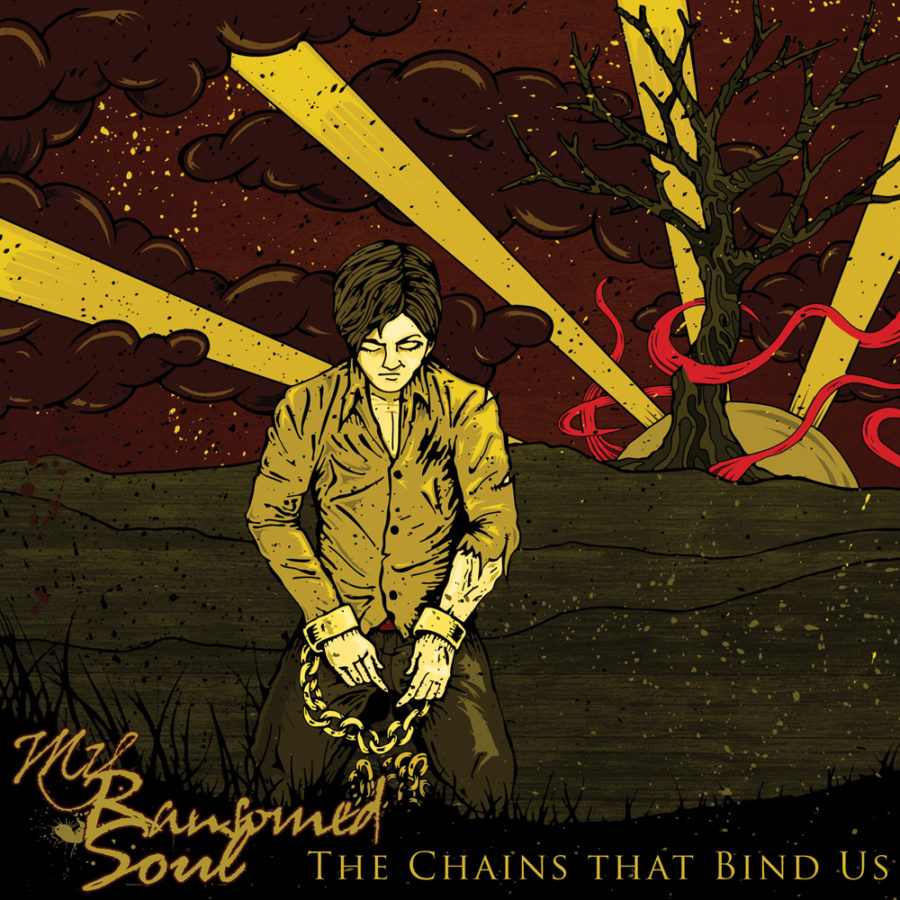 Artist: My Ransomed Soul
Title: The Chains That Bind Us
Release Date: 5/8/12
Reviewer: Josh Burkey
Tracklisting:
Conflict
A Modern Plague
Desensitize
Fragile Lives
The Sleepless Dreamer
The Chains That Bind Us
Resolution
Light the Sky
Clouded Minds
The Message
If you know anything about the history of My Ransomed Soul, you know that they're a bit of a tease. They've given us a couple of new songs a year, which come to us in the form of EPs. However, now with a solid lineup, they've broken this cycle of teasing and delivered us their debut full length, The Chains That Bind Us.
The album opens up on "Conflict", a track that sounds like it was taken from MyChildren MyBride, For Today, etc. The buildup to "Conflict"'s opening breakdown sets the listener up for something that could only be described as progressive. Progression is one beautiful thing that this album is drowning in. Listen closing to literally everything from vocals, lyrics and musicianship and you can hear this progression clearly. "A Modern Plague" captures this growth as a band, better than anyone other track on the album. The guitar work on "Desensitize" and "The Chains That Bind Us" really show off the skills of these guitarists. Hard to believe these guitarists are under 25. While most of this album is hardcore, the guitarist do get to show off their softer sides on "The Message". This adds to not only the progression of the band, but the diversity of their writing as well.
One thing that really shines about this record are the vocals. My Ransomed Soul definitely experimented with them in Chains. However, it works on numerous amounts of levels. "Resolution" holds a spoken word peace. Which is something that this band has never done before. This is not the last time we hear spoken word in this album. It is delivered to us once more in "The Message." They are two completely different styles in which both are delivered. "Resolution" holds a straight poetry feel that may be is presented in the fashion of Listener or Levi the Poet. "The Message" is done in the style of a follow up prayer to a Sunday morning sermon. "The Sleepless Dreamer" and "Light the Sky" showcase something that is a first for the band, put something that we heard a lot from say The Devil Wears Prada. The fashion of layering vocals; in which screaming vocals are dubbed over clean vocals. Not all bands can pull this off, luckily My Ransomed Soul can pull this off.
It seems every great metal band nowadays features a guest vocalist or two. This year alone we've heard Micah Kinard on I, the Breather & Ryan Clark on Impending Doom, only to name a couple. Chains is no different in this fashion. MRS was lucky enough to get Orion Stephens of In Dying Arms to appear on "Clouded Minds". His vocals mixed in the midst of the band's musicianship and Frey's vocals add to the intensity of this album.
OVERALL: This album is a terrific entry from My Ransomed Soul. This band has spent years searching for their "official" sound and certainly finds it on Chains. Everything from the lyrics, vocals, and musicianship are all in their prime on this CD. While it does get old at times hearing some typical hardcore breakdowns in this album and hearing the screaming layered over clean vocals style, they certainly make up for it in other ways. The band's diversity is unbelievable! Drawing inspiration from poetry, metalcore, post hardcore and more, this band definitely steps up their game on this record.
RIYL: The Devil Wears Prada, For Today, Living Sacrifice, Mychildren Mybride