Album Review :
My Double, My Brother - What We Found Beneath The Ground
By Carter Fraser in Reviews | Comments closed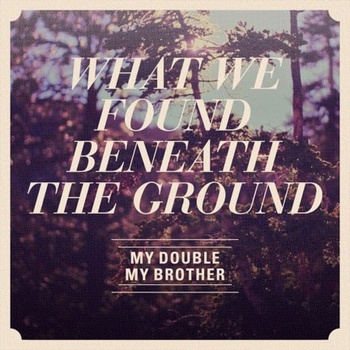 Artist: My Double, My Brother (Bandcamp)
Title: What We Found Beneath The Ground
Label: none
Release Date: 3/12/11
Reviewer: Carter Fraser
Tracklisting
Specks of Black
The Parade
Seed in the Shadow
The Land That Drinks The Rain
We Watched It Burn
They Built Them All to Last
A Mighty Storm Is Rising
Ashes, Ashes
The Poison I Let Up
I Only Dream of Places Now
The Morning
With "southern indie rock" blooming as of late with bands like Manchester Orchestra, Tallhart, Stay the Shores, or even later As Cities Burn and My Epic, My Double My Brother represent a softer side of the scene. The guitars still have that gritty, earthen quality to them, and the vocals have that homey twang, but My Double My Brother depend much more heavily on their ambience and mellow numbers. Diverse instrumentation is used effectively, but often subtly, and the bass and drums are slightly above average. The most noticeable unique trait is the occasional use of what I believe is a xylophone, which My Double My Brother succeed in making more than a novelty. Still, the slow melodic wanderings of What We Found Beneath The Ground vary in the degree of their meaningfulness, despite the band's strong efforts.
Joel Hasemeyer's lead vocals resemble a southern version of Fleet Foxes' Robin Pecknold, sounding every bit as serene and vaguely disinterested. Often times the melodies bear some resemblance to the afore-mentioned Seattle group as well, relying heavily on poise and gentility (see "A Mighty Storm Is Rising" for an obvious example). This can be perhaps the biggest fault to be found on What We Found Beneath The Ground, though, that it can feel a bit too safe. While the melodies are all individually strong, eleven of them back-to-back start to become forgettable. Combined with generally downcast lyricism, What We Found is a bit too dreary and moody for its own good sometimes. However, that being said, maybe even half of the tracks could be considered highlights, such as the Arcade Fire-esque "We Watched It Burn," the peppy opener "Specks of Black," and the beautifully progressive "Ashes, Ashes." The album ends especially well, with lead single "I Only Dream of Places Now," and the stunning closer "The Morning," which sees all of the elements My Double My Brother are going for come together, with a memorable guitar line, powerful keys and horns, and strong gang vocals. Don't get turned off too soon; there's more substance in What We Found than you will likely pick up on first listen.
Overall: My Double My Brother are certainly worth a look, for individual tracks at a minimum (a rainy day might be best). With their debut album they've shown that they have what it takes to make something great, now the only question is if they'll be able to pull it together for a solid 10+ tracks.
RIYL: Fleet Foxes, Bigfoot Wallace, Manchester Orchestra, Tallhart, Future of Forestry