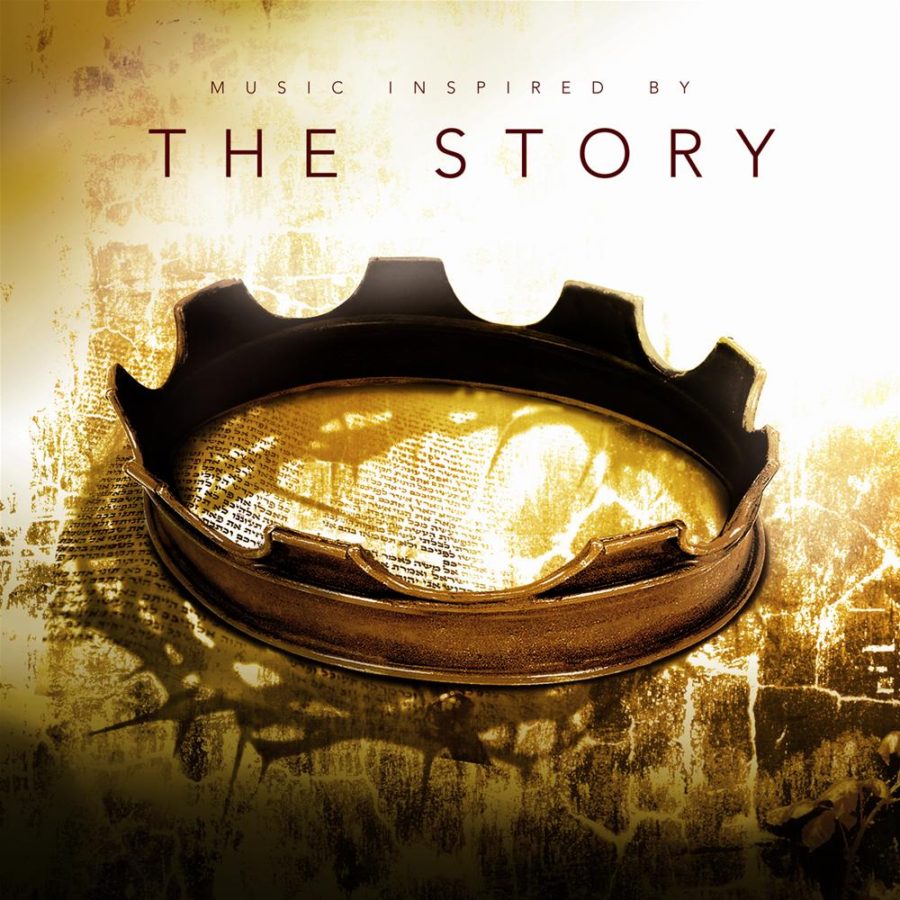 Artist: Various Artists
Title: Music Inspired By: The Story
Label: EMI CMG
Release Date: 9/27/12
Reviewer: Jonathan Andre
Tracklisting:
CREATION ("I Am") – Overture
ADAM/EVE ("Good") – Matthew West & Leigh Nash (Sixpence None The Richer)
ABRAHAM/SARAH ("Who But You") – Mark Hall & Megan Garrett (Casting Crowns)
JOSEPH ("Bend") – Brandon Heath
MOSES ("It Must Be You") – Bart Millard (MercyMe)
JOSHUA ("Bring Us Home") – Michael Tait, Blanca Callahan (Group1Crew), Lecrae
RUTH/NAOMI ("I'm With You") – Nichole Nordeman & Amy Grant
DAVID ("Your Heart") – Chris Tomlin
DANIEL ("No Compromise") – Peter Furler
ESTHER ("Born For This") – Mandisa
JOB ("Broken Praise") – Todd Smith (Selah)
MARY ("Be Born In Me") – Francesca Battistelli
JESUS ("When Love Sees You") – Mac Powell (Third Day)
THIEF ("How Love Wins") – Steven Curtis Chapman
MARY MAGDALENE ("Alive") – Natalie Grant
DISCIPLES ("Empty") – Dan Haseltine (Jars of Clay) & Matt Hammitt (Sanctus Real)
PAUL ("Move In Me") – Jeremy Camp
SECOND COMING ("The Great Day") – Michael W. Smith & Darlene Zschech
There are albums that come along that stop you at your feet, when you release that this life is not all about you, that the God who served mankind during the times of Abraham, David and Paul is still serving today, that what God did back during the Old Testament times, He can certainly accomplish in the 21st century during a time when western society has become comfortable, complacent if you will about their lives and where they want to head. In comes Music Inspired By: The Story, a collaboration between 24 of today's Christian music artists as they come together to retell the most loved biblical stories with a heartfelt honesty, bringing the characters to life in a first-person telling of their own stories, reminding the listener that their own struggles and triumphs aren't much different to our own. Also momentous during this project was the return to the helm of song writing for Dove Award winning singer songwriter Nichole Nordeman; who has slipped out of the Christian music industry since her greatest hits album in 2007; to become a full-time mother. However, it is with these songs that she truly captivates and draws in faithful supporters of her song-writing ability. Writing every song on the album, Nichole and Bernie Herms (husband of powerful vocalist and Christian musician Natalie Grant), who wrote the music for all the songs on the double-disc album; have created 18 moving testimonies of God's faithfulness and continual advocacy for His people. As Nichole speaks about the journey of making the most momentous album of 2011; '…Scripture was meant to live and breathe in our lives. Not as mere history or cultural context, but as bold evidence that God really does long to be the Author of our own pages. This experience has deeply changed my own story, both as an artist and a Christian…' My favourite album of 2011, this is one to treasure for the ages to come!
With one glance at the album, you know you're destined in for a musical experience like no other. From artists like Mark Hall, Nichole Nordeman, Jeremy Camp and Matthew West; to Francesca Battistelli, Amy Grant, Peter Furler and Mandisa; this project places all that Christian music has to offer into one pot. From the opening musical number 'I Am- Overture' to Michael W. Smith and Darlene Zschech's duet on 'The Great Day'; Bernie and Nichole have brought together some of the most musically diverse artists together, and though at first listen the styles in music can seem disjointed, the album still feels complete, like a theatrical movie, starting with the old testament and moving until the second coming of Christ. With the lead single 'I'm With You' releasing back in June 2011 as a return to Christian radio for Nichole, I was impressed from listening to that track alone, which led me to investigate further into what Nichole had been doing since her last studio album, Brave, in 2005. I stumbled upon this musical project, and was so glad I did. As Nichole provides an insight into what she wants listeners to understand from the album (and 'I'm With You' in particular); '…scripture spills over with countless stories of folks like us. Confusion. Pain. Loose ends…I think of Ruth, who by all means, should have walked through the door marked "do over" that her mother-in-law held open for her…understanding, if barely, that something larger than herself was at work, she was drawn to stay at Naomi's side–drawn to her God…'  Ruth was just like you and me, realising the life Naomi lived, and decided to stay with her mother-in-law, when I know many people would just run far away from them. The bible certainly contains stories of people with problems just like you and me, and this album succeeds in bringing a glimpse of their experiences to life.
There are many favourites of mine on this album, and I know I can't dissect all of them in this review, so I'll just mention a few. 'Empty' struck me from first listen as a cross between a worship song and a cry for help. Sung from the disciples' perspective throughout Jesus' death, resurrection and ascension to heaven; Jars of Clay's lead singer Dan Haseltine and Sanctus Real's frontman Matt Hammitt excel in performing this duet. With musical genius in the form of electronic distortion mixed with just the right amount of classical strings and a choir; Matt and Dan sing out the eternal truth that '…there's empty cross, there's an empty tomb, fire and wind now sweeping in this tiny upper room, there's a hungry world, there's a risen King, unlock the doors, what reason more could we ever need?…' This is the purpose of our lives when we're believers in Christ, that once we fully understand what Jesus has accomplished, all we can do is proclaim that He is alive, in a corporate worship setting as well as to anyone that will listen. A fantastic song that is one of my favourites, this is only the start of an album that will continue to garner fans from all around the world!
Written from the point of view of both Adam and Eve and how they felt when they ate the apple from the Tree of the Knowledge of Good and Evil, Matthew West and singer-songwriter Leigh Nash are able to bring their emotions to life as we understand how they were feeling during the fall of man. Also applied to how we can feel individually when we feel as if we've done something regrettable that cannot be fixed, Matthew sings across the strong keyboard baseline, the words that we all might utter in our lives during one circumstance or another '…If I could, I'd rewrite history, I'd choose differently, If I could, I would, I'd leave out the part where I broke Your heart in the garden's shade, fix the mess I made, if I could, I would…' Everyone knows that they are moments in our own lives that we want to be re-written, that '…can't imagine how you could see all of me and say it's good…' We cannot really comprehend the love that God has for his creation, because in a realistic sense, how can God love 'screw-ups' like us? We know now that He can because of Jesus, but when Adam and Eve were in the garden, they didn't know that. All they knew was that they disobeyed God, and whatever happened as a result was what they had to live with. Provoking issues about do-overs and performance placed against unconditional love, this song is for those who need a reminder that '…it is good; You still love us more than we believed You could…' Contrast this song to the New Testament powerful confession of sorts, from a thief on the cross in Steven Curtis Chapman's 'How Love Wins'. This is how God calls us good, how he calls the sinners saved, the broken healed and the weak strong. With just a violin and piano, Steven vulnerably sings out '…this is how Love heals, the deepest part of you, letting Himself bleed into the middle of your wounds, this is what Love says, standing at the door, "You don't have to be who you've been before!" Silenced by His voice, death can't speak again; this is how Love wins…' This is true love, how someone with such purity and without sin subjected himself to such pain and suffering, enduring himself on a cross, dying in our place. Creating the imagery of brokenness at its worst, the thief knew that the man that hung beside Him was the Son of God. As we hear the revelations in this song, we are able to see Jesus for who He is. A simple musical song with poignant lyrics, well done Nichole and Bernie for creating a music masterpiece!
Chris Tomlin has always been one of my favourite singers, and on this CD, presents his own offering to the representation of David, and how his heart was aligned with the Fathers, truly believing that '…at the end of the day, I wanna hear people say, 'My heart looks like Your heart'…unashamed I will dance, in Your name, lift my hands, til my heart looks like Your heart…' With strings and guitar complementing the song, creating a twist in both its contemporary and classical appeal, Chris creates a worshipful moment whereby we release the song's power and truth; that all we can ever want out of our brief life on Earth is to reflect the one who gives it, shining a light to the One who made them. Without realising the composer of this song, I could definitely see 'Your Heart' as one written by Chris for his own album, or sung at one of the Passion Conferences; having a 'Chris Tomlin-penned' sign all over it. Congratulations to Nichole and Bernie for disguising the song so well! Mac Powell ironically lends his voice to the Jesus-themed 'When Love Sees You', knowing that Mac looks a little like the media's portrayal of Jesus, and that he himself was born on Christmas day! With his southern deep and distinctive voice, Mac sings from Jesus' point of view, along the backdrop of orchestral strings and guitars. The lyrics '…I came for your story, I came for your wounds, to show you what Love sees when I see you…' are one of the most impacting on this album. We release that God came for us, that we are no accident that '…I see your tomorrows, nothing left to chance! I see My Father's fingerprints…' God sees us and loves every part, with the song doing its part to reveal this to the listener.
Many bible characters are covered in this biblical journey through song. Long-time lead singer of Newsboys and solo artist Peter Furler lends a hand in the portrayal of Daniel in 'No Compromise', showing through heavy guitars, that '…my knees bow only to one name; my lips have one king to proclaim…' Jeremy Camp sings his way through a western-country song full of banjos about Paul's ministry, how '…I won't make a move til You move in me…' Writer of 'Give Me Your Eyes', Brandon Heath sings his own life story through Joseph in 'Bend'; how past choices and mistakes don't define who we are in Jesus when we are reassured that '…I am not my past mistakes labelled by some place and time, nor am I trophy case trying to maintain my shine…' Francesca Battistelli, recently a mother herself, places on the persona of Mary, mother of Jesus, in 'Be Born in Me', showcasing Mary's humbleness in allowing the Son of God to be born through her.
But it is the two duets, one depicting Abraham's journey to follow God into the unknown, and the other the great day when Jesus comes back; that have spoken to my heart the most. Casting Crowns lead singer Mark Hall sings Abraham in 'Who But You', proclaiming with great confidence '…I see a star, You see the Milky Way, I see one man counting sand, but you see generations…' Reflecting on these lyrics against the backdrop of guitars and strings, I am confident to declare that even if we don't know what is ahead, God does, and as we continue to walk and trust in His timing, we will be able to let go of the control we continue to rid ourselves of but can't. This is a release of control into the Father's hands, knowing that God is trustworthy, even in our hesitative state. Michael W. Smith and Darlene Zschech come together to create a unique final track; and with Michael's trademark piano solos at the beginning, he begins to sing of the hope we have in Christ, how '…we met pain in a garden where we lived a lie, we met hope in a manger and a baby's cry, rescued by hands bleeding grace, are we ready to see His face on the great day…' A great day is coming when Jesus comes back and takes us all to paradise. Til then, we must be ready, grounded in our faith and share with everyone that we can the love of Christ and the hope of new life in Him. A sense of victory, joy, elation, hope, but also a sense of urgency in this song; you can't help but worship in wonder and adoration when you listen to this emotive track. What a great way to end a musical journey, with everyone crying out '…He will be the new sunrise; Holy, Holy we will cry on the great day…'
Overall: This album is a masterpiece! Every song is a gem, exploring the fall of man and the restoration by God, restoring creation to it's rightful place, united with Christ in all His glory. There is a line in the song 'It Must Be You' by MercyMe frontman Bart Millard, that really hits home in how the theme of Christ should be received- '…if there's anything good…in me, well, it must be You…' God is our provider, of our possessions, our talents; God even did the real basic thing and gave us life in the first place. He loves us without conditions and through this album; I was able to let the songs minister to my soul, reminding me that '…I am His because He is alive…' (Natalie Grant: 'Alive'). A must buy for any fan of any music genre; this album is the best of the year! Well done Nichole and Bernie for such an awe-inspiring journey!
RIYL: Passion Conferences, WOW Hits, Nichole Nordeman, Casting Crowns
Buy the Album: iTunes/Amazon mp3