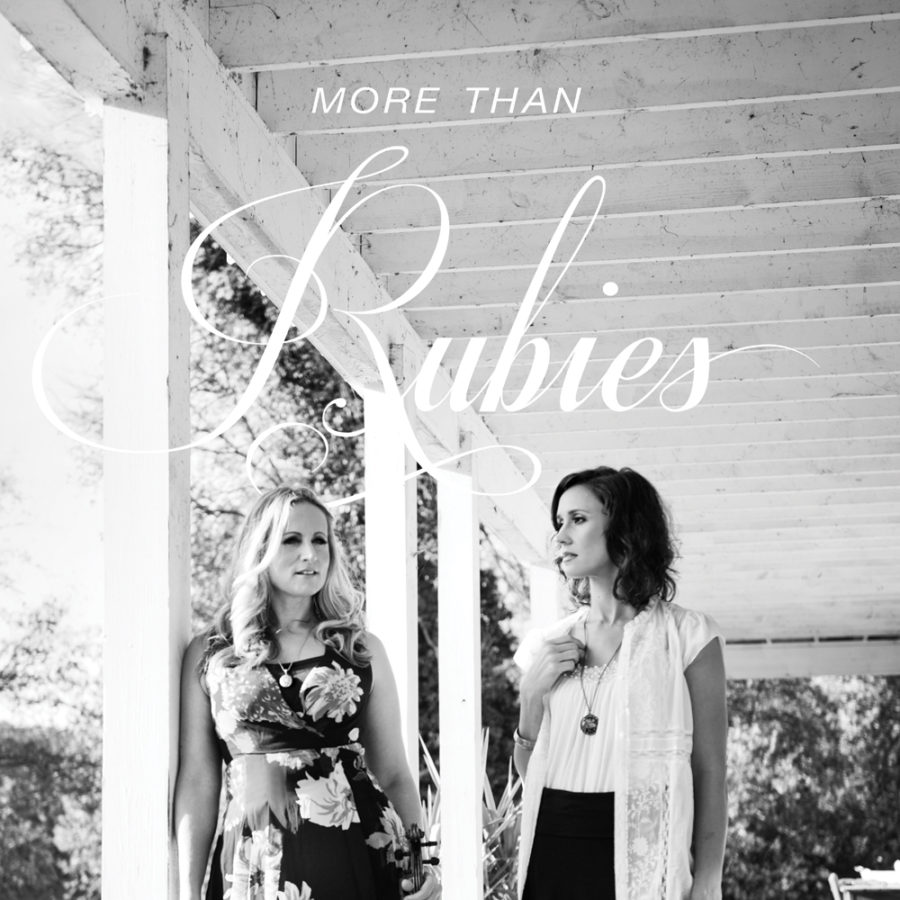 Artist: More Than Rubies
Title: More Than Rubies
Label: independent
Release Date: 4/23/13
Reviewer: Jonathan Andre
Tracklisting:
Image of God
Set Free
Dawn of Grace
Lay Us Low
Pray
Visible Invisible
Live and Breathe
Shepherd God
Even Though
10,000 Reasons (Bless The Lord)
Coming To The Light
Writer of some of my favourite songs 'Held' and 'Need You Now (How Many Times)', recorded by Natalie Grant and Plumb respectively; Christa Wells has teamed up with longtime friend and respected singer-songwriter, Nicole Witt, to form duo More than Rubies, a folk-style band full of hope, heart, passion and encouragement as each of these seasoned veterans of both Christian and country music offer up a distinct sound and passion to these 11 tracks full of piano, beautifully choreographed harmonies, and powerful ballads reminding us of our worth in Christ Jesus. While I may not have heard about each of their individual discographies that much aside from their songwriting collaborations on other artists albums (Nicole co-wrote Mandisa's 'Joy Unspeakable' and a few Point of Grace melodies, including new song 'Only Jesus'; while Christa helped write 'Day by Day' by Point of Grace, 'Our Hope Endures' and 'Bring It All Together' by Natalie Grant, among others); each of these vocally powerful women of God have written an album destined to be in my top 25 albums of the year, and possibly my favourite independently produced album of the year so far (even though Kerrie Roberts is now currently an independent artist, her newest album Time For the Show was distributed through Reunion Records).
Infusing piano ballads, acoustic guitars and a few country-flavoured songs, the album has something for everyone, hopefully attracting listeners who love the acoustic-indie music genre, or who have listened and enjoyed both Christa's and Nicole's previous solo work before. Even boasting a formidable cover of Matt Redman's '10,000 Reasons (Bless the Lord)', More Than Rubies appeals to our worshipful side as we give God thanks for the value He's placed on us- that we are indeed more precious than any ruby or gem. Our worth in Christ's eyes is something carried through each song on the album, with the primary take-away from this record is an atmosphere and place of worship and reverence. While not necessarily the most well-known band within the Christian music circle, or even the most popularised release of April; their passion and heartfelt songs are sure to make up from their relatively unknown status in an industry still popularity driven rather than quality-focused (even in Christian music as well). From the first song 'Image of God' to the last country-inspired melody 'Coming to the Light', these women are sure to create a worshipful stir in a genre in need to reinvent and restructure itself to influence and inspire more listeners to seek after the Lord more and discover the truth that '…we are the visible invisible, we are the flesh and bone of your redeeming love…' ('Visible Invisible').
Immediately gravitating to their cover of '10,000 Reasons', More than Rubies invite us to an intimate rendition full of keyboards and violins as the string instruments start off the song with a string only instrumental rendition of the hymn-like chorus. With the song almost becoming a global phenomenon since its release by Matt Redman in 2011 (with cover versions by Rend Collective Experiment, Evan Craft, Seventh Day Slumber and Starfield lead singer Tim Neufeld), More Than Rubies are able to capture the anthemic power the melody has as well as placing on their acoustic keyboard influence to make the song their own, reminding listeners that even though songs are recorded as covers, they can still be good with some ingenious musicality. Possibly one of my favourite songs of 2011/12; we are invited to what it means to record a modern hymn, with both Christa and Nicole trading vocals in each of the verses. Full of life, power, vitality, hope, emotion and anything you could ever want in a hymn (ancient or modern), we are treated to another great version of a song destined to serve many generations to come. While it is the only song on the album they didn't write, it is arguably one of the most powerful and impacting. Well done Christa and Nicole for doing the song justice and giving listeners a memorable worship experience and something to sing along to and remember in months and years to come!
'Image of God' is a piano and violin only track with gorgeous harmonies by both Christa and Nicole as we hear some of the most poignant identity-affirming truths throughout this 4 minute track. Exposing vulnerability and frailty as More than Rubies describe the moments of fear and loss that we bring to Christ, it is in Him that we can find hope, completeness and wholeness as More than Rubies offer up the solace that '…our Maker sees us, all that we have been bonds us together, the Image of God…' Each of our experiences shape us, and as we continue to deepen our relationship with Christ, our communion with Him reminds us that through every circumstance, God is continually shaping us to become more and more like Him, transformed as we rely on ourselves less and on Christ more. 'Dawn of Grace' also uses similar musical instruments in the piano and violin to provide us with a track that reminds us of the value, necessity and importance of grace, not just in society, but also in reference to our spiritual lives as we discover that our own striving isn't going to amount to any more favour Christ has already given freely upon us. The soothing vocals of Christa as she leads the track elevate the enjoyableness of the track even more, as we are given a simply arranged melody of 3 minutes 26 seconds, describing the gospel in song. Calming, soothing and emotional; 'Dawn of Grace' leads onto 'Lay Us Low', a four minute confession of sorts, as we witness a bearing of the soul and how we lay down everything that has hindered us from having the fullest relationship with Christ. Both Christa and Nicole have given us lyrics to pray upon, including the heartfelt chorus of how they long for Christ '…life-giver sustainer [to] let nothing remain of our pride, from your mountain on high, lay us low…', giving us perspective we can so often overlook. Ourselves and our agendas ought to become less and less in light of Christ and His sacrifice, and 'Lay us Low' with its pulsating drums and bass is a track that's certain to evoke interest and discussion as we have a lesson on what it makes for us to be humble and live in humility. Also recording a rewrite of the Lord's Prayer ('Pray') with great moments of harmony and emotion, as well as the hopeful prayer of 'Live and Breathe' with Nicole asking the Lord to be everything she needs and wants; More than Rubies give us a mix of ballads and prayers, pop melodies and subdued worship numbers to create an atmosphere enjoyable by any listener who appreciates worship music in a relaxed and acoustic style.
'Set Free' starts off with hand claps and a light keyboard riff as we are sent on a musical journey to the era where similar types of music were played in bars around the U.S. (maybe the 60s, 70s, I'm not sure); as both Nicole and Christa offer up words of encouragement through the swaying music that I'm sure is going to encourage any listener to stand up and sway and move along to the music. A song about freedom, unity, forgiveness and togetherness (a song that could've fit alongside a Martin Luther King speech); we are given motivation and encouragement to live like we are free and not let our burdens hold us back. The hopeful words of how '…we know the truth now, His spirit moves now, we are no longer slave to fear…' is something that ought to encourage anyone to apply forgiveness, love and unity in their own lives rather than to just speak about it to family, friends and peers. 'Visible, Invisible' starts off with an Irish-sounding violin solo as both Christa and Nicole offer up solace in reminding listeners that we are the visible, invisible; the hope the world is needing as we carry the love of Christ wherever we go. We are a vessel for Christ's redeeming love to come to the nations, and something not to be taken lightly also. With this comes great responsibility to share what we have with others, with hopefully this melody becoming a catalyst for reflection and inward change as we start to analyse our lives and make changes accordingly so that everyone we meet can see Christ in us.
Also delving upon themes like describing the great and wonderful qualities of God and how He is the '…shepherd God, how He loves his flock, how He seeks the lost…' ('Shepherd God'), and the steadfast love we have for God, even though (or if) we lose everything that we have that is of personal value to us ('Even Though'); it is the album ender 'Coming to the Light' that's one of my personal favourites from the album. A country themed melody through and through, we are introduced to banjos, hand claps, 'ooohhh' backing vocal moments, as well as a country flavour in the form of a southern twang in the voice of both Christa and Nicole, even though I'm not entirely sure if either of them are from the Southern States of the U.S. or not. Singing about secrets and covering them up, we are met with encouragement to be truthful and reveal our own deadly secrets, both to God and to each other. The confronting chorus of how you '…better lay it all out there while you can, 'cause the Lord's gonna make you show your hand, keep it in the dark til you fly away, it's all coming to the light one day…' is two-fold- to expose secrets because God sees and knows all (and family and friends have a right to know the innermost parts of someone), and also the understanding that everyone has something to say, and the confidence we obtain from staying grounded in Christ is a great asset to help as we unveil our own thoughts, values, and ideas about issues and ideas. Whatever we speak out or say isn't going to be judged by anyone, especially not by God Himself. We are reminded, not just by this song, but by the album in general that we are valued and treasured beyond measure, and that's including what we keep inside. There is no condemnation in Christ, and while this song can cause guilt in listeners who could be harbouring deep secrets, God holds no grudge against any man. Courage is found in Christ Jesus, and as the song says, there '…ain't no shame in coming clean 'cause when you let it go, it'll set you free…' Well done More than Rubies for what could hopefully one of the most freeing songs on the album and perhaps my favourite on it so far, next to the cover of '10,000 Reasons (Bless the Lord)'.
Overall: More Than Rubies' debut album is something to behold, regardless if you enjoy contemporary pop or if you are into folk-acoustic. Regardless of the music you listen to, this album will certainly speak to you, giving reminders of self-worth and hope through Jesus. With a similar music and lyrical style to similar artists like Nichole Nordeman, Audrey Assad and Andrew Peterson; we are witnessing a shift and change in music, providing more intimate moments with just the voice and one or two instruments (in this case, keyboard and violin) rather than just a cluster of instruments and overproduction. While those musical artists and albums are a must in an industry that'll hopefully cater to the population's wide taste in music, it is in the intimate moments of worship where I reckon music can speak to you the most, and More than Rubies' new album is able to do that and so much more. Boasting one of my favourite songs ever ('10,000 Reasons')- and perhaps one of the songs of the 2010s decade so far; this April 23rd release is arguably one of the most underrated albums of the year so far. Well done Christa and Nicole for such an emotional and captivating album full of truths and moments of clarity, direction, hope and honesty!
RIYL: Amy Grant, Audrey Assad, Andrew Peterson, Rend Collective Experiment, Nichole Nordeman
Buy the Album: iTunes/Amazon mp3