Album Review :
Mike Mains & The Branches - Calm Down, Everything Is Fine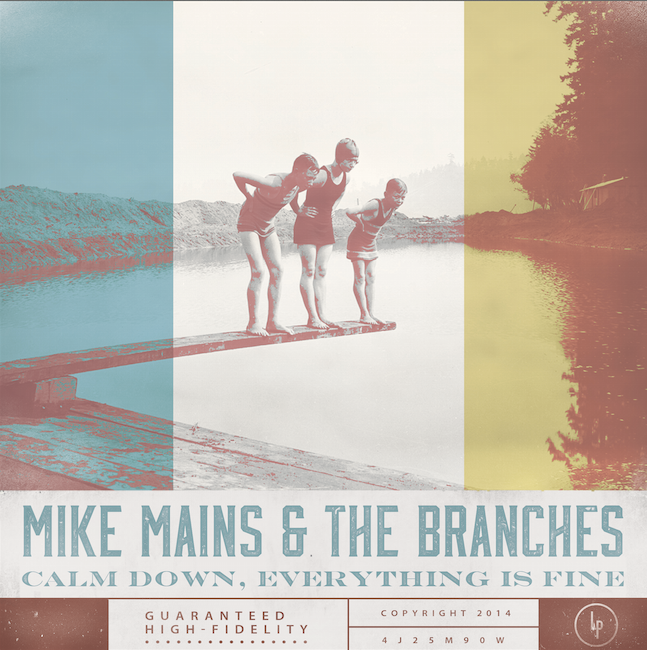 Band: Mike Mains & The Branches
Album: Calm Down, Everything is Fine
Label: Unsigned
Release: 2.18.14
Reviewer: Brody
Tracklisting:
Played it Safe

Everything's Gonna Be Alright
By My Side
Noises
Slow Down
Take it All
In the Night
Where Love Dies
Burn
Stones
Calm Down, Everything is Fine
My first time hearing Mike Mains & The Branches was at Purple Door Festival 2012. I was camping out the stage House of Heroes would be playing at in order to get a good view and it just so happened Mike Mains and Company were going on before HOH.
As soon as the group of Michigan natives took the stage and opened with Stereo off their debut album, "Home", I knew this band was after my heart. The set performed that afternoon was exuberant and emotional. The flurry of movement and the outpouring of passion all culminated to make the performance both exciting and emotional.
When the re-release of "Home" came out, I snatched up two copies instantly from my local music store. When I popped the disc into my car's CD player I loved what I heard from start to finish. And yet, I felt that the recording just didn't do the band and their live performance the justice they deserved.
There was nothing inherently wrong with the album. I just felt that it lacked, well, feeling. I longed to hear the strained vocal cords of Mains. I wanted to imagine the huge smiles on the faces of each member during the joyful songs, and to feel the heaviness on the hearts of the gang during the more sombre songs.
It is with great joy that I inform you, "Calm Down, Everything is Fine" has somehow managed to capture these feelings perfectly. With each spin of the album, I can visualize the band performing before my eyes and feel what they are perhaps feeling with each song in my heart.
Lyrically, "Calm Down, Everything is Fine" touches on heartbreak, love, worldly turmoil, hope, and the highs and lows of everything in between. For me 2013 was filled with the highest of highs and the lowest of lows and Mike Mains and Co. deliver exactly what I needed lyrically to get me through these rough times.
Starting out with Played it Safe, "Calm Down, Everything is Fine" begins with a sombre feel to it as Mains croons softly, "Played it safe and went to school / You did what mother and father told you to". The feel of the track soon escalates to frantic drums, wailing guitars, and the harsh yells of Mains before coming to an all but too soon ending.
Everything's Gonna Be Alright, which was featured on the band's previous EP, still holds it's value although it now has some age behind it. The happy go lucky feeling of the song is impossible to miss as dreamy keyboards provide a depth to the sound that is otherwise made up of high hat centric drumming, punchy bass, and playful guitar riffs. Mike Mains also showcases his extreme vocal talent as his range soars from high croons to mid range pitch that focuses on speedy delivery.
The lead single the band released a few months ago, Noises, is perhaps the best representation of the overall sound to expect off "Calm Down, Everything is Fine". The energy of the track is a veritable roller coaster as often a climax is reached right before dropping off into something more low key. The guitar work on the track is impressive as solos, dischords, and power chords all culminate into a wonderful soundscape.
Lyrically, Mains talks about the struggles of simply being yourself. The chorus finds the frontman admitting, "I'm sick and tired of hearing all these noises in my head /I can't seem to make them go away (my dear) /Sick and tired of hearing you say, 'Oh I love you, dear' /When you going to get up and go away?" Towards the end of the track a clarity is reached as Mike proclaims, "They say you'll never find/Truth within this life/But I say that's a lie/'Cause I found it when I looked in your eye"
Slow Down is the albums first ballad. Driven by acoustic guitar, the track has a natural and raw sounding honesty to it as Mike Mains talks about losing someone who is eager to move on and get away. It's sobering to hear Mains plead, "Slow down, slow down / grab a coffee with me and take a second to breathe / Slow down, slow down / lets be quiet for a while and I will try to make you smile".
Following up the rather sombre ballad is Take It All, which is one of the most upbeat tracks the album has to offer. The track has many of the features that make Everything's Gonna Be Alright such a great song; energetic drums, a variety of keys, funky bass lines, and exquisite indie rock guitars.
In the Night is a personal favorite of mine. The track has subdued verses that give way to one of the catchiest choruses on the record (Trust me, this will be stuck in your head for days). The bridge of the track also stands out as it starts with reverb drenched guitar leads and pummeling drums before breaking out into pulsing electric bass lines as Mains proclaims, "I've got the Springsteen shoulder-shake, and I've got this pristine plan to make every fountain and pen and camera lens tell stories of the thoughts I think".
The second ballad, Where Loves Dies, resonates with me on a personal level. While not acoustic like the previous ballad, this track is still very subdued and tends to focus more on the heartache drenching Mains vocals while ambient guitar and a bass drum keep time in the background. The bridge of the track gives way to a more upbeat sound as subtle piano, ethereal female vocals, and the full band add a touch of hope to the otherwise morose track. Lyrically the track talks about reluctantly letting a loved one go ('You've gotta leave 'cause you gotta go / That's alright, now I finally know / I'll take the credit card and keys from you though / I can't foot the bill for you to go and find your soul').
Burn is lyrically about how people tend to focus on how crappy the world is and how it's "Going to burn" and repeats the refrain of, "Oh my God, the world's gonna burn!". However, you would never guess based on the incredibly upbeat tempo and atmosphere that the lyrics were on a more serious note. The subtle addition of horns in this track really brings a smile to my face, along with the stand out keyboards courtesy of Shannon Mains.
The album concludes with the five minute journey that is the title track. Starting out as one of the slower songs on the album, the track meanders a bit as Mike and Shannon sing accompanied by nothing but subtle keys and guitar. At about the 2 minute mark prepare yourself to be blown away as distortion explodes from your speakers, welcoming the remainder of the band into the picture. From this point on the song stays upbeat as guitar leads weave in and out before slowing into the band simply using claps and tambourines while chanting, "Calm Down, Everything is Fine".
Really the only flaw I have with the album is the placement of Stones. This track is the slowest and most "progressive" track that the album has to offer as it relies almost solely on piano and the contrasting vocals of Mike and Shannon. While I enjoy the track by itself (Though it can tend to drag just a hair), when coming straight off the heels of one of the most upbeat on the record and going into a slower closing song things began to feel like they screeched to an abrupt stop and stayed there a bit too long. However, this is just menial nitpicking on a superb album and can most likely be discredited by most readers.
Overall: Simply put, this album is near perfect. The emotions, energy, and skill put into this record culminate to make one of the best indie rock releases I've heard in the last several years. And what makes it better is that every time you listen, something new is revealed; a guitar lick you previously missed or perhaps some subtle keys. These are the things that make truly great albums. Mike Mains & The Branches are a band to look out for this year as "Calm Down, Everything is Fine" is sure to skyrocket them into the mainstream indie rock limelight.
RIYL: Abandon Kansas | House of Heroes | From Indian Lakes