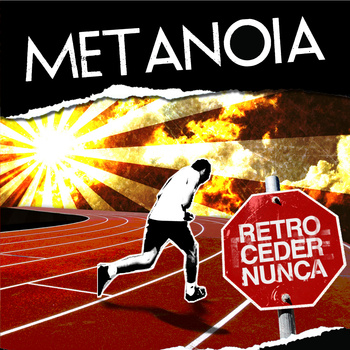 Band: Metanoia
Title: Retroceder Nunca
Label: Thumper Punk Records
Release Date: September 2012
Reviewer: Jessica Cooper
Track Listing:
Evidente
Retroceder Nunca
Inutil
Peluquero
Dia Nuevo
Te Amo
Este Es Tu Hogar
Otra Dimension
No Me Averguenzo
Sin Palabras
There's nothing to deny when it comes to how real this album is. Retroceder Nunca is so on-point with its sound, energy, and production quality, and this is a punk album worth your time and money. Yes, it's entirely in Spanish, but that doesn't detract from its quality and ability to attract attention. In my opinion, it's worlds ahead of itself, because the band incorporates more than just punk elements. It's on the more heavy side of punk, and stands out with its track "No Me Averguenzo", sneaking in a bit of jazzy piano at the end. There's a consistency in the tempo, but there still remains a diversity between tracks. Metanoia attribute their sound to the name of their band, which means a change in focus, mind, and life brought about by Jesus. Retroceder Nunca translates to "No Retreat" and that totally parallels with their high-energy, classic, uplifting punk for fans of Dogwood, Craig's Brother, and Pennywise.
Overall: If you're into punk, Retroceder Nunca is one release you should definitely add to your repertoire. Thumper Punk even tags a money-back guarantee to it to ensure that you won't be disappointed, but I don't think you're going to need that. There's no doubt this band's got the goods to make it.
RIYL: Dogwood, Craig's Brother, Pennywise, and Millencolin.