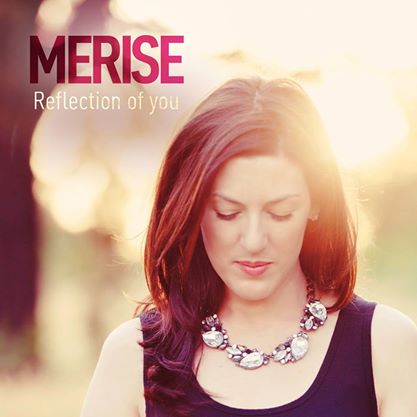 Artist: Merise
Title: Reflection of You
Label: independent
Release Date: 2/11/14
Reviewer: Jonathan Andre
Tracklisting:
Reflection of You
Gold
Sorry
This is Not Over
Choose Life
The Beautiful One
Falling Deep
Lay Your Burdens Down
Australian artists, whether it is by intention or not, seem to have a hard go of it within the industry. Whether it is mainstream or Christian, when compared to American, British or other artists around the world, Australians aren't necessarily as favoured compared to others, in an industry that is equally competitive as it is biased towards certain artists above others. And with only the exception of artists like Rebecca St. James, Newsboys, Nathan Tasker, Hillsong and Planetshakers, artists who want to make it big in the music industry would have to move to America, or probably not even enter it in the first place. A sad reality but true, Australian artists seem to have the rough end of the stick when it comes to their music being publicised and promoted to the world. Nevertheless, it is in these moments when artists are still indie, local, and unsigned that they can be free- make their own music without input from a label that has certain things in mind. It is in this indie-genre/space where we find another Australian pop/indie/acoustic artist, Merise, and while she herself has never been signed to a label, or even her music being made popular in America, she has had quite some moderate success, releasing her albums Goodbye Sadness, Scars and Tears and now Reflection of You across her 8 year music career. With standout songs like 'Why Oh Why', 'More Than Good', 'Just Because', 'Goodbye Sadness' and more recently 'Gold' from her most recent album; Merise's Australian acoustic pop flavour is something interesting, powerful, invigorating and unique, when compared to the CCM that is currently on the airwaves at the moment. Reminding us of how at any point in our lives, we are reflection of our beliefs, character and what we perceive our heavenly Father to be and act; Merise's new EP is certain to be enjoyed if you love Australian artists, like Rebecca St. James, Alabaster Box, Charmaine or even Nathan Tasker, Peter Furler or Paul Colman. With Merise's 2010 album Goodbye Sadness having '…widespread success across Australia and into the US and UK with three singles reaching top 10 status on the TRAA charts…', this new musical offering by Merise is just as popular and impacting, as she infuses pop, acoustic, praise and CCM together to deliver one of the most unique Australian albums since Paul Colman Trio's Return!
'Gold', the first radio single from the album which released to iTunes in mid-2013, is as poignant, powerful and enjoyable as the album becomes, with the song delivering to us similar themes to that of Britt Nicole's mainstream hit, also called 'Gold'. As hand claps, finger clicking and an acoustic guitar lead the song musically, Merise invites us all into the theme of self-worth, and knowing that even if people around us tell us things that we don't necessarily want to hear, God's love won't, and will build us up as we understand that '…there's one thing I know, I don't need to be told, Your love is worth its weight in gold…' With a fresh acoustic pop atmosphere, this unique Australian artist's first radio single (on an album that is her first in 4 years) is one to enjoy if you love similar styled artists like Audrey Assad, Nichole Nordeman or Sara Groves. With a distinct Australian accent, not only in this song but throughout the album in general, Merise brings a unique sound towards the plethora of Christian music, and through 'Gold', continues to assert the notion of how she is one of the most underrated Christian Australian artists in the modern CCM era (alongside others like New Empire, Nathan Tasker and Compliments of Gus). With the combination of instruments together making the melody great to listen to if your style is much akin to that of the 60s and 70s, 'Gold' is nevertheless a gem to be heard, and a great reminder, whether Merise and her music is your style or not, that God's love for us is worth more than the amount of weight of gold that we can carry by ourselves. Full of metaphors and great imagery, 'Gold' paves the way for the 7 other songs to be just as emotive and encouraging, as Merise uses her somewhat anonymity (relative to other female artists like Meredith Andrews, Mandisa or Britt Nicole) to deliver some of the best quality Australian music since Paul Colman's From the Saltland to the River!
With light electric guitars bringing the first song 'Reflection of You' to life, Merise delivers a powerful performance and gives us 3 minutes and 53 seconds of moments where we give thanks and gratitude to God as we long to be a reflection of who He is. With simple instrumentation and no overkill of percussion or guitars, the nice seemingly sombre moments created by the light guitars pave the way for the emotive lyrics to be heard in full, as we are reminded through the chorus of how '…You are my whole reflection, I follow in Your direction, I wanna be a reflection of You, You are total perfection, a love so pure, un-needing, I wanna be a reflection of You…' Being a reflection of God is to submit our whole selves and let God undergo changes in us that maybe we aren't necessarily fond of at this moment; yet hopefully this song gives us confidence that as Christians, out of love for our Father, being a reflection of Him ought to be something we love to do. 'Sorry', a heartfelt melody of saying the words 'sorry' in the moment of being honest to the people around us, is one of Merise's most emotive and powerful songs, and while the melody hardly ever delivers an anthemic punch, with light acoustics and electronic reverbing keyboards sounding the same from beginning to end, the song itself is nevertheless encouraging. The poignant words of the chorus and how Merise declares out that '…I am sorry if I ever let you down, I'm gonna help you get your feet back on the ground…'; we are met with a moment of transparency, as we are reminded of our own lives, and whether we need to say sorry to people around us as Christ works in us to be better for our family, friends and loved ones. With Merise also offering hope in 'This is Not Over', a nearly 5 minute piano melody encouraging us all from God's point of view that '…this is not over, I have not finished with you yet, no this is not over, you don't have to live on with regret…'; and 'Lay Your Burden Down', a synth and keyboard driven instrumentally subdued melody that encourages us to lay our burdens down if we want to rid ourselves of anything that is hindering us from living a full and expectant life of wonder, joy and encouragement; Reflection of You continues to showcase some of Australian Christian music's finest in this singer-songwriter that is one of Australia's best kept secrets!
'Falling Deep' invites electronic keyboards and a harmonica as Merise delves into the theme of being lost in the love that is given, either by our friends, family or God Himself as we are '…falling deeper in love with You…', while 'The Beautiful One' adds a ukulele to present a happy song of us proclaiming God's beautiful nature and how '…You have my heart forever, You couldn't love me better, You are the beautiful one…' Yet it is the nearly 6 minute 'Choose Life', one of the most mainstream songs on Merise's album, yet nevertheless one of the most heartfelt, which is one of my favourite songs on Reflection of You. With a theme similar to that of TobyMac's 'Speak Life', it is when we choose life over death, and hope over doubt that we can be free, and Christ longs for us to welcome Him alongside as we choose. With hauntingly refreshing keyboards in the background, Merise cries out '…I choose life after all…', as we are given a poignant reminder that choosing life is a conscious choice we make, often being needed to be made each day again and again. Well done Merise for giving us reminders of our need to constantly choose each day to declare life over ourselves in Christ Jesus.
Overall: Merise's third album is one of hope, honesty, vulnerability and poignancy, and while many listeners may not have heard her music or even her style before, Reflection of You nevertheless provides us with a great snapshot of what quality Australian CCM/pop music sounds like at its best. A certain purchase if you love CCM artists (particularly Australian ones like Paul Colman, Alabaster Box and Nathan Tasker, Merise's acoustic pop style is soothing and enjoyable to whomever listens, even if the music isn't the listener's #1 music style. From the identity-building 'Gold' to the empowering 'Reflection of You', these 8 songs are some of the best that Merise has written and recorded. Well done Merise for such an entertaining and enjoyable album.
RIYL: Rebecca St. James, Nathan Tasker, Paul Colman, Alabaster Box, Audrey Assad
Buy the Album: iTunes/Amazon mp3