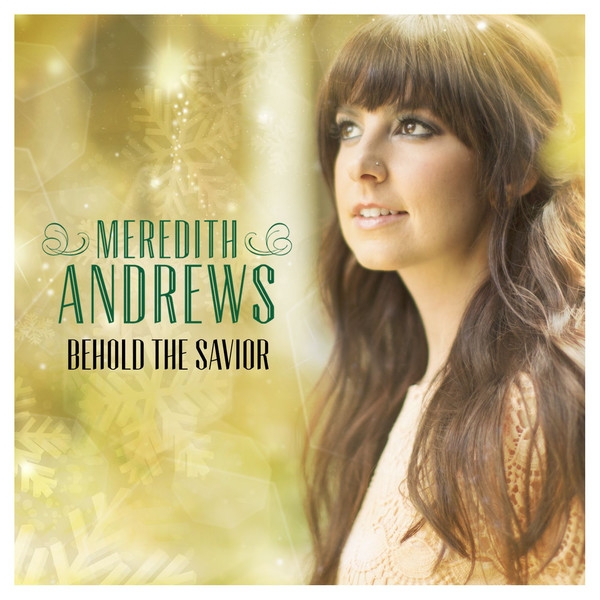 Artist: Meredith Andrews
Title: Behold The Saviour EP
Label: Word Records
Release Date: 9/24/13
Reviewer: Jonathan Andre
Tracklisting:
He Has Come For Us (God Rest Ye Merry Gentlemen)
Behold the Saviour
Mary Did You Know
The Gospel Changes Everything
Christmas is always a good season as we are reminded of the time of Jesus's birth, and celebrate the fact that He indeed came to set humanity free from bondage, sin and the rest of it. Even people who primarily listen to mainstream music or who do not follow the Christian faith are still feeling the holiday spirit, singing songs like 'Let it Snow', 'Jingle Bell Rock', 'It's the Most Wonderful Time of the Year', 'Deck the Halls' and 'Jingle Bells' to name a few (they can sing the songs in December, but whenever I start to go to my local supermarket, the jingles are starting to be heard as early as October!). Therefore, in some ways, it may be odd, even for those reading this review, to even comprehend someone releasing a Christian album (or EP) in September- after all, it's 3 months away! Nevertheless, this is what happened last year, with Jeremy Camp releasing his album Christmas: God With Us on September 25th, and BarlowGirl releasing their well-beloved holiday/Christmas album around September-time in 2008 (Home for Christmas). Fast-forward to this year, and what you have is an EP that had no promotion or publicity before it was available to purchase on iTunes or Amazon- and while Meredith Andrews quietly released her debut Christmas project titled Behold the Saviour on September 24th, I perhaps was too busy listening to other albums that released around that time. Regardless, these 4 songs give us great reminders of the reason for the season, promoting the gospel through each of these melodies. While I can still remember last year when I criticised Jeremy for placing in holiday-themed songs like 'Jingle Bell Rock' in a 10 track album when other more Christ-centred melodies like 'Silent Night', 'Away in a Manger' or 'O Holy Night' were missing; Meredith's 4 choices deliver a great worshipful atmosphere. From the title track to 'God Rest Ye Merry Gentlemen', a Christmas song she's tremendously famous for (along with her adding the chorus 'He Has Come For Us') and the recently recorded 'Mary Did You Know'; Christmas has indeed come early in the form of this EP. With Meredith being one of my favourite worship artists ever, Behold the Saviour is great to listen to if you're a fan of Meredith, or of any other worship artist like Chris Tomlin or Tim Hughes.
Recently recorded for the WOW Christmas Blue project also released on the same day; 'Mary Did You Know' is possibly one of the least known Christmas Carols that I know, yet it arguably is one of my favourite renditions on Meredith's EP. While the only other version of the song that I know is recorded from Kutless (and later Jeremy Camp); Meredith is able to take a personal and humble melody about a persona writing and singing to Mary in the moments before Jesus's birth while describing the incredible things Jesus will do, and turn it into a heartfelt anthem, and one for every listener to soak in. Standing at 3 minutes 11 seconds; Meredith's powerful vocals is again a highlight for myself (as with any other song Meredith sings) as I reflect upon the truth that a baby boy born a fair while back is the Saviour for all mankind. Presented in a light acoustical frame, Meredith invites us all to witness a difference in the carol, as we hear the powerful added bridge sung with light electric guitars, reminding us that '…the blind will see, the deaf will hear, the dead will live again, the lame will leap, the dumb man speak the praises of the Lamb…' Powerful and poignant; it is when we discover God's power and love both pouring down upon us that we can just sit back and watch God work in His awe and mystery. A great song to introduce to us the music of this year's Christmas with; this is one of my favourite songs heard on WOW Christmas Blue, and one of the anchors, both musically and lyrically, on Behold the Saviour EP. Well done Meredith for such an emotional and compelling performance.
'He Has Come For Us (God Rest Ye Merry Gentlemen)' is possibly one of my favourite Christmas carols with an original chorus/refrain written and placed in the middle (in fact, I can't think of any other song from the top of my head that does that). Recorded by Meredith as a Christmas single in 2009, we are able to hear the moulding of a traditional Christmas melody that has frankly been underused during the holiday season, alongside a declaratory anthem that proclaims that '…He has come for us, this Jesus, He's the hope for all mankind, He has come for us, the Messiah, born to give us life…' As Meredith gives us the theme of the song and how '…the song portrays a sort of urgency and the darkness we were in before Christ came for us. Our souls are now at peace because God sent His Son…'; we are able to hear a sense of hopefulness in the melody as Meredith uses her vocal talent to reach the high notes with ease. As we are encouraged, not only by this Christmas carol, but through all of the original and traditional Christmas hymns of the Christmas story we can so ever brush over, even in the Christmas season in favour of the holiday season, presents and the commercialism of it all; 'He Has Come For Us' is a perfect first song on an EP that's the start of great Christmas music in the holiday season of 2013. Well done Meredith for such a powerful and compelling melody.
While the downside of this EP is that it's only 4 tracks (leading me to rate this a solid 3 rather than a commendable 4), the content of the EP is equally as enjoyable, with each song delivering, in terms of themes, messages, musical diversity and unique songwriting abilities, from Meredith herself, as well as the writers of these Christmas melodies long ago. 'The Gospel Changes Everything' was originally a song written and recorded on her latest studio album Worth It All; and while it's not necessarily a Christmas-themed song, it does seem quite at home and in its place on the album. Presented in a piano-only musical backdrop; Meredith poignantly declares the truth of how '…the Gospel changes everything, the turning point in history, even now it's changing me from who I was…'; alluding to how Jesus's birth, and death and resurrection; creates a moment in history, time and space that causes us to thank Him for everything He has done and will continue to do in our lives until we meet Him face to face. Though the song can be seemingly subdued when played against all the other upbeat three tracks, the melody reminds us that the gospel of Christ changes everything, history, present and future events- and that as we continue to delve more into Christ and His promises and assurances for us, we can't help it but also be changed by the gospel and its impact. The original song 'Behold the Saviour' is just as good as any other worship song that Meredith has produced, with a Christmas twist. Presenting to us a moment of reverence and honour to a baby born to be King for us all; Meredith declares out in the chorus '…He is the promise we have waited for, He will not leave us in the dark, He will bear our weight, He will wear our shame, come lift Him high, behold the Saviour…', amidst light acoustic guitars and a steady drum beat. With this song being the most CCM-like melody on the EP, 'Behold The Saviour' is an opportunity for us to also behold the Saviour alongside Meredith. The instrumental bridge with the introduction of synths and string instruments are a great addition to the song, as well as the easiness of lyrics in terms of understanding them and singing them during church services. Well done Meredith for such a compelling and enjoyable original track, one that I'm sure will become one of my favourite original Christmas songs to be released in 2013!
Overall: While Christmas is still 3 months away (in Australia it's three months to the day, but in most places, it's three months till Christmas Eve); the Christmas music still rolls in around the months of September/October/November, to make sure people are in the Christmas and holiday spirit by the time the season rolls around. Despite the earliness of these Christmas releases, Meredith's album is still great (and even if you don't purchase it to listen straight away, you can still place it on your list of EP's/albums to listen to during the Christmas season of December). A great gift to give for Christmas to those who love contemporary worship music, or to those who love loads of Christmas music; Meredith's honesty and powerful voice is something that brightens on Behold the Saviour EP, especially through the title track and 'Mary Did You Know'. My favourite Christmas EP since Sing: A Christmas EP from Josh Wilson; Meredith's dominance within the CCM and worship music industry continues to flourish, with her Christmas EP certainly going to become one of my personal favourite Christmas music offerings when the year ends!
RIYL: Francesca Battistelli, Chris Tomlin, Matt Redman, One Sonic Society
Buy the Album: iTunes/Amazon mp3