Album Review :
Matt Redman - Sing Like Never Before: The Essential Collection
By Jonathan Andre in Reviews | Comments closed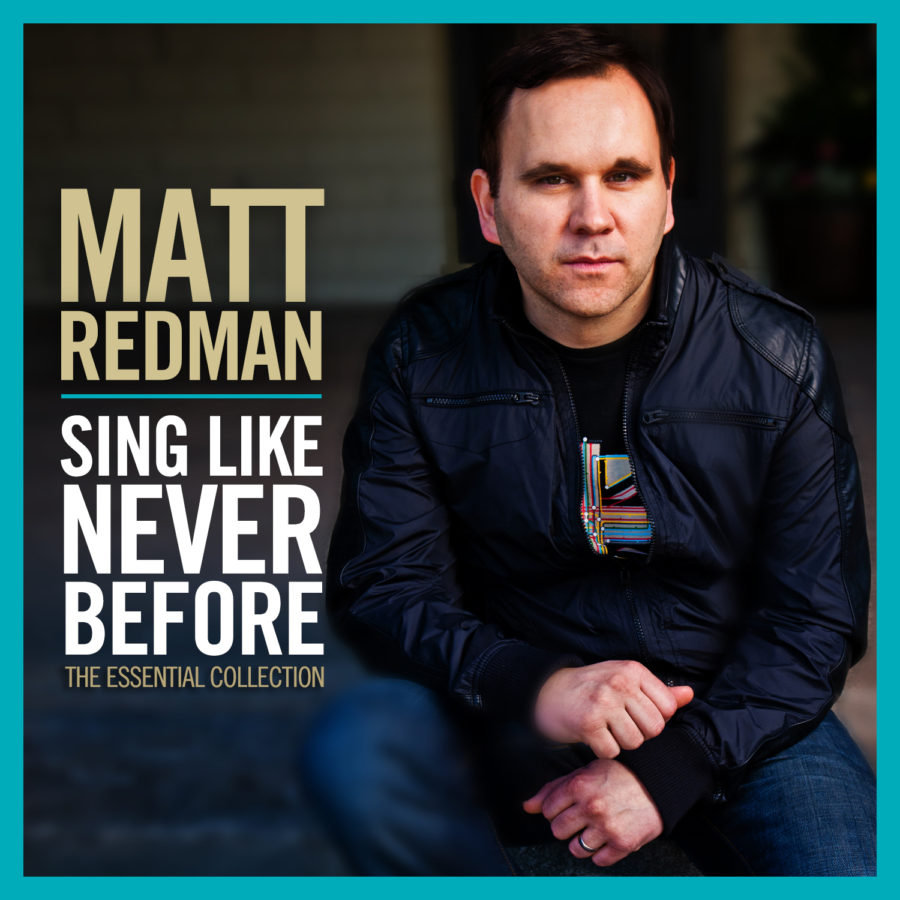 Artist: Matt Redman
Title: Sing Like Never Before: The Essential Collection
Label: sixsteps records
Release Date: 11/20/12
Reviewer: Jonathan Andre
Tracklisting:
10,000 Reasons (Bless The Lord) (New Recording)
Our God (New Recording)
Better Is One Day (New Recording)
You Never Let Go
Never Once
Love So High (New Recording)
You Alone Can Rescue
The Heart of Worship
Blessed Be Your Name
Lord Let Your Glory Fall
Nothing But the Blood
The Father's Song
Once Again
Dancing Generation
Twenty Seven Million
Matt Redman has been one of my favourite worship artists of recent years. With hit singles and chart-topping songs like 'Blessed Be Your Name', 'Once Again', 'Lord, Let Your Glory Fall' and 'Dancing Generation', and more recently 'Never Once', 'Shine' and first #1 hit '10,000 Reasons'; Matt has written songs for worshippers around the globe over hit almost 20 year career as a worship leader and artist. From his humble beginnings in the U.K. to now being a household name and a stellar force in the worship music industry, Matt's career, specifically in 2012; has really flourished with the success of '10,000 Reasons', impacting the world and one of worship's biggest songs since Chris Tomlin's 'Our God'. Releasing a best-of collection after his highly successful and popular live album 10,000 Reasons, this 15 song list highlights the biggest hits of Matt's career with some stellar songs, some redone with different musical arrangements and other new songs presented on Sing Like Never Before: The Essential Collection, including Matt's own interpretation of 'Our God' that he also co-wrote with Chris. Scanning through the 15 songs, there are some notable omissions (why have only 15 songs been chosen for the album anyway?) but regardless, this is a certain purchase if you love Matt's music, or even if you've just heard '10,000 Reasons', this collection is a brief- yet equally worthy snapshot of Matt's musical discography. From the 2002 heartfelt melody 'Blessed Be Your Name' that has circled the globe and have been covered by many different artists from Rebecca St. James to Tree63; to the recent collaboration with hip-hop band LZ7 to write the song '27 Million', a partnership to end slavery around the world, this November release is a certain addition to any Matt Redman fan collection or to anyone who loves great worship music.
'Our God' is certain to be a CCM classic in 10, 20, maybe even 50 or 100 years. With such powerful declaratory lyrics that '…our God is greater, our God is stronger, God You are higher than any other…', this song has found its way into many concerts, churches and people's homes that it has become one of the most recognisable and well-known worship songs in current society, since Hillsong's 'Hosanna' and 'Mighty to Save'. Hope beyond words is brought out in this song, as we proclaim God's faithfulness and constant nature, with Matt Redman adding his own musical deviation to the introduction of the song- instead of a repetitious pulsating keyboard riff starting the song like how it was on the 2010 Chris Tomlin album And if Our God is For Us…, synths and big drum beats are the emphasis in this version that is still as riveting and emotional as Chris's version that we all have come to know and love. Matt singing this song is a great change, and as the song builds to a crescendo as we are immersed in the fact that '…if our God is with us, than what can stand against?…', we are encouraged amidst the strong guitars and energetic vocals that God with us is powerful than anything that can come against us. A promise that we can rely on God no matter what, this version of the beloved track is one of my album highlights.
'Better is One Day' is one of my favourite Matt Redman songs, originally written and recorded on the 1998 album, The Friendship and the Fear. Still having the same about of passion and enthusiasm in this 2012 re-recorded version, Matt starts off the song with a synth focus with an added layer of gang vocals as the song is re-invented and directed to a younger generation musically, with still having the same declaratory spirit as Matt cries out '…better is one day in Your courts than a thousand elsewhere…' 'Love So High', originally recorded by Hillsong for their newest live album Cornerstone, was co-written by Chris Tomlin, Jason Ingram and Matt Redman; and though I hadn't really paid that much attention to the original recording on Hillsong's July album, Matt's rendition has given me a great appreciation for this hopeful melody. As we are met with a descriptive imagery of how '…death was defeated and all because of You Jesus…'; Matt graciously sings with a devotion to God and an acknowledgement at how God's love transcends even the deepest darkest secrets of ourselves. A gracious reminder of '…how deep, how wide, how long, how high…' God's love is, 'Love So High' could be a potential radio single on Matt's next studio album. Last on the CD, Matt provides a stirring duet with hip hop band LZ7's front-man Lindz West in the song 'Twenty Seven Million'. Released as a single on the U.K. mainstream charts during February 2012 and played on BBC 1 Radio to promote awareness, action and proactive combat against slavery and human trafficking (not just in Britain but internationally); this heartfelt song that sometimes encourages yet also discomforts at the same time reminds us of the freedom we so often take for granted. With an emotional chorus '…we've got to rise up, open our eyes up…' amongst the strong guitars coupled with the rapping verses, we are placed in a moment filled with motivation as we feel compelled to play our part in the end of this horrendous evil taking place. Well done Matt for a song destined to evoke change in many countries around the world!
In any Best-of collection, there is always debate about what songs to include and what to leave off an album that's supposed to represent a whole musical career. Starting in 1993, Matt has been within the music industry for just about 20 years and within that time, many songs have been embraced by churches and covered by many artists. 'Blessed Be Your Name' is arguably Matt's most well-known song (before '10,000 Reasons') and anchors the album with a stirring live rendition of the hopeful song of praise no matter the circumstances. With this recording delivered from the 2005 live album Blessed Be Your Name: The Worship Songs of Matt Redman Vol. 1; other tracks taken from this live recording include the noticeable tracks of 'Once Again', 'The Heart of Worship', 'The Father's Song' and 'Lord, Let Your Glory Fall'. While each are deserving in their own right to be placed on the record, I can't help but wonder if the album favours Matt's highly publicised and more popular hits over his career whilst overlooking some other melodies, where in my opinion, would've clearly made the album if it were more than 15 tracks- songs like 'Holy Moment', 'Let Everything that Has Breath', 'Undignified', even 'Let My Words Be Few', one of my favourite songs from Matt, was sorely missed from what is an unfortunate omission from the album, showing in itself how much hits Matt has in his career. 'You Never Let Go' is the lone representation from Beautiful News, though I would've expected a song like 'Shine', 'Yes and Amen', 'All Over the World', or even the title track to slide within Matt's list of best songs.
Frankly, 15 tracks are not enough to encompass someone's career, and there's always bound to be songs that narrowly missed out. 'You Alone Can Rescue' is Matt's second single on his 2009 album We Shall Not Be Shaken, and is once again the only representative from the album, with 1st single 'This is How We Know' overlooked (and possibly even forgotten with Matt's recent hits of '10,000 Reasons' and 'Never Once'). Chris Tomlin's cover of Matt Redman's 'Here For You' on Passion's 2011 album was also sung by Matt on his live 2011 album 10,000 Reasons, and though not a radio single, Matt's version was noticeably missing from his 2012 'essential' hits, leaving me to question the shortness of the album and choice of decision making with how many songs from each album and in what quota and ratio. Nevertheless, these 15 tracks certainly try to span the 20 years Matt has had in the music industry and by an outsider's perspective, the album is able to provide a decent conglomeration of songs that has led Matt to become one of worship's premier songwriters and artists of the 21st century generation.
Overall: With '10,000 Reasons' becoming one of Matt's most recognised song ever since 'Blessed Be Your Name', this modern hymn is able to transcend nation, colour and creed as we collectively declare that '…still my heart will be forever praising, 10,000 years and then forevermore…' A fitting song to open with on the album, this 15 track compilation of Matt's finest musical work is sure to become popular among listeners, whether they have heard Matt's music for a while or recently since his continual radio exposure and first time on a WOW Hits album this year. One of the most honoured and respected songwriters and worshippers of today's generation, his heart for praise is certainly evident, no matter what song he sings. Releasing new recordings of older hits, whilst also keeping the music fresh to inspire a new generation is quite an art to achieve, with Matt's collection of older and newer material seemingly spot-on for a potential new fan. Though I probably would've liked the album to have been 2 discs with plenty more singles on the album, this album does a great job to remind listeners near and far to '…sing like never before, oh my soul, worship His holy name…' ('10,000 Reasons'). Well done Matt for a stellar album and a certain purchase if only for the new recordings.
RIYL: Chris Tomlin, Delirious?, Tim Hughes, Christy Nockels
Buy the Album: iTunes/Amazon mp3