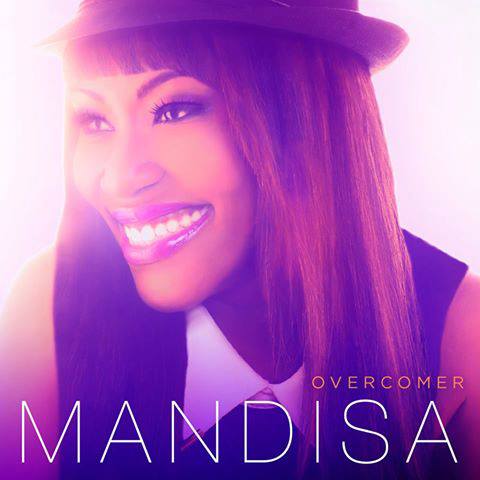 Artist: Mandisa
Title: Overcomer
Label: Sparrow Records
Release Date: 8/27/13
Reviewer: Jonathan Andre
Tracklisting:
Overcomer
Back to You
The Distance
Face 2 Face
Press On
That's What Scars are For
Dear John
At All Times
Joy Unspeakable
Praying For You
Where You Begin
One of the most successful musicians from American Idol to date (alongside other popular artists such as Carrie Underwood, Kelly Clarkson, Jason Castro, Chris Daughtry, Katharine MacPhee, Phillip Phillips and country singer Scotty McCreery); CCM artist Mandisa is now back with her 4th studio album, titled Overcomer, to be released August 27th, and possibly one of the most anticipated Christian albums to be released in August 2013. One of the most popular Christian female artists currently in the music industry, I am always marvelled and proud of her continual success, from hit songs like 'My Deliverer', 'Only The World', 'Good Morning' and 'Stronger' charting the CHR/AC charts throughout her musical career. Famous within the mainstream music industry for her forgiving nature towards Simon Cowell's remarks about her weight during her American Idol journey, her transformation in losing weight is a testament to God's work within her, and her music throughout her career has reflected God's goodness to her in times of hard work and perseverance. One of the most personal albums ever released in 2013 so far, we are reminded through this one word titled album that we are overcomers in Christ Jesus, and that as Mandisa details in her press release, '…I recorded both the song and the album to fuel faith, empower people, and remind those facing a battle, that all of the strength, power, and weapons of warfare they need is readily available to them. We are all overcomers…' With upbeat melodies full of the most infectious and enjoyable guitar riffs and drum beats, and co-writes with respected songwriters like Israel Houghton ('At All Times'), Matthew West ('The Distance'), Plumb ('Dear John'), Chris August ('Praying For You') and Britt Nicole ('Where You Begin'); Overcomer is a joy to listen to for any fan of CCM/pop (such as myself), and possibly one of my standout albums this year so far!
The title track and the first radio single from the album; 'Overcomer' speaks about us being overcomers in Christ as we stay and stand firm to His promises that have been spoken to us throughout our lives and the lives of others. A topic that we can never get enough affirmation from, being able to overcome difficulties is something we all want to aspire to, whether it is to gain materialistic rewards, some kind of recognition, or just to bring a sigh of relief to the fact that we've actually overcome something that has been hanging over our heads for a while. With light acoustics and a heavy electronic percussion presence, Mandisa's powerful vocals are the key to the song's success, with her poignant and emotional chorus of how '…You're an overcomer, stay in the fight to the final round…cos God is holding you right now…' With Christ we are able to overcome the impossible, but it also requires us to know when to persevere and when to let God take over. This jovial, upbeat and energetic song to sing and perform also has a heartfelt and hard-hitting message of hard work and the attitude of never giving up, something that I'm sure the Lord wants everyone to know and remember during the hard times of our lives. Yes we are overcomers, and yes we do need the hard work within those times to mould and shape us to become more reliant on Christ and more resilient during these circumstance. But at the end of the day, Christ still holds us no matter what, and His promises of always being with us is certainly a great thing to cling onto. One of my favourite songs from Mandisa ever (possibly on par with 'Waiting For Tomorrow' and 'How Much'); this is a great start to an album that showcases Mandisa's emotional side much more than albums of hers previously. Well done Mandisa for such an enjoyable song to encourage and uplift!
With quite a number of co-writes on the album, Mandisa's latest project is something to greatly enjoy. From Matthew West and Tiffany Arbuckle Lee (Plumb), to Israel Houghton; Mandisa's guest writers and sometimes guest vocalists present some of the most poignant and heartfelt songs on the album. Possibly the most radio friendly song from all of the co-writes, Matthew West joins the backing vocals and co-writes with Mandisa on 'The Distance'. Previously co-leading with Mandisa on 'Christmas Makes Me Cry'; Matthew's heartfelt lyrical writing is certainly seen on the third track of the album, as we are presented with a message that God continues to close the distance between us and Him through His Son. It is God's love that continually erases the distance between ourselves and Him, and through light percussion, heavy electronic keyboards and Mandisa's powerful vocals, this radio friendly track will hopefully go 'the distance' and become a radio single sometime in the future. While Matthew's vocals is only slightly heard on the song in the form of a backing vocal, his writing style is certainly felt, with Matthew being possibly one of my favourite singer-songwriters currently active. Writing powerful ballads like 'Hello My Name Is', 'Strong Enough' and 'Forgiveness' in the past; 'The Distance' is an absolute must if you're a fan of both Mandisa and Matthew's previous work. The style and lyrics switch from radio friendly to gospel with the introduction of Israel Houghton as co-writer in 'At All Times', as we are able to witness a church-choir and powerful call-and-answer vibe as we hear a song championing the fact that God is with us at all times. With powerful electric guitar strums and a choir used for the call-and-response sections in the song, Mandisa cries out '…at all times, I will bless the Lord at all times…' Full of electronic keyboards and reverb, this Latin American and Gospel flavoured melody is enough to bring in listeners of that musical genre, and fans of artists with similar styles like Nicole C. Mullen and Israel Houghton.
Changing the musical atmosphere once again to incorporate the musical style brought to the table by co-writer Chris August in 'Praying for You', a soulful prayer with hand clicks and a slowed down beat as we hear Mandisa sing to her future husband, assuring him that she prays for him, knowing '…that you'll be the one that's strong when I am weak, I'll love you through the good and bad…'; Mandisa presents an album full of unique styles and themes, touching primarily on upbeat and enthusiastically poignant ballads to portray the message that we are overcomers in Christ. 'Back To You' features electronics as the first and foremost musical backdrop as Mandisa gives her thanks to God in the way that she knows- giving back everything and surrendering the moments in her life where she has been grateful for Christ. The poignant chorus that invites us to collectively declare that '…You gave Your love, You gave Your life, You gave Your everything and I wanna give it all back to You…' is something we have to consider as Christians- that as we respond to Christ and His mercy, the only thing that is worthy of us to consider is to acknowledge that everything we have is His, and that a way of glorifying Him is to use it in a way so that whoever we are around will see Christ through us.
Once again employing electronic percussion beats; 'Face 2 Face' is an upbeat and enjoyable song where Mandisa shows her anticipation and eagerness to meet the Saviour face to face. The moment will come when we see Christ our Redeemer, and this song certainly captures the emotions of the waiting til then. If we're just as excited about meeting Jesus as Mandisa, we can collectively cry out that '…I'm learning that the world I know is never gonna feel like home til I'm face to face, face to face with You my Saviour…' Also employing the upbeat and electronically prominent musical backdrop are both 'Joy Unspeakable' and 'Press On'. With 'Joy Unspeakable' sounding musically like something Capital Kings would do as Mandisa assures us that '…this is not another song about all we've done wrong…let's take some time to thank Him for the blessings…with all our hearts adore Him with joy unspeakable…', Mandisa presents a jovial three and a half minutes with a message of us filling up with joy in response to our salvation; while 'Press On' reminds me of the bible passage where Paul talks about we ought to press on and move towards our goal, running the race of life set before us rather than looking to the side of us or even behind us. Thematically also similar to Building 429's 'Press On'; we are given a solid encouragement that '…I will press on even when the walk feels long, Your hands hold me together, Your love is with me forever…' Well done Mandisa for these upbeat songs in 'Press On', 'Joy Unspeakable', 'Back to You' and 'Face 2 Face'; a constant reminder that Christian music doesn't have to be mellow and reflective all the time, and with joy and celebration, we can praise our Father for His sacrifice and rejoice that we are already overcomers with Him.
Mandisa's vocals and powerful message of hope always shines through amidst the ballads, and on Overcomer, both 'What Scars are For' and 'Dear John' trade the upbeat music for their reflective natures as Mandisa leads us into some of the most personal songs on the album. 'What Scars are For' speaks directly at the notion of what the reasons are for the suffering, whether it is afflicted on our own lives, or on the lives of others. While there can be great theological debates about suffering, scars, pain and hurt; Mandisa offers up hopeful words in the fact that '…these marks tell a story, of me down in the valley, and how You reached in with Your grace…' A symbol of our suffering in the past, scars also remind us of during those times when Christ was with us every step of the way. As we delve into the hopeful encouragement that Christ's faithfulness is never-ending, we are able to boldly collectively declare that '…they remind me of Your faithfulness and all You've brought me through, You teach me that my brokenness is something You can use…' alongside the musical backdrop of light acoustics and percussion. But it is the letter-like melody 'Dear John' that is Mandisa's most personal and honest song on the album. Written as a prayer to someone who is not a believer, with Mandisa encouraging them to take a leap of faith and place their faith in Christ Jesus, it's no coincidence that John, the name of the persona in the song, is also the name of her own brother, himself an unbeliever in Christ. Sometimes personable songs can backfire, and hopefully Mandisa's brother responds favourably to his sister's plea to consider that '…there's freedom on the other side of things that keep us tied up and afraid, there's hope in every situation no matter what you're facing everyday…' A song that many listeners can relate to (in this day and age, the chances of believers growing up in a Christian family to start with are dwindling by the moment); 'Dear John' is a prayer and a reminder for all of us of God's fervent and unending grace given out to all. Well done Mandisa for opening up your heart to vulnerability to deliver arguably one of the most confronting, compelling and encouraging songs on Overcomer!
Overall: Overcomer speaks about a simple yet equally profound theme and topic if we understand and grasp hold of- that we are already overcomers in Christ Jesus our Lord, and that as we delve into relationship with Christ, what we can accomplish will be much more than we'll know or even imagine because of Christ. From upbeat songs to reflective ballads, Mandisa's new album has something for every CCM lover (including myself). Releasing on the same day as Stellar Kart's anticipated album All In and the self-titled debut of Love and the Outcome, Mandisa's proven album hits in the past in What if We Were Real and Freedom will hopefully give interest to her latest. From 'Overcomer' (the song) alone, this album is worth a solid 3, and together with other standout hits like 'Press On', 'Dear John', 'The Distance' and 'Back to You'; this album is perhaps one of my favourite albums to be released in August 2013. With a great variety of musical arrangements, from acoustic to electronically based; I'm sure this album will become a special one for many in the upcoming months and years ahead. As we step into God's authority for our lives and claim and declare that God has won our battles for us in victory, we can rest assured and declare that '…the same man, the Great I Am, the one who overcame sin is living inside of You…' Well done Mandisa for such a poignant and treasured album, one that will certainly define 2013 in Christian music in the years ahead!
RIYL: Britt Nicole, Kerrie Roberts, Karyn Williams, Natalie Grant
Buy the Album: iTunes/Amazon mp3