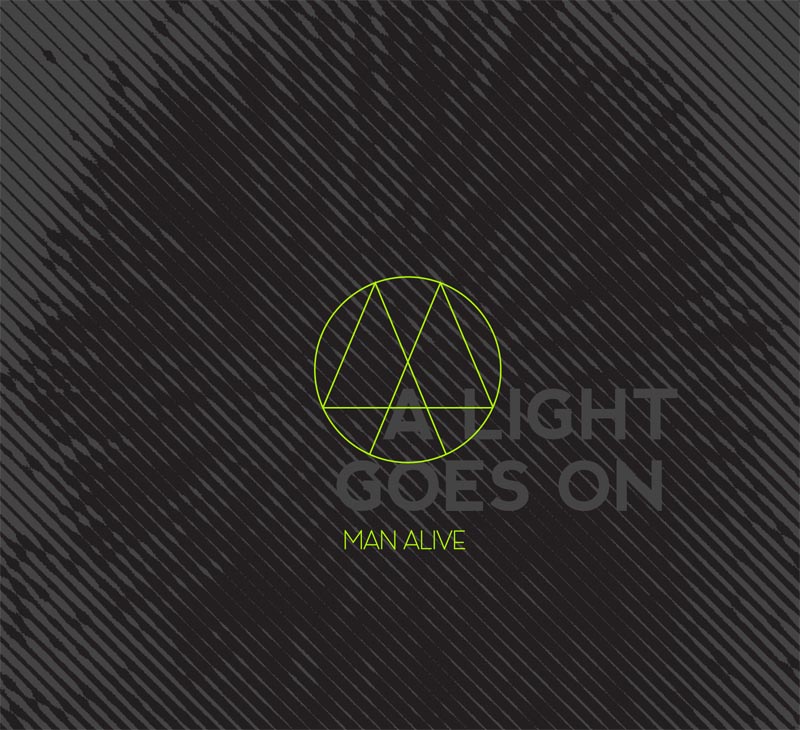 Artist: Man Alive
Title: A Light Goes On
Label: Independent
Release Date: September 12, 2013
Reviewer: Jessica C
Buy: Amazon / iTunes
Track Listing:
A Light Goes On

Laugh Along

Over and Done

A Can and a String
A Look That I Could Never Pull Off
Man in Need
From the Inside
Limited to a Lifetime
Don't You Dare
Restart
Taken Under
Hide
Before I say anything about this album, let me say this: I've become too comfortable within the boundaries of music that's made in America. I forget that so much talent comes from other countries and regions of the world, and Man Alive is a classic example of that. Hailing from Tel Aviv, Israel, this punk ensemble has made a lot of music since they first started in 1999 that's catchy, driving, and just really good. There's no doubt about that. I'd never heard of them up until a couple weeks ago, and since then, I've been running through their entire discography, and from start to finish, it gets better and better. A Light Goes On is nothing short of awesome.
There's so much in this release that refuses to let listeners get bored. It's very uniform, but also diverse enough to suspect it's more a compilation than twelve songs from the same band. Variations in guitar sounds, drum styling, and even vocals make me think I must be listening to a punk playlist on shuffle rather than the entirety of the album itself, in chronological order. Track transitions are smooth, production is clear and pretty top-notch, clean breaks and consistency in sound ties together the whole thing in a neat little punk package. Lyrics are very direct, and it's no mystery that I believe this to be the most engaging aspect of songwriting. Writing lyrics that audiences will connect with is a pretty important part of being a musician, and I think these guys definitely hit the mark.
My favorite song is "Laugh Along" because, as hard as it is to believe most of the time that shrugging things off and laughing about them is the best thing to do…that really is the best thing to do. Stressing about life isn't something we're meant to deal with or handle alone, so when there's a person that can come up with a better way of handling life's poopy moments, it can really make a difference in attitude.
"You'll never be fully free / As long as you take things so seriously / 'Cause ego and self-esteem / Have never been known to play on the same team." 
A close-second would be "From the Inside", but more in the realm of sound. Man Alive really shows their musical versatility in this song, and it starts out very reminiscent of Further Seems Forever's "Light Up Ahead". There's a lot of emotion in this song, which essentially talks about the complications of the Golden Rule and struggling with self-esteem in that.
"How can you ever love / If you've never truly felt love for yourself? / How can you forgive if no one's ever forgiven you / And given you a second chance? / How can you sacrifice if you've never had anyone do it for you? / How can you receive if you think you've got everything you've ever needed to succeed, here in your hands? / I wanna hear how much I'm adored / And I wanna feel how I am beloved / I wanna have my deepest desires satisfied from the inside."
And since I'm a millimeter short of being obsessed with synth sounds now, let me bring up "Limited to a Lifetime". There's nothing quite like a high-pitched buzz done on purpose between snare breaks in the bridge. While we're at it, just having synth as a general foundation for songs is pretty boss. And all God's people said, "Amen." Here's my favorite lyric from that track:
"The hope in store for those in poverty / Is somewhat more than the American Dream / But that's all that you've been offered / And now you lack the strength / To go through what you suffer / All you weak, say you're strong / All you poor, say you've got it all."
Overall: Every part of this release is strong, every musical component is crisp, the lyrics portray typical punk dialogue, and there's not a moment when my brain isn't completely engaged. "A Light Goes On" is melodic, high-energy punk from beginning to end. I guess I should've learned my lesson all those years ago with Blindside, because this band is so dang good. Stay connected with these guys for more updates via Facebook, as well as their band site, and do yourself a favor: get this album.
RIYL: Face to Face, Useless ID, Got No Shame, Kill the Drive, Easy Target, Bloodshot Eyes, The Wedding (2003-era), Thirtyseven, Relient K.