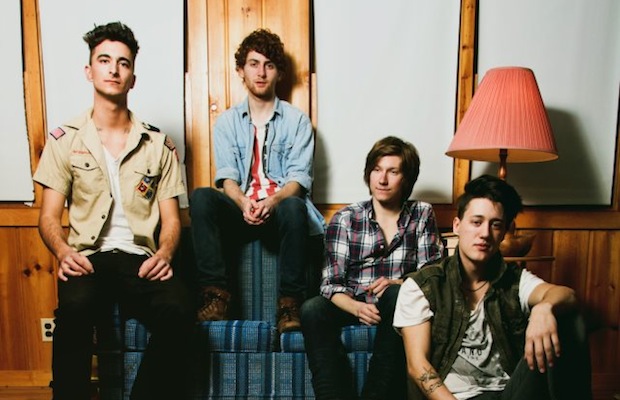 Artist: Love Out Loud
Album: The Wildlife
Label: Unsigned
Release Date: 06/14/2013
Reviewer: Sara Walz
Tracklisting:
Loosen Up
Never Sleeping
Hollywood
Blow It Up
Redneck City Boy
Prodigal Son
More (Remix)
Video Games
Shine
Six Feet Over You
007
The debut full-length release from the Minnesota band is a little pop, a little EDM, a tiny bit country, and a whole lot of fun. In the last year and a half the band released their second EP (Catch Me If You Can) and then had three members leave and two new members stepped in while working on the LP. The line up change seems to have caused a slight shift in sound for the full-length, exploring genres the band had yet to touch and delving further into the electronic scene on The Wildlife. 
Right out of the gate "Loosen Up" is a synth-heavy, lyric-lite track that invites the listener to shed inhibitions and join the party. "Never Sleeping," "Hollywood," and "Six Feet Over You" are upbeat tracks in the vein of Love Out Loud's previous work, dancy-dubstep-pop. "More (Remix)" is a new version (duh, hence 'remix' in the title) of a song from their second EP that's got more computer generated sounds and the vocals have an airy feel them, melodically though, it's the same. While the album is still very Love Out Loud at it's core there were some definite musical suprises. "Redneck City Boy" is country dubstep. Is that a thing? It is now. "Video Games" introduces some 8-bit sounds that are perfect, not overdone or underdone. The verses on "Shine" are a cross between spoken-word and rap, and "007" has this cool, dark feel to it.
You can't have a song without music and lyrics and while the music is great and makes you want to get out on the dance floor, one of the things I appreciate most about Love Out Loud is their witty writing. It's smart, relevant, and reminds me a lot of Matt Theissen's [Relient K] writing. Some of my favorite lines from the The Wildlife include "our cups are red but we don't fly solo," "but we're going strong, simple like Pong, and it's on like Donkey Kong," and "bury the memories of everything we knew but I'm not going under, I'm six feet over you."
In concert you can count on frontman, Dillon Jones, to share his heart often saying something along the lines of the band believing that there is a God who loves you and has a great plan for your life. They don't shy away from that message on the album either, with two tracks giving nods to their faith. "Prodigal Son" is an ethereal telling of the story of the singer finding his way home, and "Shine" starts off with a new take on the old Sunday school favorite, "this little light of mine, I'm gonna let it shine…"
Overall: The Wildlife is the album to start your summer off right. A couple of the tracks got a bit music heavy for my taste (what can I say, I'm into lyrics) but the album as a whole is polished, diverse, and is sure to get stuck in your brain…like click, click, bang.