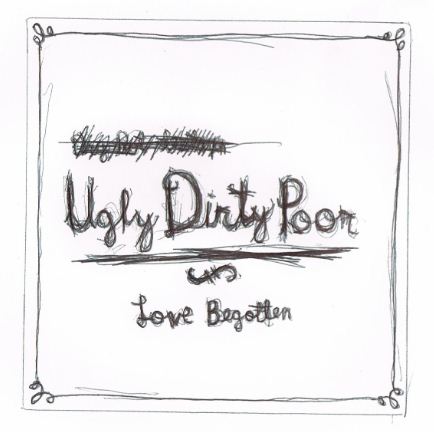 Band: Love Begotten
Title: Ugly, Dirty, Poor
Label: None
Release Date: May 17, 2011
Reviewer: Chris Works
Tracklisting:
You Decieve I
0000
Dead Weight
Eyes
Ugly, Dirty, Poor
Cult Killer
Living, Breathing, Expressing
To The Dogs
Liver Damage
Gutless
Over 2 years ago Love Begotten dropped their EP The Great Unrest on us. It was refreshing, it was agressive and chaotic, it showed promise. And then very little was heard from these guys until a week ago I recieved an email asking if I'd like to review their new album. To be honest I didn't even know the band was still around, but after listening to this album I am so glad they are.
Ugly, Dirty, Poor is raw, loud, and noisy. Just like their former release. According to the notes the band sent along with the album they took The Chariot's approach to recording, i.e. a live style recording without computer editing and super polished production, giving the album an intense feel. The songs combine the intense chaos of bands like Lights For Nero, The Chariot, and Anguish Unsaid with the dark looming ambience of Hands. The song "Cult Killer" is by far one of my favorite tracks off this album, starting off with a pummeling breakdown and ending in a plodding heavy blanket of guitars and feedback. Once again the lyrics are bold and to the point only this time around they are better written. "Dead Weight" is a track about letting go of your sins and submitting to God, vocalist Micah Abbott screams "There's a reason He's called infinite. There's a reason He's called all knowing. There's a good reason that you're not. Holy Spirit"
The musicianship is tight on Ugly, Dirty, Poor and the entire thing truly does come off as a live performance. The production and mixing brings a tremendous energy to the album that, at least for me, shows just how overproduced metal has become and how much it takes away from the music. These guys are in a position to really go far on this debut, provided they don't go silent again.
Overall: If you are looking for something loud, raucous, and abrasive to shake you around and wake up your musical taste buds. Or if you are just looking for music that sounds real and not like a disc of studio trickery, then you should definitly pick this up. The band has done nothing but improve since their EP and has nowhere to go but up.
[Buy]