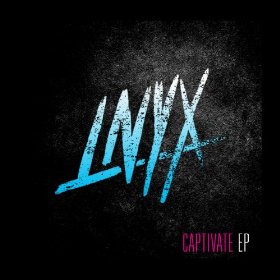 Artist: LNYX
Album: Captivate EP
Label: None
Release Date: 1/1/14
Reviewer: Cimarron Hatch
Buy The Album: iTunes / AmazonMP3
Tracklisting:
Captivate
Caught Up
Loose Ends
Weeds
Panic
Guilty
Sparks
LNYX (pronounced Lenox) is an electro-pop band based in Nashville, TN. The band was started by former Philmont members Scott Taube, Josh Guion, and Scott's wife, Brittany Furse-Taube. After Philmont disbanded in 2012, the trio decided to get together and do something new and different. Recently, LNYX was voted onto the Shine A Light Tour through a battle of the bands, so they are already enjoying success. This EP, Captivate, is their first release.
The title track, "Captivate," starts pretty gently and then jumps into a powerful chorus. It is definitely a great dance anthem with thoughtful lyrics. "Caught Up" is about wanting to connect with God and asking Him to show Himself in the form of rain and weather. Next is "Loose Ends," a really cool song about secrets and rumors. The verses have a dark and mysterious sound which turns into desperation for a really fantastic chorus with great melodic high notes. "Weeds" reminds me of something like a video game soundtrack because it's suspenseful. It also has a good message about being resilient in sharing what you believe. The verses are great and hard-hitting, but unfortunately the chorus kind of falls flat after them.
The next song, "Panic," is like a combination of Bassnectar and Skrillex's music. I found that the vocals on this song are sung too perfectly on the beat, which gets distracting. "Guilty" is a song about denial and ultimately struggling with knowing right from wrong. The lyrics tell the story well. Finally, "Sparks" has an awesome chorus/reprise of "Sparks at night / Fire so bright." It's a dance song that should make it to everyone's summer playlist.
Overall: LNYX is a band that is likely to do well, and very soon at that. They displayed all the right features of electronic music on this EP and fans of the genre will enjoy it. It's great that they are putting out this type of music with actually meaningful lyrics. I'm sure this band will continue to be successful, and I recommend checking them out.