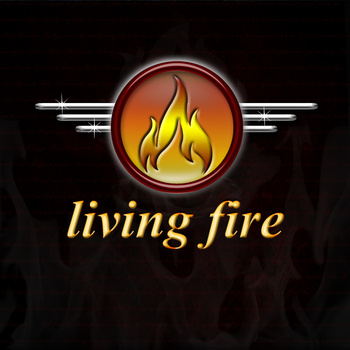 Band: Living Fire
Title: Jesus Rules
Label: Thumper Punk Records
Release Date: September 2012
Reviewer: Jessica Cooper
Track Listing:
Jesus Is Not Dead
Come With Us
Love Of Jesus
Jesus Christ Is The Only One Who Can Save Us
Old Rugged Cross
Mission
He Will Come Again
Enough
One Way
The Glory Of The Lord
Redemption Of His Love
Bouncing Around
I Want You Lord
Adore The Lord
This release is a pretty solid representation of classic punk music. I feel like the genre is really easy to miss, so being a Brazilian band, Living Fire totally hits the mark. Their lyrics are very straightforward and the music contains the classic components of punk. The sound on Jesus Rules is similar to that of bands like Bad Religion and Social Distortion, creating that atmosphere of high energy to encourage circle pits and pile-ons. I think what really sets this band apart is the fact that they produced this record in English, and while the accent is at times hard to get past, it doesn't draw any attention away from the vocal talent of the band. The production quality of the record is pretty top notch and just rough enough for the genre. I really dig the cover they did of "Old Rugged Cross" because who doesn't love a classic hymn remastered to a punk beat? All my Flatfoot fans out there know what's up!
The lyrics are all incredibly uplifting, which should be an obvious characteristic of Christian music, but oftentimes the content is formatted along the lines of storytelling. Living Fire does both, and that's another aspect that sets them apart.
"Paradise can be lost with lies and hate / So praise the Lord, beg for forgiveness / In God we can trust, in our God we can believe / His justice always happens for you and for me." – "Love Of Jesus"
"I want You Lord / I need Your blessing / Just want to adore You / With all my soul I claim for Your love." – "I Want You Lord"
Overall: There's not a single track on this album that should be overlooked, because the entire thing is honestly so catchy and attention-getting. This is a great example of sticking to the roots of quality production, content, and energy contained within the world of punk, and I encourage you to invest in it. It's available for digital download or physical purchase on the Thumper Punk Records website.
RIYL: Bad Religion, Social Distortion, and NOFX.